Bicycle Boulevards
The 4SBB, Homeowner's Groups and How to Avoid a Bikelash
3:15 PM PDT on October 5, 2011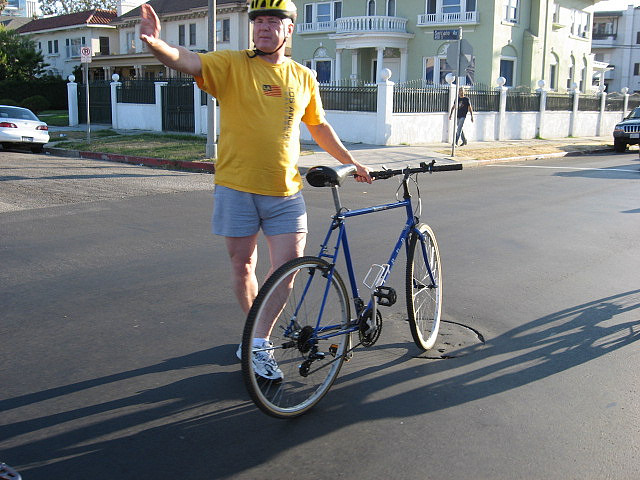 (The LACBC's 4th Street Campaign has an open meeting tonight at the Halal Indian restaurant at 4th and Highland at 7:00 P.M. Just got word that the location has moved to Larchmont Bungalow, 107 Larchmont Blvd. Sorry for the last minute change.)
As a city that has for so long embraced car culture in its personality and planning, a change to pushing for bicycle and pedestrian projects is bound to create confusion and anger in some quarters and provoke a backlash from communities. After the battle on Wilbur Avenue in the Valley, where angry car drivers lobbied their City Councilman to remove a chunk of a road diet that proved popular with cyclists and the residents who lived on Wilbur itself.
LADOT expected to be on friendlier ground when pushing its concept for a Bicycle Friendly Street on 4th Street. Not only has the concept of a 4th Street Bike Boulevard has been a sort of holy grail for many cyclists, there are many more bike commuters on and near 4th Street than there are on or near Wilbur Avenue. The Los Angeles County Bicycle Coalition has a campaign centered around making 4th Street safe haven for cyclists and Neighborhood Councils along the route have backed the concept of a bike friendly 4th Street.
A safe and attractive route off major streets connecting Downtown to the Park La Brea development in Fairfax would be a game changer for thousands of cyclists who would use part of the route or would use it to connect to other locales north or south of the route.  4th Street has even been home to one of Councilman Tom LaBonge's annual summer rides named "Positively 4th Street."
But the movement to create a Bike Boulevard on 4th Street, or Bicycle Friendly Street as LADOT prefers to call them, hit a major snag last month. An organized homeowner's group in well-to-do Hancock Park put together a survey with some pretty slanted misinformation and followed up with a petition that attracted over 200 signatures in an effort to beat off bicycle and pedestrian signal lights at two dangerous intersections, 4th and Highland and 4th and Rossmore. Their combined effort spooked Councilman LaBonge's office who pulled their support for the proposed signal changes and LADOT has dropped the proposal.
The difficulty in explaining new infrastructure is perhaps best exemplified by an article on the controversy between LADOT and the homeowners in the Larchmont Chronicle.  Everything from the title to the text creates more confusion about what LADOT is proposing.  Crossing signals for bicyclists and pedestrians are not traffic lights and they're certainly not stop signs.
Some proponents of the concept of a completed Bicycle Friendly Street claim the Hancock Park Homeowner's Association is against the project because of some sort of Not-In-My-Back-Yard syndrome. Others have speculated that the group was spooked that LADOT had only one plan, instead of a variety of options, for the signals and that the residents were reacting to a "design and defend" approach to transportation planning. The Homeowners Association didn't respond to requests to comment for this story so all we have is speculation.
But the real question is where does the campaign for a safe 4th Street go from here? Some are trying to revive the campaign for the signals at Rossmore and Highland, but the LACBC is hoping to move the campaign farther east to support the LADOT's proposal for traffic circles in other parts of 4th Street before coming back west to complete the Boulevard on Hancock Park.
The LADOT is licking its wounds but promises to press forward in other areas of 4th Street and other projects. Traffic circles remain on the to-do list as does placing way finding signage along the route.
The Homeowner's Association remains riled up. A contingent of Hancock Park home owners appeared at last night's meeting of the city's Bicycle Advisory Committee angered that an LADOT road crew installed Sharrows on Arden Boulevard in Hancock Park.
At the same meeting of the Mid-Wilshire Neighborhood Council where LaBonge revoked his support for the two traffic signales, he aproposed a road diet on 6th Street to the confusion of many as 6th Street and 4th Street are very different streets. Advocates have speculated that LaBonge is referring to a proposal to put 6th Street on a road diet and add bike lanes that was proposed by planner Ryan Snyder that would travel west from the end of the 4th Street Bike Friendly Street to Fairfax Boulevard. The Councilman's Office declined to comment or clarify for this story.
But is there a larger lesson here? The lesson from Wilbur Avenue seemed to be that LADOT shouldn't implement bike projects without informing the community. In this case, LADOT and its allies did go to the local Neighborhood Councils, but word didn't filter down to the Homeowner's Association until the project was farther along.  In areas where LADOT is proposing ideas that are new for Los Angeles, greater outreach is probably necessary than the LADOT Bike Blog and a handful of community meetings.
Stay in touch
Sign up for our free newsletter