El Monte
El Monte Walks Towards a Healthier Future
10:02 AM PDT on October 4, 2011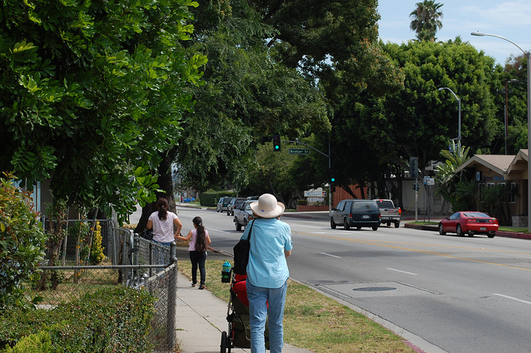 Martha Sera likes walking.  A former high school track star, Sera regularly goes for mile-long walks with her husband, father and children, ages two and five.  That Sera has found a way to walk for a living is just a bonus.
Sera is one of a handful of organizers for the City of El Monte Walking Club, an innovative attempt by the city to increase the physical activity of its residents.  Participants in the club show up at an assigned location, either a public park or school, stretch and go for a walk.  Upon completion of the mile walk, they receive a ticket that can be turned in for a prize.  Five tickets earns a pedometer; 15 tickets, a t-shirt.
"You should try and take 10,000 steps a day to have a healthy lifestyle," Sera notes.  According to her pedometer, Sera takes 1,400 steps per mile.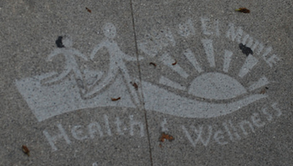 When I met Sera, she was sitting under a tree with a sign-in sheet for the first of two walking club meetings last Saturday morning at 8:30 at Arceo Park.  After a brief introduction, the two of us took off on a walk around the park, looking for more club members than the handful who had shown up.  An hour later, we were at Columbia Middle School, less than a half mile away for the second meeting.
Every community that's taken part in the PLACE program, a 2008 public health grant program sponsored by L.A. County to improve communities' overall health through better transportation planning,  benefits from unintended consequences.  Creating a walking club for adults wasn't part of the initial PLACE grant from the City of El Monte, but the hundreds of adults and their children who have taken to walking to improve their health because of the program is an unintended, but happy, consequence of their new transportation vision.
The idea for the club is simple.  El Monte residents have a higher-than-average rate of obesity and asthma, and the easiest solution to these related issues is to increase their activity.  More than two-thirds (66.8%) of adults in El Monte were either obese or overweight in 2007, more than that of adults in LA County (58.1%) and the state as a whole (61.3%.)  Nearly half (47.7%) of El Monte's children are either obese or overweight.  On top of that, 9.8% of adults in El Monte were diagnosed with asthma compared to 6.5% of adults in Los Angeles County. In that same year, 4.1% of adults and children in both the El Monte Health District and LA County as a whole had been diagnosed with chronic respiratory conditions.
While attendance at the park was sparse this particular weekend, Sera had more success at Columbia Middle School.  More than 60 participants, many of them parents with their children, attended one of the three "meetings" over the course of the week.  Saturdays tend to be more lightly attended, so we had two parent-child combos, both of whom first heard about the program through the school.  At the park, walkers could walk around the park or on the Arceo Walk route (more on that later) that stretches east from the Park to Santa Anita Boulevard and back.  At Columbia, they walk on a track.
The walking club just began its third year last month.  The club runs for nine months and has traditionally centered around the three parks Arceo, Lambert and Mountain View Parks.  This year a new partnership with local school districts has expanded the program to Columbia Middle School and Mira Monte School.  Both are now allowing students and adults to use school grounds on certain days.  At Columbia Middle School, Sera leads stretches and walks every Tuesday and Thursday evening and Saturday morning.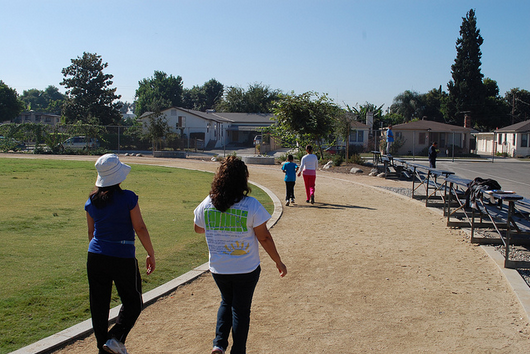 "I like it here," Sera says of the track.  "When we're at the schools we have more kids.  A lot of parents bring their kids with them."
On Saturday, there are two kids among the dozen club members at the Columbia track this Saturday morning.  "Edgar" and his mother "Jenny" are two of the first three people to arrive.  Edgar has asthma and takes part in the walking club to get exercise.  Sera is familiar with his exercise habits noting that last Thursday he was able to run for much of the track, but today he chose to walk next to his mother.
The walking club is a family affair for adults and their parents as well.  Carmen Arambula started her third year in the walking club.  "Walking helped me a lot, I had high blood pressure," she began. "My dad too, last year I made him join us for the walks."
But for many participants, the club provides one of the few ways that people can safely go for a walk.  Sporting an "El Monte Walking Club t-shirt" Adrianna Esquirrel complained that the grocery store is too far away and there aren't enough sidewalks to walk regularly.  The distance also prevents making daily trips, so when the shopper does go to the store he or she has to bring so many bags that walking home would be difficult.
Over 400 people are on the Healthy El Monte email list that receives updates on the program, but Sera thinks that word of mouth and promotion through the schools has been the most effective way to get the word out.  Half of the people attending Saturday's event at Columbia Middle School has joined the club in the past month.  All but one had heard about the walk through the Middle School.  The other woman was brought by Esquirrel.
El Monte's walking club program is sponsored by the Center for Civic Partnerships, California Healthy Cities and Communities.  For more information about the club, visit the Healthy El Monte website.
Damien Newton wrote this story while participating in The California Endowment Health Journalism Fellowships, a program of USC's Annenberg School for Communication & Journalism.
Stay in touch
Sign up for our free newsletter