Interactive Model
Workshop Notes from "L.A. 2050" Event at Occidental College
9:14 AM PST on December 6, 2010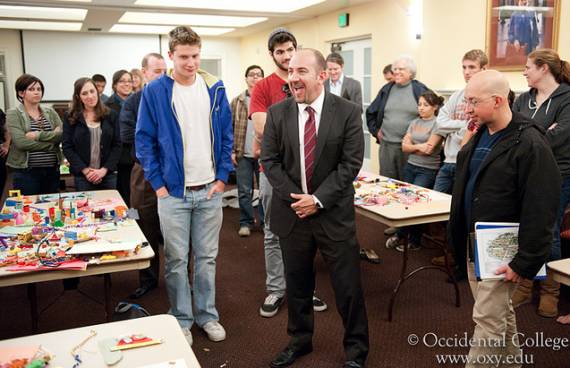 (Last week before a question and answer session with L.A. City Planning Director Michael LoGrande, James Rojas led attendees through an interactive modeling program.  The theme of this program was to envision Los Angeles in 2050.  Rojas shares his notes with us below.  If you're not familiar with Rojas' modeling projects, check out this video by Dr. Pop.- DN)
There was so much excitement, hope and creative energy in the room last night as participants created their LA in 2050 at Occidental College.  The workshop was a great success in tapping into people's creative thinking to solve urban planning problems. It was powerful to watch the participants have so much emotion and conviction as they explained with the visual aid of models their ideas for LA 2050.
The task to create was LA in 2050 was meet with lots of enthusiasm and all people had to do was tap into their experiences of the city, ideas, and choose from thousands of recycled materials to create their vision.
There were no guidelines, no discussion, no maps, no pictures, no terminology, and no right or wrong answer, just build. This made the planning exercise accessible to everybody and allowed for maximum creativity.
Participants were placed in ten tables of three to four and worked together to create LA 2050. Strangers or friends worked side-by-side to create a vision for LA based on their own personal experiences and ideas.
The participants had twenty minutes to build a collective model of LA 2050 on colored construction paper, and thousands of small items such as hair rollers, buttons, yarn, shiny beads, pipe cleaners, and blocks These materials help the participants re-create the visual language of the city based on their personal experience in the built environment; green yarn becomes grass, blue poker chips form the edges of the ocean, and hair rollers shape a skyline of apartments or office buildings.
By using their hands to create the modes, participants learn how the built environment impacts their life and how they can manipulate their relationship with the built environment. As they rearrange and move objects on the model, they project their lives in the models.  They create and discover relationships between objects and activities thus creating small vignettes of urban life.
After the twenty minutes each table had one minute to explain their model.  Since people interject their own personal experience and memories of place the explanations become very interesting with random yet relevant ideas.
Each table had approached the task in different ways. Most people at the tables worked together to create a collective model while a few did individual.  All approaches are fine and show the diversity in which people work together.
Some of the models were conceptual with generic ideas about the form and shape of the city, while some were literal like recreating LA or north East Los Angeles. Again both are acceptable ways to talk about the city.  Some model emphasized the LA River while others re-designed the downtown skyline.
I would say most of the participants grew up or live in single- family homes and drive; however what they wanted was a rich urban experience for LA. From walkable streets, bike lanes and paths, public transportation, parks, community gardens, density people recreate urban experience they value. Very few created freeways, parking lots, garages, or even single family homes. This make me wonder are we asking the right questions when it comes to planning.
Participants used this opportunity to solve today's planning issues such as global warming, health, access to fresh produce, public transportation and housing. LA transportation system was revamped to encourage walking, biking and using public transportation. Capturing the suns energy through solar panels was a given. Healthy land use patterns were created with connections to transit; parks, housing, and fresh food were developed.  Density was used create a rich urban design pattern in the models. There were dozens of ideas generated from the participants that need to synthesize for further study.
Each participant captured the essences to create LA 2050. By giving the participants the opportunity of approaching the topic from their perspective they were able to shape the community as they saw fit. Everyone brought in their baggage to exercise, which made all the models very different in scope, scale, concept, and details. In a democratic process everyone should have a say in how the city is shaped and it's our job to create an equal planning field where there are no experts or all experts.
The power of the workshops is it speaks the language of the public, rather than try to teach the public to read a map, or understand TOD, form based planning or zoning, the public discovers these concepts though their city building.
Words are an abstraction of people's emotions and ideas therefore they are always subject to someone's interpretation.  By building a model there is clear visual indication of what people want.  In addition as urban planners at the end of day we build cities, therefore why not start the design process as the first level of business.
Experiencing, learning, and building are a useful tool to teach the public about the built environment and urban planning because all three elements reinforce each other.  Participants use all the senses in a journey of self-discovery and the city.
Stay in touch
Sign up for our free newsletter