Bicycling
Mobility 21: Small-Ticket Transportation Solutions Get Lost in the Big-Ticket Hubbub
12:35 PM PDT on November 1, 2010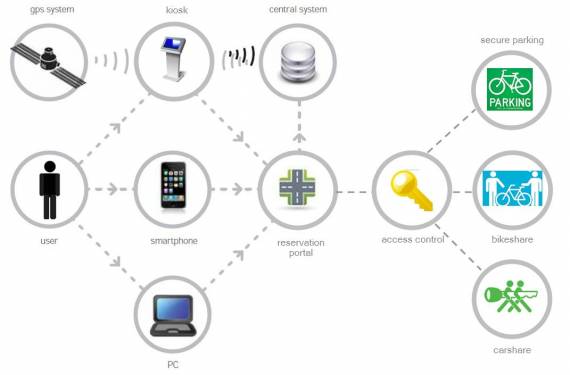 Big Ticket
The annual Mobility 21 conference for the SoCal transportation industry, consultants and agency officials usually comes and goes without much fanfair but this year there was a palpable sense of excitement – and record attendance – at the Disneyland Hotel in Anaheim. LA County really has a lot going on with Measure R, 30-10, the $547 million Tiger grant to speed up construction of the Crenshaw line, recent decisions about the alignment of the subway and regional connector, and the $43 billion high speed rail line billed as "the biggest public works project in the state's history" – its first phase ending at a big intermodal terminal in Anaheim.
But there was lots of hand-wringing among speakers about the fact that that the federal government seems unable to reauthorize the multi-year federal transportation bill, now in its fifth extension – because there's no money to pay for it and no appetite to discuss solutions like a VMT fee or increased gas tax. Meantime, this country is falling behind its competitors who are creating jobs and investing in an oil-independent future – like China, which is spending its economic stimulus money on 42 hyper-speed rail lines connecting every major city.
It was curious there wasn't more celebration of SoCal's "self-help counties" that step up to tax themselves and provide local funding that can be used to leverage federal dollars. Measure R and 30-10 is the stellar example, and is providing Los Angeles with a robust transit expansion program that's not dependent on federal hand-outs but only needs low-interest loans, interest write-downs and "qualified transportation investment bonds" or QTIBs. And what got lost in the discussion about all these big-ticket transportation projects were the small-ticket items like bike and ped infrastructure and car-sharing that make the billion dollar projects work so much better.
Little Ticket
Yes the Bike Station's Andrea White-Kjoss, Dennis Allen from LA streetcar, and Jessica Meaney, California policy director of Safe Routes to School, were given spots on panels otherwise crowded with advocates for HOT lanes, hydrogen fuel cells, and "green" pavement. Meaney pointed out, for example, that walking maintains a 12 percent regional mode share even though we invest just 0.5 percent of transportation funding to make walking safer and more pleasant. Allen pointed out that even if we build transit-oriented development around every single rail station we'll never provide the volume of walkable development and transit proximity that streetcars make possible – because while light rail stations are typically a mile apart streetcars stop on almost every street corner.
Also notable was an impressive presentation by lunchtime keynote speakers Vaughn Spethmann and Dustin McBride, former Southern Californians who are building a bike industry in Africa to provide countries with jobs and low-cost transportation. Their Zambikes company in Zambia is producing low-cost bike frames from bamboo, and ambulance trailers and carts that can be hitched up to bikes in a country so poor that there are no roads allowing rural residents to access hospitals and markets. Their nonprofit Acirfa – Africa spelled backwards to "turn Africa around" – is based in Irvine and provides start-up capital to launch similar businesses in other African countries.
Also impressive is a neighborhood retrofit project that only made it into the Mobility 21 exhibition hall and hasn't been talked about much yet in Southern California: three "smart mobility hubs" will open in 2011 to provide first mile/last mile connections in downtown LA, Hollywood and Long Beach. A project that was begun in Germany and comes to LA via the Ford Motor Company, University of Michigan, LADOT and local companies including Acire, these mobility hubs will provide an "a la carte" choice of transportation connections enabling people to get from rail stations to homes and jobs located beyond a comfortable walking distance – an obvious problem in almost every LA neighborhood.
The mobility hub is a demand-based service accessible through an on-line portal allowing transit riders to book an array of "mobility options" including car-sharing, bike storage and bike-sharing, demand-responsive jitney service, folding bikes, and other services including a "guaranteed ride home" program, "casual carpools," an integrated transit pass, and real-time data on transit availability –choices that are made available through enrollment, on-line reservations, or on a walk-up basis.
This project has leveraged $8 million from the federal government with $5 million from a private sector that is keenly interested in investing in a new "sustainable urban mobility" industry that goes beyond the traditional transportation sector to involve telecommunications, real estate, logistics, and public-private finance. Future service options could include from home delivery, senior chauffeurs, pedicabs, and communal cabs, and technology applications could include congestion pricing and online way-finding and fare payment.
This "systems approach" to sustainable transportation recognizes that there is no silver bullet – not rail or bus or HOT – to the complex transportation needs of cities. Rather, these networks, "support a personalized, customized, connected portfolio of services, products, technologies and design much like our personalized tele-communications portfolios connect iPods, laptops, desktops," explains the University of Michigan's Smart Mobility website. It's using information technology to connect existing transportation modes with others we haven't even invented yet.
But the Smart Mobility website also addresses one basic problem with the conventional transportation paradigm: Conventional transportation systems emphasize mobility – getting from A to B at the highest speed possible – as if mobility was a desirable end in itself.
In fact, the real goal of transportation in the 21st century is accessibility to destinations, jobs, shops, services, affordable housing. Accessibility calls for a much wider array of options that includes smart urban design – mixed-use, jobs-housing balance, housing "fit" for people of all incomes – as well as the connectivity that technology can provide. This brand new "sustainable urban transportation industry" hasn't got the attention of mainstream transportation providers – yet – but is likely to as funding gets tighter and tighter.
Check out Zambikes and Acirfa at http://www.zambikes.org, and check out Smart Mobility Hubs at http://www.um-smart.org/project_research/index.php.
Stay in touch
Sign up for our free newsletter