bicycle lanes
Alhambra Planning to Reconfigure its 710 Freeway Stub
8:51 AM PDT on March 30, 2023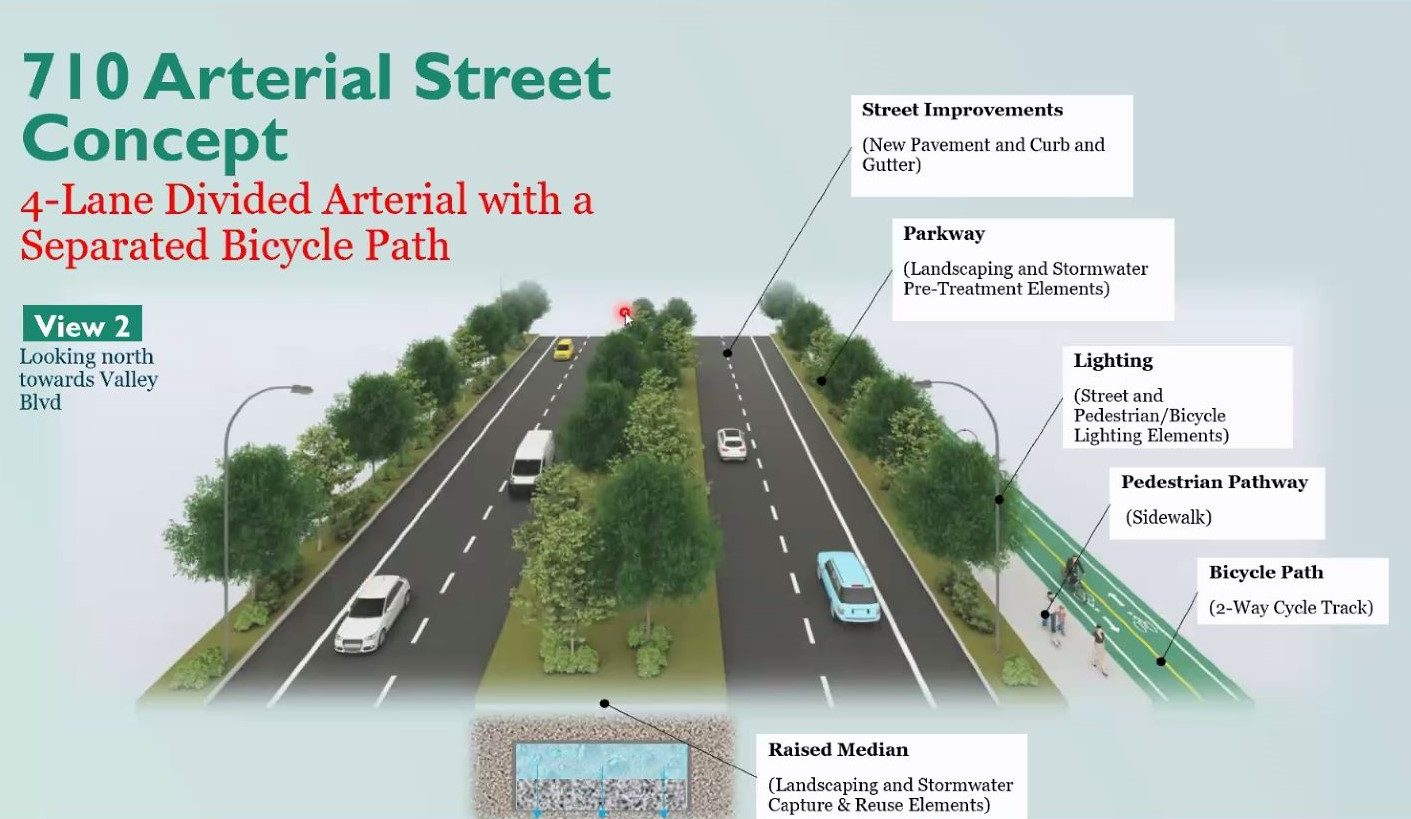 In two presentations last Monday and Thursday, the city of Alhambra shared some early plan concepts for what might be done to reconfigure the stub end of the 710 Freeway, which currently dumps copious car traffic onto Alhambra streets. In retooling the stub, the city is considering various component projects that could reconfigure the 710/10 Freeway interchange, Fremont Avenue and its on/off-ramps, and convert the six-plus lane freeway stub into a four-lane arterial street with bike and pedestrian facilities. These concepts were presented as part of the city's Advancing Alhambra initiative for long-term road planning.

Alhambra anticipates that some or all of the project funding could come from Metro's 710 North Corridor Mobility Improvement Projects (MIP). When the North 710 Freeway extension project was canceled in 2017, Metro distributed what was left in that project budget to instead go toward surface street improvements in 710 corridor cities (mostly in the northwest SGV). The Metro board directed for this funding to go toward multi-modal facilities, not just car-centric projects, repeatedly, including in a February 2022 motion.
Alhambra Councilmember Ross Maza opened Thursday's meeting. "At this point without a completed 710 connection, our concern in Alhambra has been that traffic will continue to get worse along our neighborhoods, our streets." Maza said. "We need to keep traffic on I-10." 
Then Patrick Gibson, a consultant from Gibson Transportation, took over and repeated the now familiar statistic (familiar in Alhambra anyway) that 78 percent of the 58,300 vehicles that travel the stub daily are commuters on through trips, not stopping in Alhambra for any reason. "15,000 of those are going to the San Gabriel Valley. 22,000 of those are going to Pasadena and points north."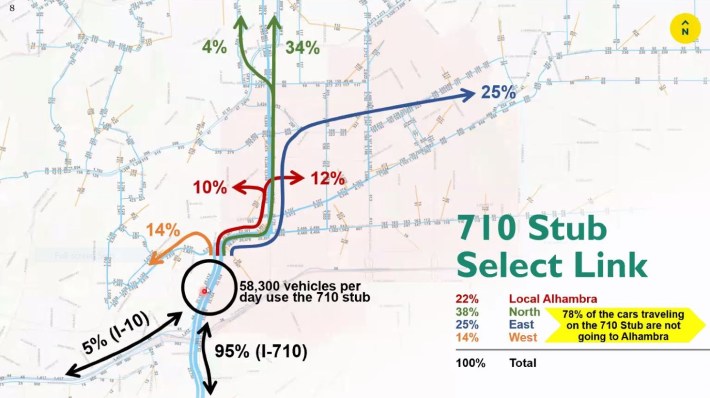 Why wouldn't people driving to say, Rosemead, just get on the 10? Gibson described a familiar sight on the 710. "You come north and you look over at the 10 Eastbound off-ramp. And what you see is a huge line of red lights, tail lights. And that's the point where you say 'Okay, I'm not going on 10. I'm gonna stay on 710 to Valley and I'm going to cut through Alhambra.'" Then Gibson and two other consultants displayed several car-centric projects meant to remedy this phenomenon. 
Fremont First - the Freeway Interchange
Though one of the main concepts is transforming the stub into an arterial multi-modal street (see below), the city's transportation consultants assert that the 710 North to 10 East interchange needs to be reworked first. Gibson attributed part of the bottleneck to merging on/off the troublesome Fremont Avenue off-ramp immediately after the interchange. The current conditions on that stretch of the 10 generate 'weave' behavior, which congests traffic.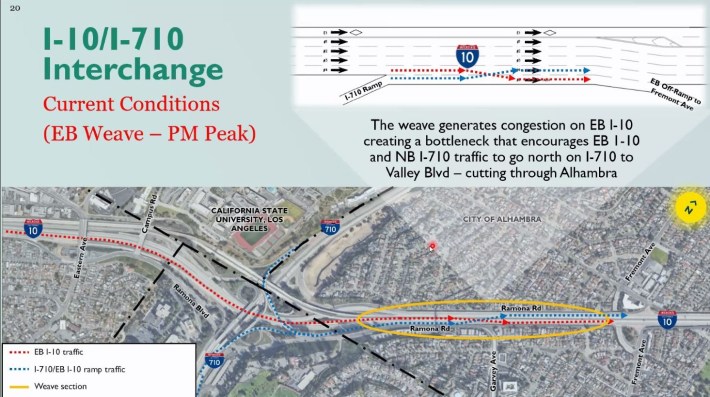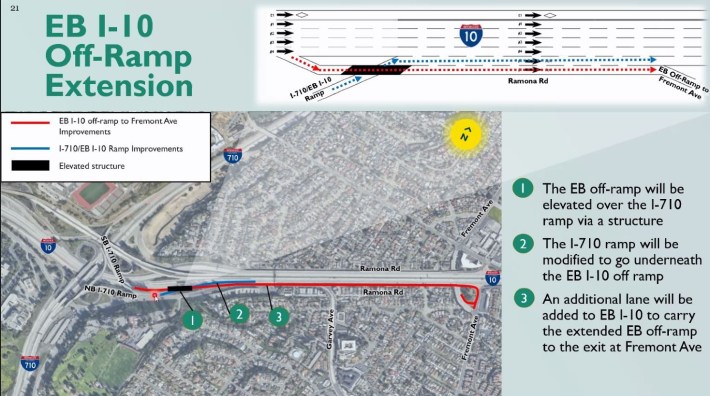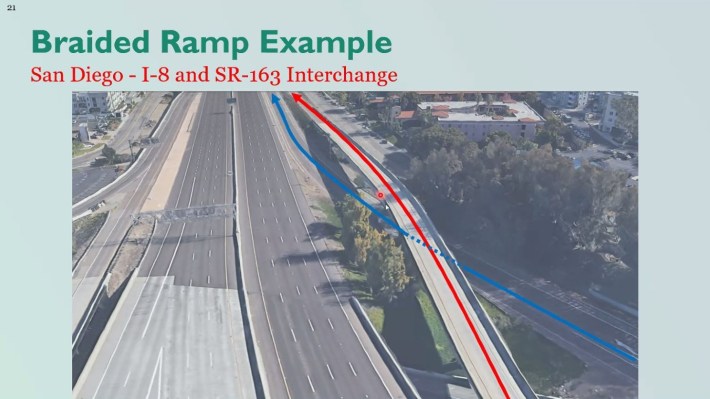 "To help this condition, what we're proposing to do is to vertically separate that merge or weave condition by elevating [it]." said Justin Gatza, Project Manager for Kimley-Horn. "What the red line [in the diagram] represents [is] the eastbound I-10 off-ramp, and we're gonna break that or fly it over [with a short bridge] the blue line which is the 710 [on-]ramp that will come underneath it. So in essence, the freeway ramps will be doing the weaving and not necessarily the cars in this case."
For a brief stretch of the eastbound 10, one more lane would be added to help drivers to merge. But that's not the only adjustment they had in mind for Fremont. "The interchange is very old, you have these really antiquated ramps that are really short and low speed." Gatza said. "And then you also have these stop controlled intersections that exist at Elm Street and Hellman Avenue, as well as Ramona Road and Fremont Avenue, that when you add that to the short ramps, you get a lot of that traffic really spilling back out into I-10."
Fremont's Ramps
The consultants proffered a handful of similar solutions, with somewhat confusing nomenclature. First, here are the 'Early Alternatives,' pictured below. Gatza says the key elements are extending the westbound ramps to the Fremont and Hellman intersection (as well as widening Fremont approaching the intersection), and extending the eastbound ramps to the intersection of Montezuma Avenue and Fremont. 
"And what this will do is eliminate the stop-controlled intersections to help provide that separation and between neighborhood traffic and freeway traffic to help the performance of the interchange itself." said Gatza. 
Note that the Fremont/10 Freeway undercrossing also pictured below would include a protected pedestrian/cyclist pathway on just the southbound side. A new third northbound traffic lane would be added (and the existing sidewalk eliminated) to catch the extended westbound on-ramp at Hellman, as well as an additional left turn lane on the southbound side of the intersection. The 'alternatives' also call for several "property impacts" and "access impacts" (meaning buildings that might be demolished and/or lots that might be trimmed) to accommodate wider roadway. The "property impacts" could include Fremont Elementary School, US Storage Centers, Grooming by V, Fidelity Copier Solutions, Cosmo's Beauty Salon, and Primera Iglesia del Nombre de Jesus.
For the north side of the 10 at Fremont, there are 'Option 1' and 'Option 2.'
Gatza said these options were drafted as a result of early feedback, and could either be part of the 'Early Alternatives' or act as their own standalone concepts.
Both options would "improve westbound ramp geometry," add "striping enhancements" on Hellman and Fremont, and would turn El Paseo and Ramona Road into one-way streets (just on the north side of the freeway).
The difference is that 'Option 1' would keep more-or-less the current configuration on Hellman at Elm and at Primrose Avenue.  'Option 2' would demolish the small commercial center (between Elm and Primrose) to disconnect Elm and Primrose from Hellman, using a wall to close the neighborhood off from freeway traffic.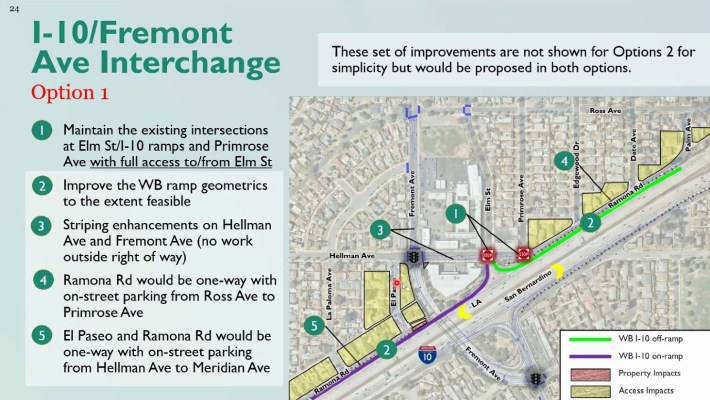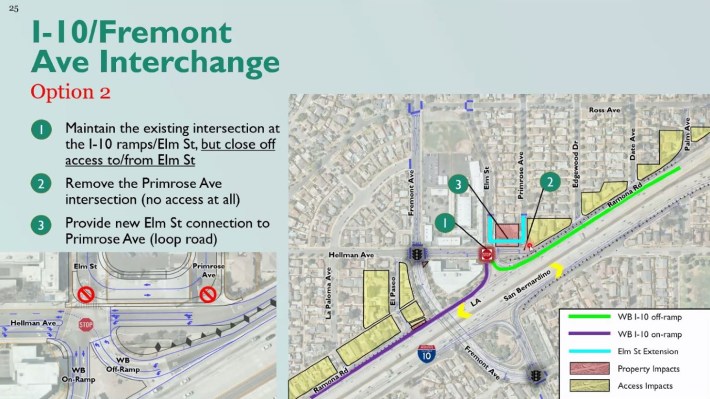 The 710 Stub Arterial
But what would they do about the 710 Stub, stopping dead at Valley Boulevard? Gibson ran through a few slides (at 13:21) illustrating models of how local traffic might be impacted in the future by various modifications to the 710 Stub. Gibson Transportation and the city of Alhambra claim:
Doing nothing would lead to increased "cut-through" traffic throughout the city.

Extending the 710 to Mission Boulevard would relieve some traffic on Valley, but make it much worse on Mission.

Ending the 710 at the 10 (closing the stub area to cars) would increase street traffic throughout Alhambra, Monterey Park, and in adjacent Los Angeles.

Converting the stub into an arterial street would reduce its own traffic, as well as on other Alhambra and Monterey Park arterials, instead pushing traffic to the 5 and 605.
Converting the stub was presented as the most reasonable tactic. "If we change that from a six lane freeway to a four lane city street, then what happens is people see that 'I don't have a six lane freeway all the way to Valley anymore. I have a capacity reduction up there.' And people start to make other choices." Gibson said.
What might the transformed stub look like?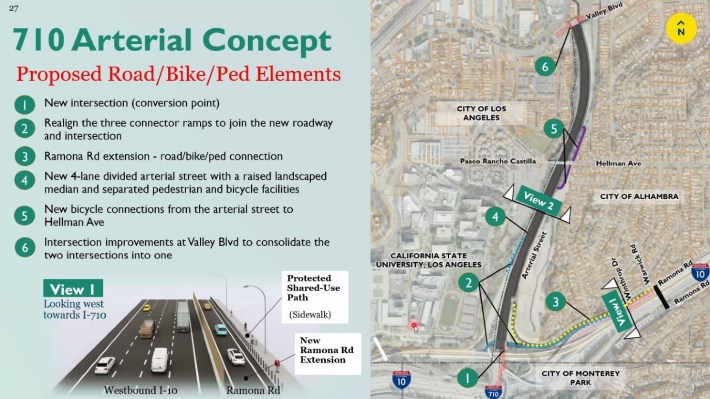 "The vision for the 710 arterial is really the downgrading, the narrowing of that corridor from a six lane freeway to a four lane divided arterial that has all those wonderful complete street and green street elements that you would see on a on a normal arterial such as Fremont north of Valley," Gatza said. 
Gatza suggested that this starts with a signalized intersection where the 710 would end at the 10. In this concept, Ramona Road would be extended to meet up with the new arterial; along the north side of Ramona would be a shared use protected bike/walk path. That would connect to side-by-side pedestrian and bike facilities on the arterial, which would connect to Hellman and Cal State L.A. up above the arterial. 
Gatza said phase one of construction would be the Caltrans project, including the intersection, and realigning the three freeway connector ramps. Phase two would be Alhambra City's project, converting the 710's surface into an arterial street. 
(Note that the Advancing Alhambra presentation of Mobility Improvement Projects also includes traffic signal synchronizations on Garfield Avenue, Fremont Avenue, Atlantic and Valley Boulevards.)
Kimley-Horn Senior Project Manager Robert Blume said it's too soon to accurately say what these projects will cost, but since they are still very early in their timelines, there will be more opportunities for feedback on the concepts.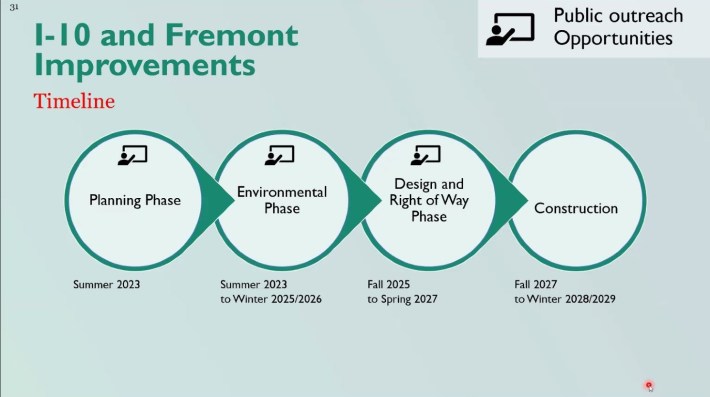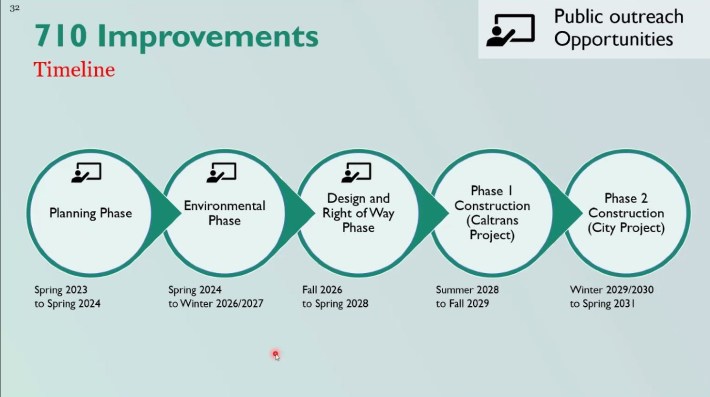 Public Comments
"I, myself and several other people have asked for traffic calming measures. And it seems like the measures that are being proposed will expedite traffic. On the off-ramp, you'll increase traffic coming north and south through my neighborhood [...] I also want to know what happens to the people walking up and down the arterial 710. Once it becomes a smaller street, where will they go? Will they hit the traffic that's trying to speed through Valley Boulevard and just be fighting for their life as a pedestrian or cyclist?" – Connie Ho
"If we are to accept the recommendations, we would deplete the entire capital budget for transportation, leaving no funds for the kinds of meaningful transportation projects that would truly improve traffic congestion. So how do we improve traffic congestion? Not by doubling down on our already very car-centric infrastructure by adding more vehicle capacity, but by reducing the number of vehicles that travel on our existing infrastructure. This team has conveniently omitted the statistic that upwards of 90 percent of automobile commuters in L.A. County are driving alone [...] So there's a capacity that exists there that these people are not thinking about how to use more efficiently. They're really just recommending these massive, expensive infrastructure projects to just redirect the traffic flow. They've not explored nudging 710 and 10 freeway commuters toward existing or proposing new Rapid bus lines, which would remove cars from the street and from freeways and really is the only intelligent solution for decongesting our traffic." – Eddie Sun
"Five years ago, I made a proposal to Caltrans regarding the stub here. And what I said to them is, we should stop the 710 at the 10, and let the state mitigate the problem. It is not the community's problem. And so what you're proposing tonight, is basically using money that should be coming to the community to mitigate a freeway problem. It is not your problem, it's their problem, they should resolve that problem." – Bill Marquez
"I just wonder if you all ever drive on the 710 North and try to transition to the 10 eastbound. I think a lot of the problem is even before you're trying to transition to the eastbound 10, it's a confusion of lanes. There's an extra lane that exists for a mile or so and then randomly disappears. You have the Ramona exit, the signage is terrible. So people are in the wrong lanes to go west, to go east. Is any of this money going to be spent on that?" – Xana Hermosillo
"If most people using the surface streets are not Alhambra residents. Why are we expanding volume and welcoming more people in cars into our community? ...I know the owners on some of the businesses on Hellman, right off the ramp. Will the city be using eminent domain on their properties? Have they been notified?" – Andrew Yip
Responding eventually to Yip's comment, Blume noted that, "Property acquisition is a significant cost and impact to the community, and we're really trying to avoid and minimize that as much as we can."
Streetsblog's San Gabriel Valley coverage is supported by Foothill Transit, offering car-free travel throughout the San Gabriel Valley with connections to the Gold Line Stations across the Foothills and Commuter Express lines traveling into the heart of downtown L.A. To plan your trip, visit Foothill Transit. "Foothill Transit. Going Good Places."
Sign-up for our SGV Connect Newsletter, coming to your inbox on Fridays!
Chris is the San Gabriel Valley Reporter for Streetsblog LA and co-host for SGV Connect. He's been a La Puente native since 1991, and a radio journalist since 2014. He hosts the podcast SGV Weekly.
Stay in touch
Sign up for our free newsletter