Metro
Digging a Little Deeper Into Metro's FY23-24 Proposed Highway Budget
5:21 PM PDT on March 28, 2023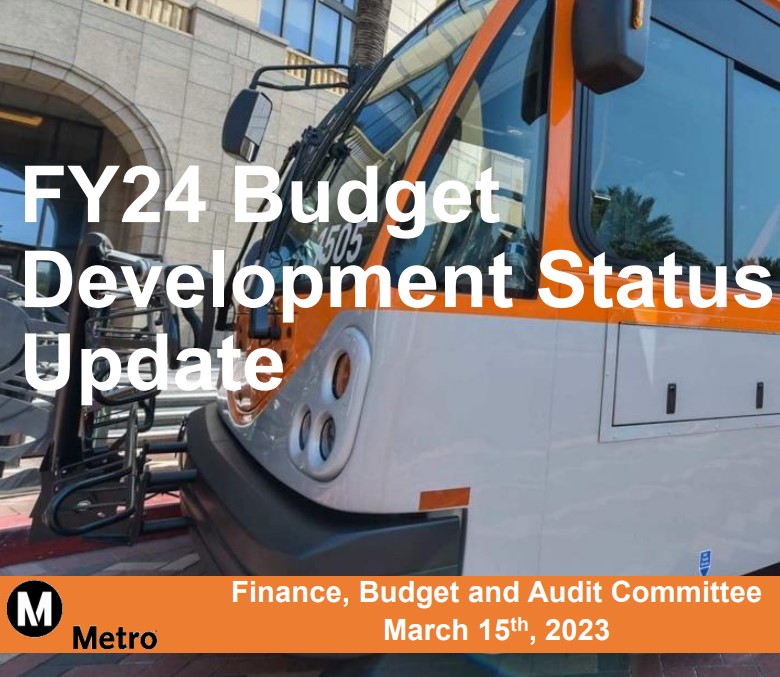 Tonight at 6 p.m. Metro will host a Telephone Town Hall meeting about the agency's upcoming budget. Metro is currently developing its FY2023-24 budget, expected to be around $8 billion. The final budget typically goes to the board for approval in late May, when it's a high stakes up/down vote, with very little room for modifications or even clarifications.
Streetsblog attended a 2022 Metro budget Town Hall meeting [tweet thread], and found it a singularly poor venue for participants to actually express their views on the Metro budget. Metro leaders made presentations about the agency and its budget, touting work on equity and climate, and failing to mention things like freeway widening. Metro took various questions, mostly unrelated to the budget, mostly focused on transit operations and security. During the meeting, Metro polled attendees, also about things unrelated to the budget, including "how did you hear about this meeting?" and "did you find this meeting informative?"
The problem with input meetings like these is that Metro then turns around and touts its great budget public process, including statements like "we have held two Telephone Town Hall (TTH) meetings, the most recent of which included over 10,000 participants" [quote from board report]. People who care about things like climate and equity then start to feel used and dirty for being co-opted into looking like they support a flawed, shallow outreach process which is designed only to rubber stamp a flawed budget.
So... please call in to Metro's budget theater tonight. Please express your views on the budget (see a few suggestions below). But don't expect too much in response.
Metro's $8 billion dollar annual budget is big, messy, opaque document. I can't claim to have a really good handle on it - I go over the staff reports, and draw attention to things I glean from them. But sometimes when I try to track certain Metro funding categories, I find that things have been reshuffled and the bigger picture is hard to see. So take the critique below as only a partial analysis. I have not been able to uncover everything important buried deep in the budget.
For a few months in advance of the May board approval, Metro staff present preliminary budget information at Metro board Finance Committee meetings. So far, there have been two preliminary FY23-24 budget presentations:
Still to come are presentations on operations and an overall preliminary budget. The operations budget includes the funded levels of bus and rail service, as well as law enforcement, ambassadors, and a lot more.
Below I dig a bit more into the March budget presentation - mainly how much Metro funds transit and highway construction. At the time, I noted that Metro's preliminary budget called for a 4.7 percent increase in freeway expansion and a 4.9 percent decrease in transit expansion. Since then I found that it's actually a little worse than that, because Metro had shifted some funds out of the Highway budget - so it grew more than Metro reported.
This gets into the weeds a bit, but bear with me (or don't!). The Metro Highway budget includes lots of freeway widening. Freeway expansion adds up to roughly ninety percent of the entire Highway budget, but it also includes some projects unrelated to freeways (including a small amount for installing bus lanes on city streets). Generally Metro lumps these projects in with the freeways, because they are Metro capital/construction funds that go to projects that Metro does not own.
But there is another budget category, called "Major Projects," that also features Metro capital funding for projects Metro does not own. Contrary to how it sounds, Major Projects is a sort of small backwater category, easy to miss. These are not Metro's major projects (which are in Highway and Transit categories), but things like the Inglewood PeopleMover.

For Streetsblog I pay a lot of attention to Highway and Transit categories, and I usually don't pay too much attention to Major Projects. But as I was trying to track increases in the Highway budget, I noticed that one item had been zeroed out. Alameda Corridor East Grade Separations (ACE - approved in Measure R) had been included in the Metro Highway budget for at least the past two years, but it is zero in the preliminary FY23-24 Highway budget. Metro had shifted it from the Highway budget to Major Projects. That isn't newsworthy, but it ends up obscuring how much the Highway budget actually increased.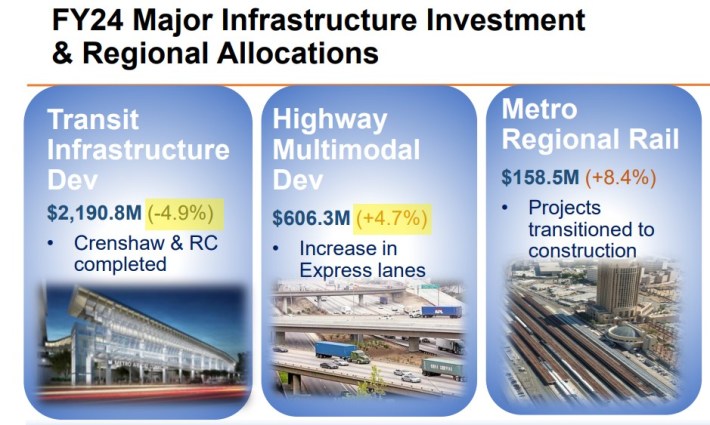 Streetsblog reported Metro's figure: the Highway budget grew by 4.7 percent. But, using an apples to apples comparison (when ACE - which is still in the budget, just moved elsewhere - is factored in), the Highway budget grows by six to seven percent (the percentage is slightly different if one takes ACE out of last year's Highway budget or adds it in to this year's.) It's not night-and-day, but it's a few percent more than Metro is presenting.
Is this a nefarious plot to disguise Metro's Highway spending increase? Or just a nuance that got lost when Metro shuffled budget numbers around? You decide. Either way, Metro's budget presentation makes its Highway budget increases appear a little smaller than they really are.
And while I am opining on Metro shifting monies between Highway and Major Projects, why doesn't Metro shift bus lane funding ($14.8 million) out of Highway and into Major Projects?
Probably because then Metro would have a harder time selling its freeway widening money as "multimodal." The first words out of Metro's Highway budget sales pitches is that they are multimodal, because they include bus lanes. A tiny bit of bus lanes alongside lots and lots of freeway widening.
This is consistent with Metro's pattern of outright lying and generally misleading the public in regards to freeway widening. The agency loves to hold up unrepresentative examples to greenwash its inexcusable freeway expansion. The first Highway budget feature Metro touts (see presentation - below) is its bus lanes expenditure (2.4 percent of the proposed FY23-24 Highway budget) as if that represents its vast highway widening portfolio.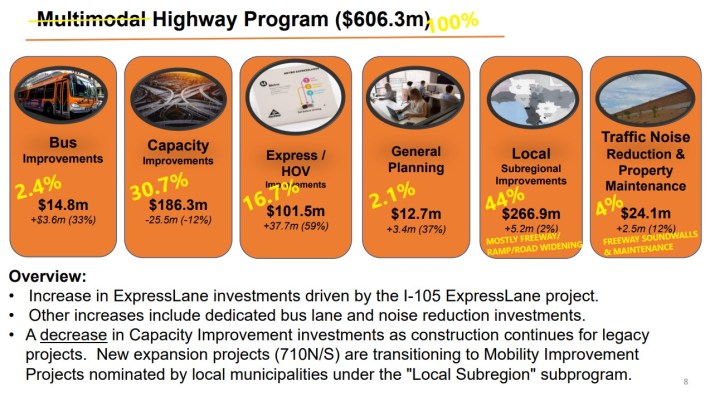 That isn't the end of this year's Metro budget reporting... it's just what's sticking in my craw right now.
If you do go to Metro's budget meeting tonight, please share how it goes in the comments. Here are some possible budget questions to ask:
Stay in touch
Sign up for our free newsletter