hit and run
Security Footage Shows Moments Before Frederick "Woon" Frazier Hit from Behind; Police Still Seeking Leads
2:20 PM PDT on April 18, 2018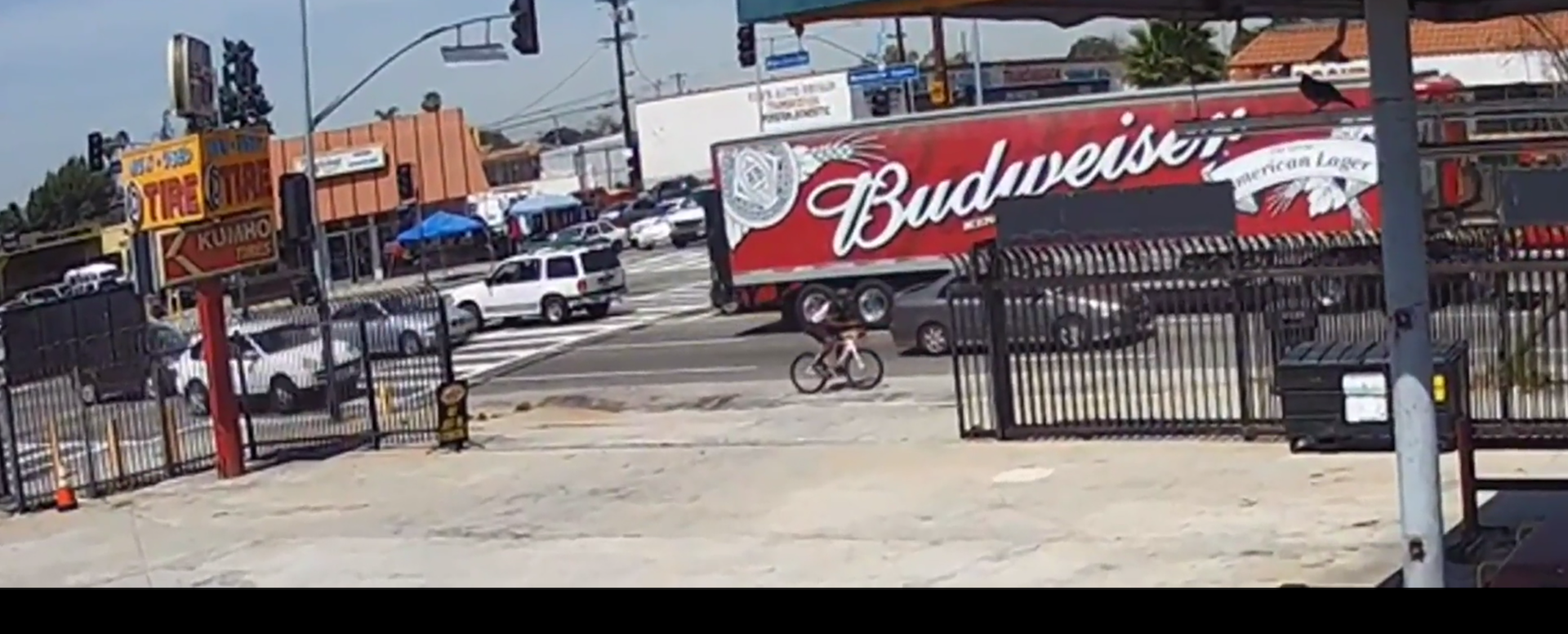 As Beverly Owens approached the ghost bike placed at Manchester and Normandie in honor of the memory of her fallen son, 22-year-old Frederick "Woon" Frazier, she began howling.
Pushing aside reporters and supporters gathered for yesterday afternoon's press conference and screaming at them to leave her alone, she moved toward the white bike, now decorated with messages from Frazier's friends, and the photos of the car that killed her son and doubled over, sobbing, "WHY? WHY? WHY YOU DIDN'T STOP?"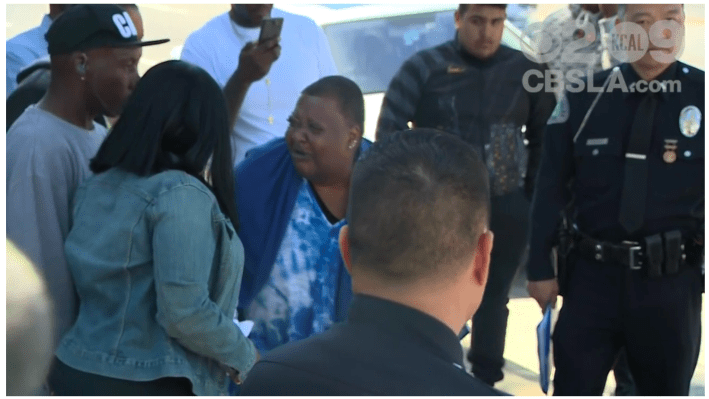 He was her baby, she said.
He was all she had in this world; he was all she lived for.
They had always faced life's struggles as a team - she had done all she could for him as a single mother in a community that had long been neglected by the city and his job helped pay their rent so they could have a roof over their heads.
And yet someone still saw fit to take him from her because her son was riding a bike - a hobby that he had taken up several years ago to address his diabetes and one that had completely changed his life for the better.
She was tortured by the idea that he was calling out for her with his last breath, she said. A witness had told her it appeared that Frazier was trying to form last words as he lay in the street, and that it seemed like he was saying something starting with the letter "M."
"I was all he had," she cried. "When the cameras leave, I'm at home with my baby gone. You took him away. I guarded him with my life. I guarded him as best I could. Somebody knows who did it...God sees you and he knows."
A tearful Moses Williams - one of Frazier's closest friends - echoed her laments.
He had texted his deceased friend several times over the past few days, he said, hoping it was all a bad dream. They had been inseparable - always meeting up to eat, to ride, and even, as Williams said, to "talk about all the wonderful things our moms had done for us."
"You hurt a lot of people," he said, addressing the SUV driver. "You ran. You turned it into a murder. You took his life and... you left him there to die by himself."
"Turn yourself in and ease some of the pain that you caused," he pleaded. "I know it's eating away at you."
At least, we want to believe it's eating away at the driver. Security footage released last night suggests that this wasn't just any "accident."
In the video, Frazier is seen making a right from Normandie (he had just left home) into the open gutter lane on Manchester.
Suddenly, a white SUV comes speeding into frame - it's moving at a much faster rate than the traffic flowing alongside it at around 35 mph. The SUV is also in the gutter lane, suggesting that the driver had probably been weaving in and out of traffic at high speeds, given how many parked cars it would have had to dodge (seen below).
Both move out of frame just as the SUV reaches Frazier's back wheel.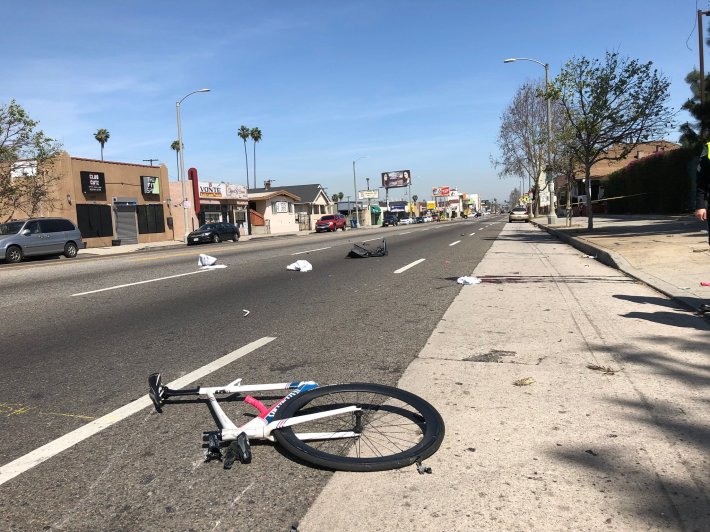 It's like watching a horror film - it's hard to believe such a powerful young man was dead just moments later because someone needed to get to the next red light so much faster than everybody else.
And it's devastating.
Sadly, the press conference offered little in the way of new information regarding the SUV or the driver that killed him. The vehicle was last seen traveling southbound on Budlong before disappearing for good.
The car that had been used to injure Quatrell Stallings, who was tossed high into the air at last Wednesday's vigil when a female driver (who also had gotten out of her car and punched a female cyclist a few minutes earlier) deliberately slammed into him, was found abandoned in Compton, thanks to a tip. According to police, it is currently being examined for evidence, but they are, at present, still unsure how to connect the driver to the car, as she was not the registered owner.
Leads are also in short supply for the hit-and-runs over the weekend that killed a pedestrian at Figueroa and Imperial Highway, a man in a wheelchair at Century and Main, and yet another cyclist at Century and Avalon. Just as they continue to be in short supply for too many of the hit-and-runs we've covered here, as well as the ones we never hear about - which turn out to be quite numerous.
According to the South Traffic Division, from January through the end of March, there were 195 hit-and-runs involving pedestrians and 96 involving bicyclists in the division encompassing Southwest, Southeast, Harbor, and 77th Street. The hit-and-run death toll for the year had remained relatively low until this past weekend. But the sheer number of incidents reported - especially when anecdotal evidence suggests a significant number go unreported - means navigating the streets is much more fraught for vulnerable road users than we tend to acknowledge.
In what appears to be an attempt to quiet some of the outrage over the carnage, Mayor Eric Garcetti announced yesterday that he would be throwing $91 million at Vision Zero efforts to... well, it's incredibly unclear what that money will be used for. The low-cost fixes that have shown up on many of our city's streets have served more as visible reminders to drivers that pedestrians and cyclists exist than they have as genuine modifiers of behavior. And the one-off events tapping local organizations to engage community members on safety have, in practice, been more about raising the profile of the Vision Zero initiative itself than about implementing actual change.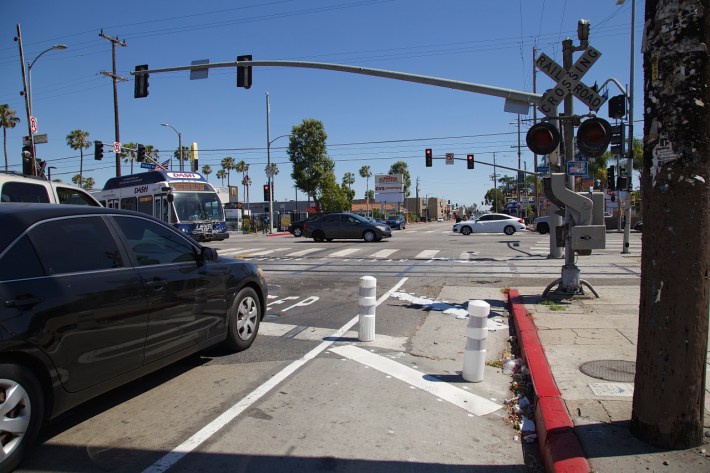 What Frazier's friends and other advocates are clamoring for is, instead, tangible change to our roadways that carves out real physical, protected space for cyclists and pedestrians.
Until we see the city take bold steps forward in that regard and really make an effort to reckon with the very vocal contingent of Angelenos that opposes slowing streets down, it will remain difficult to believe that safety for all road users is an achievable goal.
If you have any information regarding any of the hit-and-runs from this past weekend, please contact South Traffic Detectives Moreno or Flannery at 323-421-2500 or the Watch Commander after business hours at 323-421- 2577. See the LAPD press release on the incident here. If you'd like to contribute to funeral expenses for Frazier, visit the gofundme started by Keiven Muñoz, Frazier's close friend, here.
Sahra is Communities Editor for Streetsblog L.A., covering the intersection of mobility with race, class, history, representation, policing, housing, health, culture, community, and access to the public space in Boyle Heights and South Central Los Angeles.
Stay in touch
Sign up for our free newsletter