Bicycling
Dockless Bike-Share Pilot Parameters At L.A. City Transportation Committee Tomorrow
4:58 PM PST on December 12, 2017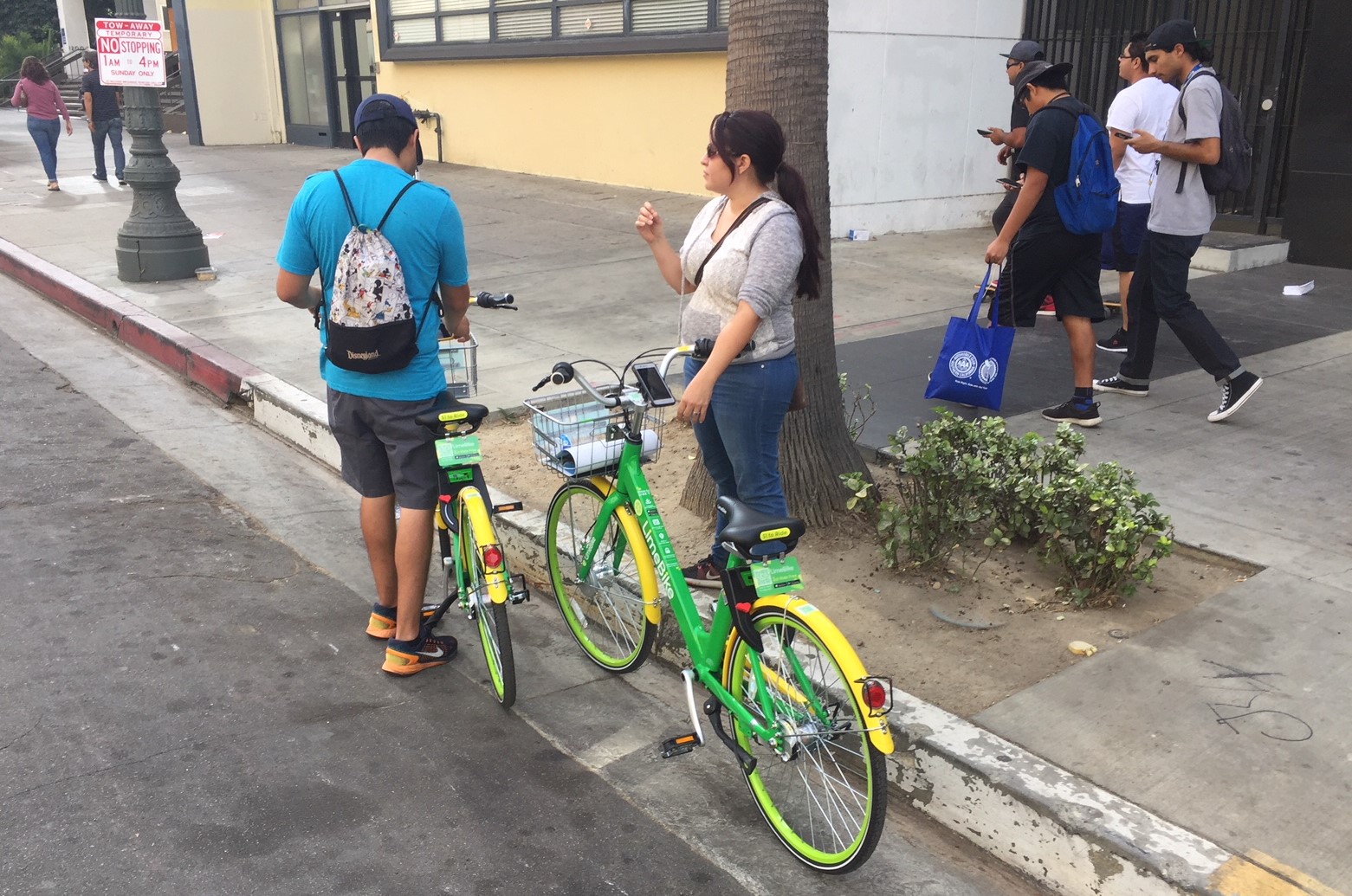 Tomorrow the Los Angeles City Council Transportation Committee will discuss dockless bike-share, known as "DoBi". The T-Committee agenda includes a motion (council file 17-1125), put forward by Councilmember David Ryu with Councilmember Bob Blumenfield, that calls for a dockless bike-share pilot program right away, and using the pilot "to develop a regulatory framework and permit process" for ongoing dockless operations.
DoBi has become common in cities in China. The DoBi business model, similar to Uber ride-hail, has tended toward saturating markets and resisting regulation. DoBi companies push to gain market share by broadly distribute inexpensive bikes. NACTO Director of Strategy Kate Fillin-Yeh, who provided helpful background for this article, goes so far as to say some of these companies use "disposable bikes." While ubiquitous bicycles offer low-cost mobility, Chinese cities are experiencing serious problems with large quantities of broken down DoBi bikes cluttering public spaces.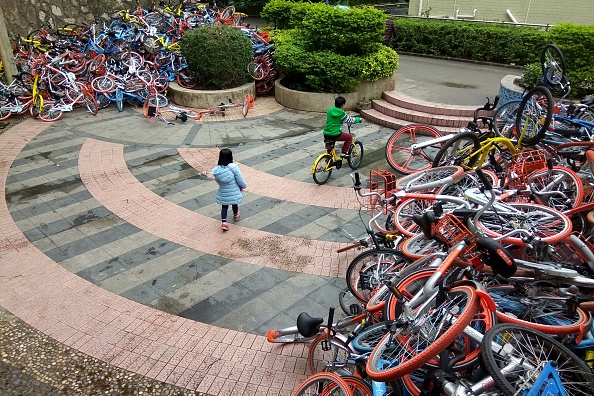 Cities all over the world are grappling with how to work with DoBi. From Manchester to Melbourne, DoBi companies are in the news. This month, Chicago and Denver Streetsblog articles have covered their DoBi situations. Long-time Chicago bicycle activist Randy Neufeld states that "They [DoBis] are cheaper if you use crap bikes and don't rebalance and maintain the bikes" and goes on to recommend that DoBi "operate from stations on private property, such as parking lots, or leased public space."
Seattle and Washington D.C. tend to be cited as cities showing leadership in setting up successful DoBi operations, though even those programs remain in their infancy. Modern app-driven bike-share operations - whether smart-dock, smart-bike, dockless - are all less than a decade old. Paris' Velib, launched in 2007, is seen as the first major modern system.
Three private dockless bike-share companies - ofo, LimeBike, and Spin - are already operating in parts of Los Angeles. The city also has two municipal bike-share systems. Smart-dock Metro Bike Share is available in downtown L.A., Venice, San Pedro and Wilmington. Smart-bike CycleHop systems Breeze (which is based in Santa Monica) and Bruin Bike Share are available in Venice and Westwood respectively.
Last week, the L.A. City Council retroactively approved legal agreements (council file 17-1125-S1) governing LimeBike's operations in Councilmember Joe Buscaino's Council District 15. LimeBike kicked off a 250-bike "pilot" in early November. In addition, the council approved an amendment that sets the stage for an additional DoBi program in Ryu's Council District 4.
Responding to the Ryu/Blumenfield motion, the Transportation Department's (LADOT's) staff report memorandum shows that the department has already done quite a bit of homework on the dockless bike-share situation. LADOT recommends year-long minimum 500 bike DoBi pilot programs, with DoBi companies signing agreements on liability and indemnification. Further, LADOT recommends requiring:
bike-share bikes meet safety standards (in other cities this has been an issue with broken down bikes, including non-working lights)
bikes are parked appropriately when in the public right-of-way, similar to Seattle requirements
data sharing, similar to Seattle requirements
minimum outreach standards
initial DoBi programs operate only in areas not served by Metro Bike Share and "areas that are not currently scheduled to be served by Metro Bike Share in the foreseeable future"
While LADOT's DoBi recommendations are a good place to start, there are a few practices that might be added to make DoBi better serve the city. Two additional items that the city council might incorporate include:
Equity: If left to their own devices, for-profit DoBi companies are likely to concentrate their products in areas where they can make the greatest profit - likely tourist-rich relatively-well-off neighborhoods. One important role that the city council and LADOT can play is ensuring that pilots and ongoing operations include underserved communities.
Permitting fees: Though DoBi appears "free," even for a pilot there will be city costs. City staff will spend time permitting, monitoring permit compliance, and likely disposing of abandoned broken-down bikes. For DoBi permits, Seattle charges $149 per year, plus $15 per bicycle, and an hourly fee for permit review.
Right now, these companies are eager to secure a share of the massive Southern California market, so it is important that city leaders - electeds and staff - ensure that DoBi serves the public good. The city will need to look out for underserved communities and other sometimes-overlooked constituencies including wheelchair users who require accessible un-cluttered sidewalks. If DoBi operators are not complying with city regulations, then the city should not be afraid to issue cease-and-desist orders, as NYC did.
In today's volatile bike-share climate, an end state is difficult to predict.
There are some nightmare scenarios. With around a dozen DoBi companies competing for market share, some will fail, like Bluegogo did. If DoBi undercuts municipal systems, like Metro Bike Share, then users choices could become very limited. As venture capital runs out, DoBi prices could go up.
There are also positive scenarios. Responsibly-maintained DoBi operating alongside municipal bike-share could offer users a marketplace of options. Streetsblog NYC reports that in Hangzhou, China, DoBi competition pushed the large, publicly-funded bike-share operator to adapt and improve its service.
Lastly, as NACTO's Fillin-Yeh emphasizes, bike-share of all stripes will work best in places where street infrastructure supports safe cycling. If Los Angeles streets remain as inhospitable and dangerous as they currently are, then bike-share providers will compete for a small constituency of strong and fearless cyclists. If L.A. leaders, including Councilmember Ryu, really want bike-share to succeed and thrive, then they need to stop impeding Vision Zero projects and build networks of streets that are truly safe for bicycling.
Stay in touch
Sign up for our free newsletter