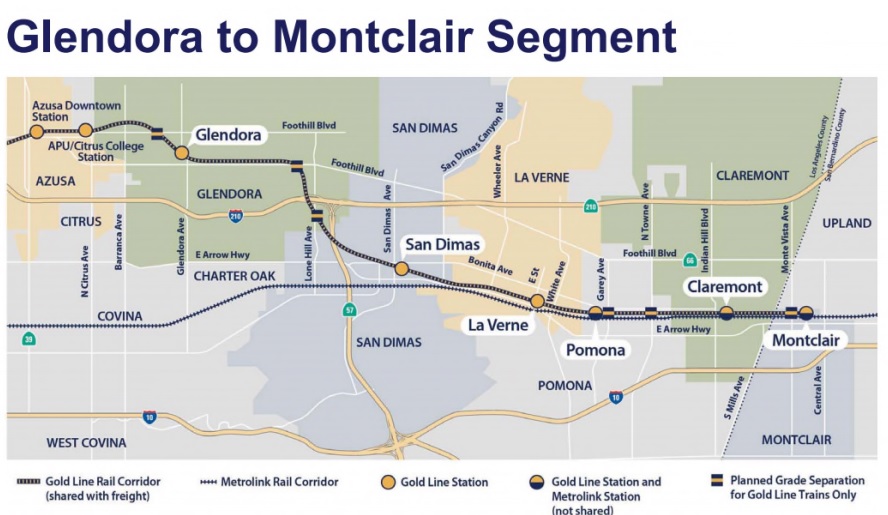 During last week's Metro board deliberations on how to make the Foothill Gold Line and the Metrolink San Bernardino Line complement each other, one issue at stake was the large fare differential between the two systems. The Metro staff report details that Metro Gold Line riders pay $1.75 fare for similar service that Metrolink riders pay $7.75 for.
In discussions on this matter last week (item 21 - starting at minute 1:31), Metro boardmember John Fasana raised the broader issue of overall fare disparities:
...I could make a case for you right now - a factual case - that if you ride along the Harbor Transitway to Los Angeles, or if you ride from El Monte to Los Angeles, you're paying more today than if you rode the Blue Line from Long Beach or the Gold Line from Azusa.
Fasana is referring to Metro's "Express Freeway Premium Charge" - an oddball legacy $0.75 extra fare that undermines Silver Line BRT. Metro rail extends further, and often travels faster, than freeway buses, but costs no extra premium charge. (One pet peeve of this author: the extra $0.75 cannot come from TAP stored value and must be paid at the farebox, which greatly undermines the efficiency of the Silver Line's all-door boarding.)
Fasana continued:
We have wider fare issues in this county: how they interact with other agencies, and other services that we provide. I'm a little concerned that with everything else that's been happening with the Gold Line and with Metrolink that bringing that fare discussion within that project might make things more difficult to move forward. As a board, I think we need to up our game or recognize the challenges to equitable fare policy the way we have here today in this county.

Why, for instance, should it cost the same to ride a bus two blocks or three blocks in Los Angeles as it does again to ride the Gold Line from Azusa to Los Angeles? I think we need to look at fare policy in an overarching manner...
Fasana's remarks were shared on Twitter by L.A. Times reporter Laura Nelson, touching off some online discussions. Nelson's tweet was shared at Metro's The Source blog.
Fasana did not name it, but the solution it sounds like he is hinting at is distance-based fares. The longer the transit trip, the higher the fare.
Distance-based fares were recommended in Metro's 2015 American Public Transportation Association review. From SBLA coverage at the time:
The [APTA] review also recommended that Metro adopt distance-based fares. Generally, a single fare for all trips regardless of distance tends to benefit higher-income riders, who, on average, tend to take longer transit trips than lower-income riders. Having to pay more for longer trips thus can remedy inequities currently experienced where, to an extent, lower-income riders are subsidizing higher-income riders. Metro CEO Art Leahy noted that Metro's average bus trip is three miles long, while its average rail trip is twelve miles – and that this disparity is expected to become greater with the opening of the Regional Connector, which will make longer no-transfer rail rides even easier. Historically this has been difficult to administer, but, especially with all rail/BRT trips requiring electronic fare via TAP card, distance-based fares on Metro rail appear to be feasible and fair.
As Leahy alluded to, fare disparities will become even greater when the under-construction Regional Connector subway opens, expected in 2021. If current fare structures hold, riders will pay $1.75 to travel from Long Beach to Azusa, and from East L.A. to Santa Monica.
Distance-based fares can get complicated quickly. Transit expert Jarrett Walker writes:
The more precisely equitable a fare system tries to be, the more complicated it becomes. For example, cities that charge for very small units of distance have much more complicated fares than cities that charge a flat fare of have just a few fare zones. Our "perfectly equitable fare" achieve the extreme of complexity: It is so intricate that nobody can know, when they set out, what their fare will turn out to be.
Theoretically, the complexity should be a matter of Metro doing a calculation in the background and just subtracting the right amount from the rider's TAP card. This can mean more fairness overall, but that presents some confusion for riders who may not know up front what their ride will cost.
Distance-based fares could apply to certain parts of the Metro system and not others. As Fasana alluded to, what makes sense for a local bus may not make sense for cross-town rail.
SBLA readers, what do you think about Metro transitioning to distance-based fares? This broad question include lots of sub-questions:
What other cities/regions do distance based fares work well?
How could distance-based fares be implemented to advance equity? How can they not further burden Metro's low income riders, many of whom do have long distance commutes?
Would it make sense to charge distance fares on some Metro transit and not others: rail vs. BRT vs. Rapid vs. local?
How can distance-based fares be done in a way that is not too confusing for Metro riders?
Technically, how difficult would it be to charge distance-based fares?
Metro should be able to pursue fare changes independently, but what are the implications for other transit service providers - from Metrolink to municipal bus operators?
Should Metro just get rid of that funky old Express Freeway Premium Charge? Perhaps the expense could be back-filled using Express Lanes revenue?
Streetsblog L.A.'s San Gabriel Valley coverage is supported by Foothill Transit, offering car-free travel throughout the San Gabriel Valley with connections to the new Gold Line Stations across the Foothills and Commuter Express lines traveling into the heart of downtown L.A. To plan your trip, visit Foothill Transit. "Foothill Transit. Going Good Places."
Stay in touch
Sign up for our free newsletter