Bicycling
Tamika Butler to Step Down as Head of LACBC; Leaves Behind Strong Legacy of Inclusion in Transportation
4:59 PM PDT on June 15, 2017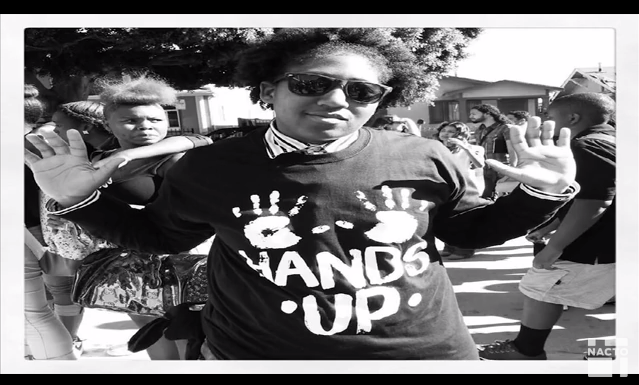 In the "hardest Off the Chain [letter she's had] to write" in her nearly three-year tenure as Executive Director of the Los Angeles County Bicycle Coalition, Tamika Butler today announced she would be moving on from the LACBC this July 14.
Her incredible (and very stylish) shoes will be very hard to fill.
As noted in LACBC board president Doug John's letter to LACBC members and supporters, under Tamika's leadership, the "LACBC has become both a local and national leader in advocacy for cycling, active transportation, and transportation equity. We've seen our operating revenue almost double, membership more than double, and have racked up numerous policy wins for cyclists throughout Los Angeles County."
It's a great accomplishment, on paper. But what Butler accomplished was even greater in practice.
As L.A. committed to becoming a Vision Zero city, Butler and the LACBC stepped up to make certain that the effort to save lives from traffic violence would not perpetuate other forms of violence against vulnerable communities. Her active dedication to valuing and advancing the safety and well-being of all lifted the profile of the LACBC and gave the organization a platform from which to shape national conversations on the topic.
In acknowledging the burden the Measure M sales tax would place on lower-income communities of color and the way those communities had been overlooked (or harmed) with regard to transportation projects in the past, Butler and the LACBC were able to help build a strong coalition that eventually voted in favor of the $120 billion measure. As a consequence, not only will Measure M help fill transit gaps and fund active transportation for all of L.A., but the LACBC's commitment to the needs of marginalized communities and the effort put into building working relationships with those stakeholders will help those communities continue to fight for the benefits they have long been due.
Other victories include the expansion of Operation Firefly (the effort to give out free lights, disseminate safety information, and gather data on lower-income cyclists of color), winning a major grant to assist physical education teachers in incorporating bicycle education classes into more than 30 LAUSD schools in historically underserved communities, leading conversations around equity in bike-share, building the sustainability of the LACBC by nurturing the growth of thirteen local chapters, and internalizing equity and justice in the culture of the organization, all while advancing the core mission of the organization to make L.A. a fun, safe, and healthy place for people to ride their bicycles.
But perhaps the most powerful thing Butler did during her tenure was to consistently give of herself to create space for others on the margins in a field where there is currently precious little.
Equity, diversity, lower-income communities of color, and even gentrification might be popular topics in urban planning at the moment, but it's been incredibly hard for advocates speaking from or about those perspectives to gain meaningful traction. Too often, they find themselves relegated to equity-specific panels, programs, or projects that are deliberately tangential to larger transportation issues or events, shut down during planning discussions, dismissed out of hand, and/or deemed "concern trolls" as a way to demean and silence them.
In fact, when it was announced that Butler would be helming the LACBC back in late 2014, the most common complaint I saw on social media was that the inclusion of equity and justice in transportation would be a "distraction from the real issues."
It was frustrating then to realize just how many mobility advocates saw the inclusion of the voices, access issues, and safety needs of marginalized communities as something to be discouraged.
It's even more frustrating now to see that so many remain either blissfully or willfully unaware of the extent to which that line of thinking upholds the legacies of disenfranchisement, segregation, and environmental and institutionalized racism. Especially in an era when our newsfeeds are filled with heartrending images of just how vulnerable black and brown men, gay and trans individuals, and so many others on the margins are and how actively the current administration is taking aim at just about everyone that is not a well-to-do cis white male.
Butler's bravery in taking the nay-sayers on was inspiring.
As a fierce, unapologetically black queer woman, she was unafraid to draw on her own vulnerabilities to help people understand how race, class, gender identity, equity, and justice intersect with urban planning, mobility, and the ability of marginalized communities to access the public space.
Whether it was her talk at the 2016 NACTO Designing Cities conference (above), her thoughtful contributions on the many panels she's participated in, formal and informal talks she's given at planning-related events, or her engagement with the communities she worked to build relationships with, she used her own identity and the often painful experiences that came with it as a way to underscore the importance of intersectional approaches to transportation in a way that everyone could relate to.
Her openness convinced others that her intentions and those of the LACBC - an organization that had long struggled to make inroads in communities of color - were sincere.
Mark! Lopez, the executive director of East Yard Communities for Environmental Justice (EYCEJ), said that the fact that she "approache[d] the work with great care" and built "genuine partnerships grounded in mutual respect" led him to believe that the LACBC was willing "to challenge power in the service of all of our communities." Her determination to listen to communities and take their lead ultimately made EYCEJ willing to partner with the LACBC - a step they hadn't been comfortable taking before her tenure.
That sentiment was echoed by Stephanie Ramirez, Associate State Director of Advocacy for the AARP, who spoke of how Butler's commitment to communities impacted the ability of the LACBC to work more closely with community partners and members on the ground. Her fearlessness and skill "in facilitating difficult conversation around equity, safety, and the concerns of marginalized communities," said Ramirez, was what made it possible for her to "accomplish so much in such a short amount [of time], given all the challenges of the job and being a newbie to bike advocacy." Moreover, she said, Butler had forever changed the LACBC from an organization that just focused on bikes to one that saw safety in more human terms. "During her tenure," Ramirez concluded, "Tamika taught us how, as leaders and community members, we must come together and speak up against the injustices that do not affect us directly in order to see true change."
Powerful as the approach of putting oneself out there can be, however, it can also come at a tremendous personal cost.
Often, as Butler highlighted during her talk at CalBike's Equity Summit in October 2015, pushback comes in the form of everyday tokenization, minimization, micro-aggressions, and well-intended (and not-so-well-intended) critiques and lines of questioning. When pushback comes from those who find inclusion threatening, it can be hostile, aggressive, and draining. The relentlessness of that combination can be exhausting, and it eventually takes its toll.
Even so, Butler remains resolute in the importance of forging more inclusive paths.
"Often times when you're leading the way, people on the sidelines question what you do because they don't yet understand what it is, why it's important, or that you're changing the game," she said in a statement. "We know that everyone may not understand, but we hope that one day everyone will. When they're ready, LACBC will still be here, leading the way."
For its part, the LACBC seems to be committed to continuing along the road Butler led them down.
"Tamika is leaving the Los Angeles County Bicycle Coalition primed for continued growth and success, which speaks volumes not only to her own leadership, but also to the team and culture she cultivated during her tenure," said board president John in a statement. "LACBC wishes Tamika well and must now turn to the future of the organization to ensure what has been gained under Tamika's leadership is not lost."
In the coming weeks, that will mean identifying an interim Executive Director and launching a national search for a permanent one.
She will be missed tremendously in mobility circles. It will be hard enough to find someone who can match her leadership, drive, passion, and expertise. Finding someone who has all that and her warmth and generosity, fearlessness, empathy, kindness, and humility might prove damn near impossible. Thankfully, however, she's not abandoning advocacy or our fair city - Butler will be taking the helm at the Los Angeles Neighborhood Land Trust when her tenure at the LACBC comes to an end.
We wish her all the best.
Sahra is Communities Editor for Streetsblog L.A., covering the intersection of mobility with race, class, history, representation, policing, housing, health, culture, community, and access to the public space in Boyle Heights and South Central Los Angeles.
Read More:
Stay in touch
Sign up for our free newsletter