Air Quality
Mark! Lopez Named Winner of the "Green" Nobel – the Goldman Environmental Prize
5:41 PM PDT on April 24, 2017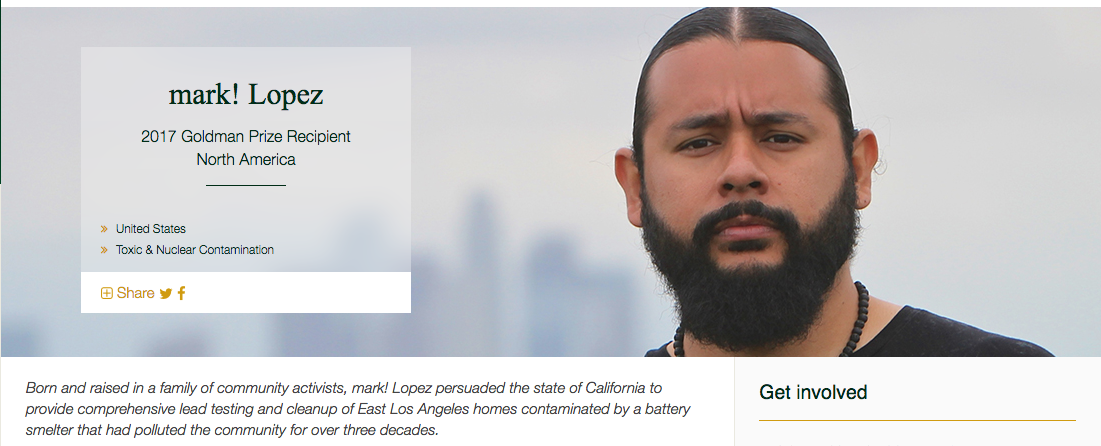 Mark! Lopez, Executive Director of East Yard Communities for Environmental Justice (EYCEJ) in Southeast L.A. (and 2015 Streetsie award winner), was named winner of the Goldman Environmental Prize today.
In the immortal words of our former Vice President Joe Biden, "This is a big f*cking deal."
The Goldman Prize was established in 1989, in the wake of the Exxon Valdez oil spill and the murder of Brazilian rubber tapper and environmental activist Chico Mendes. It honors six champions of the environment - one from each of the inhabited continents - and provides them with funding and support to help them continue their work. The prize is spoken of as a "green" Nobel, bestowing prestige and funds on grass-roots activists from around the globe that have battled powerful forces to better the environment in their communities. It also acknowledges that the fights the activists wage often come at great personal risk. A BBC radio discussion of the prize last night opened with the sobering reminder that former winners Berta Cáceres and Isidro Baldenegro were both murdered for speaking truth to power in Latin America.
For Lopez, the risks he faced were actually the ones that pushed him - and his family (he comes from a long line of activists) - to do the work in the first place. The hashtag #WeAreJustTryingtoBreathe, often spotted on EYCEJ's social media posts, calls attention to the fact that the issues they are addressing have direct bearing on the lives of those working for EYCEJ and the communities they are rooted in.
There is no safe space Lopez and other residents can retreat to.
Take the case of the fight against Exide Technologies - the now-shuttered lead-acid battery recycling plant in Vernon and the reason for which Lopez is being honored.
The plant showered residents of Boyle Heights, East L.A. and a number of the Southeast cities (including Lopez' community) with millions of pounds of lead and other toxins for nearly 15 years. And it did so largely with impunity: despite being repeatedly cited for violations of air quality and other standards, Exide paid less than a million dollars in fines during that time, with over half of that amount being levied in 2014, while the plant was offline. By the time the plant had been closed for good in 2015, it had operated on "interim status" for well over a decade - the only hazardous waste facility in the state ever to do so. [See the full slate of inspection reports and a thorough overview of Exide's misdeeds, here.]
The full accounting of Exide's crimes against the environment and the surrounding communities will likely never be known. Just prior to being denied a permanent operating permit in February of 2015, Exide cut a deal with the Department of Justice. The deal allowed it to acknowledge it had essentially committed the equivalent of four felonies a day for years while effectively halting further investigation into criminal wrongdoing on its part. In doing so, the deal also limited the ability of affected residents, the city, or the state to seek redress from Exide (outside of existing agreements) for any resulting damages.
But the fact that we know as much as we do about Exide's wrongdoing or that it is even being held to account in the first place is largely due to the organizing of Lopez and so many others from the community whose voices never faltered, but who went ignored for years.
When the then-newly appointed head of the Department of Toxic Substances Control (DTSC) Barbara Lee came to apologize to the community in April of 2015 and to acknowledge that DTSC had indeed failed to listen when the community cried out for help, Lopez didn't hesitate to push back.
Exide may have been the one to do the damage, he knew, but it was only because agencies tasked with monitoring and enforcing compliance made it easy for them to do so.
"At what point could this have been stopped?" he asked Lee. "We want to know what happened."
Calling for an independent criminal investigation into DTSC, he declared, "We're not just going to move on. This [harm] is part of our community story. I'd like justice to be part of this story...We want accountability…Where are those people that made bad decisions? Are they [now] making bad decisions somewhere else?"
He wanted to know that no other community would be subjected to the same harms that his had and that the relevant agencies understood that they were not playing with data points, but with people's lives.
Even now, as the Department of Toxic Substances Control (DTSC) oversees the massive $176.6 million lead testing and cleanup effort of ten thousand residences around the facility, Lopez has worked to see the community benefit economically from the clean-up and to ensure that corners are not cut.
Exide, however, is only one of many facilities that has polluted the Southeast area.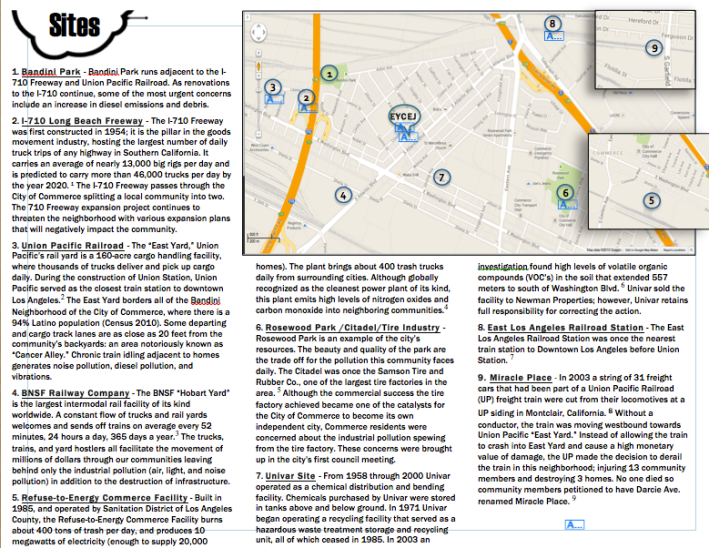 There are so many sites around the Southeast that Lopez and EYCEJ staff regularly lead "toxic tours" of their community by bike (above) to raise awareness about the prevalence of the injustices lower-income communities of color are subjected to.
But he doesn't stop there.
Conscious that, in addition to overlooking environmental injustices, official agencies have often relied on poor data regarding environmental harm, dismissed the impacts on nearby residents, outright ignored residents' specific needs and aspirations, or just been straight-up racist, Lopez has also worked to build the research capacity of young people from the area to help fill those gaps.
EYCEJ's Marina Pando Social Justice Research Collaborative program provides first-generation undergraduate students of color with intensive training in research skills and support for participants as they conduct investigations of their own choosing in their communities. [See their work here and here.]
All of this is in addition to the tireless door-knocking, community organizing, and trainings Lopez and other members of EYCEJ do to ensure that they are not speaking for, but speaking with their community when it comes to matters that affect their well-being.
"This is the community we've built, the community we're responsible for, the community we fight for," says Lopez.
It is truly wonderful to see Lopez' commitment to his work and his community being honored with the Goldman Environmental Prize tonight. It could not go to a better, more deserving, or more inspirational human being.
Watch the ceremony here.
Sahra is Communities Editor for Streetsblog L.A., covering the intersection of mobility with race, class, history, representation, policing, housing, health, culture, community, and access to the public space in Boyle Heights and South Central Los Angeles.
Stay in touch
Sign up for our free newsletter