Bicycling
LADOT Releases Annual Report, New Bikeway Mileage Declining
4:35 PM PDT on September 29, 2016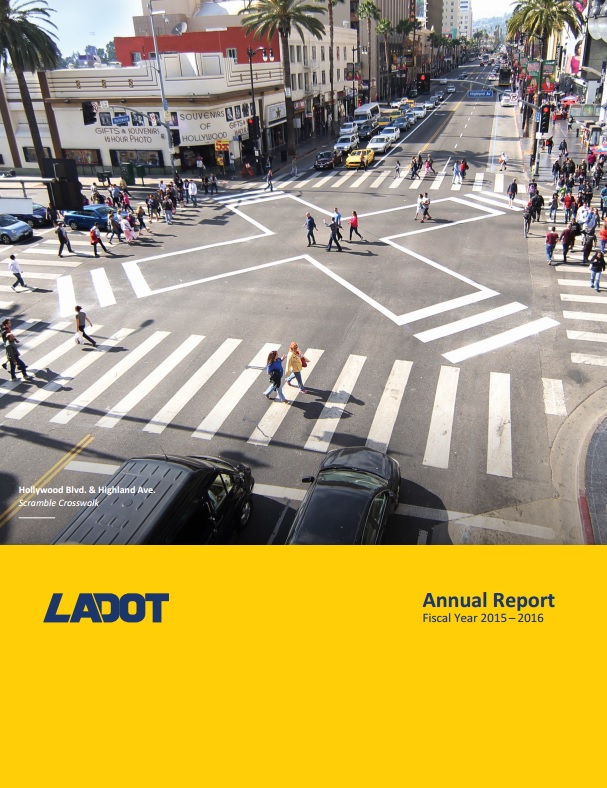 Last week, the L.A. City Department of Transportation (LADOT) released its Annual Report for the 2015-2016 Fiscal Year [PDF]. There are plenty of worthwhile accomplishments detailed in the annual report, but some disappointing news in that LADOT bikeway implementation has slowed.
Among the good news are some features that Streetsblog readers may be familiar with: the Hollywood/Highland scramble crossing, Cesar Chavez Avenue bulb-outs, pedestrian head-start signals, expansion of Express Park to Westwood, protected bike lanes on Los Angeles Street, and groundwork laid for downtown L.A.'s Metro Bike Share, which launched at the start of the 2016-2017 fiscal year. Only a decade ago, it was difficult to imagine these kinds of projects ever being installed here. Despite advocate pressure for protected lanes and bike-share, these were just not a possibility for LADOT circa 2006.
There are also some excellent accomplishments that flew under SBLA's radar during the past year:
LADOT has implemented 13 new school safety zones where speed limits are reduced to 15 mph.
LADOT has fought disabled parking placard abuse by conducting 74 stings, issuing 1,278 citations, confiscating 819 placards, and working to change state law.
LADOT has laid the groundwork for reinstituting the city's speed hump program and for implementing electric vehicle car-share. Both coming soon.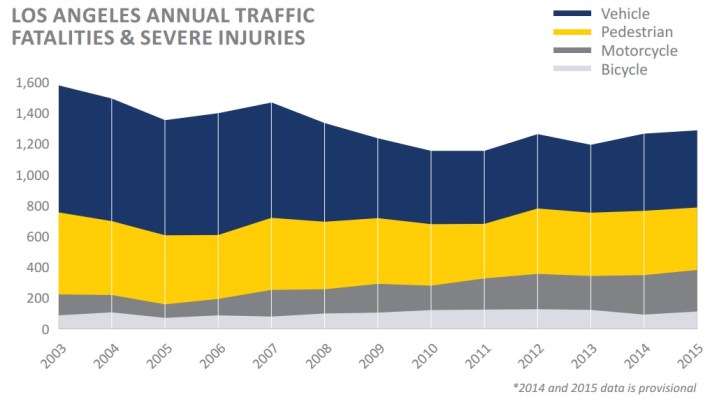 Interwoven with all this is LADOT's work to take Vision Zero from approved policy to on-the-ground improved safety for all road users. The annual report touts LADOT's analysis of collision data to inform future safety improvements. Some of this data mapping was presented at recent community meetings, where LADOT previewed maps for its forthcoming Vision Zero action plan, which was due to be released last August.
On the bike facility front, though, implementation has been sparse, even as new research shows that adding bike facilities improves ridership and safety.
It is telling that in her introductory preface LADOT General Manager Seleta Reynolds credits her department's accomplishment having "designed 12.43 protected bike lane miles." (emphasis added) Last year's report touted bikeway miles implemented. When asked for a comment on the decreasing bikeway mileage, Reynolds emphasized that LADOT is continuing to improve the streets for people biking and walking, though "we have a long way to go, and our interest remains raising the bar to build the safest, most organized infrastructure we can."
Some bike advocates evaluate LADOT's performance less generously. Michael MacDonald of Bike the Vote asserts that diminished bikeway implementation points to a lack of leadership:
Despite more and more Angelenos using bikes to get around, we still see little leadership and vision from our politicians to make streets safer. While other major cities such as New York, Chicago, Denver, and Washington D.C. are delivering on promises to build miles and miles of bikeways each year, Los Angeles is clearly falling behind.

Many Los Angeles politicians keep saying they support safer streets, but when it comes time for the paint to hit the road, we're not seeing the courage to make it happen. Striping bike lanes to improve safety isn't rocket science, but it does require leadership that we aren't seeing from Mayor Garcetti and many members of City Council.
L.A. County Bicycle Coalition's Executive Director Tamika Butler was also critical of L.A.'s elected officials. Butler stated that the LACBC is pushing "to uplift the voices of our communities to push elected officials to be accountable to the many Angelenos who deserve improved access, connectivity, and infrastructure. Investing in people who walk and bike is an investment in a better Los Angeles. Right now, some of those elected to protect us are fighting needed investments and putting our most vulnerable road users at risk."
In FY2015-16, LADOT implemented 8.8 miles of bike lanes, 1 mile of protected bike lane, 6.5 miles of bike path, and 0.8 miles of sharrowed bike routes. LADOT continues to count mileage using their new "lane miles" metric, which essentially double-counts most facilities, compared to pre-FY2014-15 statistics. Below is the entire list of new bikeways implemented last year, per LADOT: 
Los Angeles Street from First Street to Alameda Street: 0.93 miles protected bike lane
Exposition Bike Path from Overland Avenue to the city of Santa Monica: 6.5 miles bike path
Northvale Road from Motor Avenue to Overland Avenue: 0.8 miles sharrows (Expo bikeway gap)
Edgemont Street from Melrose Avenue to Santa Monica Boulevard: 1.02 miles bike lane
Louise Avenue from Lassen Street to Plummer Avenue: 1 mile bike lane
National Boulevard from Motor Avenue to Clarington Avenue: 0.83 mile bike lane
University Avenue from 30th Street to 28th Street: 0.17 mile bike lane
Vineland Avenue from Ventura Boulevard to Chandler Boulevard: 2.4 miles bike lane
Devonshire Street from Haskell Avenue to Sepulveda Boulevard: 1 mile bike lane
Fairfax Avenue from Clinton Street to Willoughby Avenue: 0.77 mile bike lane
Rose Avenue from Lincoln Boulevard to 4th Avenue: 0.98 mile bike lane
Marmion Way from City Limit to 345' east of Avenue 64: 0.13 mile bike lane
Avenue 60 from North Figueroa Street to Monterey Road: 0.54 mile bike lane
Implementation of new bikeway miles has declined precipitously since the era of the "2010" Bike Plan and Mayor Antonio Villaraigosa's mileage directive. Using LADOT's lane miles measure and according to city data (unfortunately this data is not entirely accurate, but it is good enough for shedding light on general trends), bikeway implementation has been as follows: (note that from the mid-1990s through 2010, the LADOT averaged around 5-12 miles annually)
FY2010-11: 137 miles
FY2011-12: 150 miles
FY2012-13: 251 miles
FY2013-14: 120 miles
FY2014-15: 38 miles (begin Garcetti/Reynolds era)
FY2015-16: 17 miles
As SBLA reviewed in coverage of the 2015 Annual report, mileage does not paint the full picture. Quality can make up for quantity. Unfortunately, though, other than Los Angeles Street's excellent protected bike lanes (which replaced an existing bike lane, so it improves but does not actually increase the total mileage of L.A.'s bike network) and the Expo Line bike path, there is not so much quality. Some of the facilities (especially Marmion Way) are welcome, but of little utility.
In defense of Reynolds' LADOT, many of the easy low-hanging fruit bikeways have already been done. During the past fiscal year, LADOT worked in an environment of some uncertainty in legislative and legal challenges to L.A.'s Mobility Plan 2035. As part of that, LADOT is navigating safety improvements in the face of some City Councilmembers who have expressed overt hostility to bike facilities.
Even in the face of these challenges there were also opportunities. LADOT missed some good chances to expand bikeways. An agile pro-bike department should have taken advantage of the opening of bike-share and Expo rail to further expand bikeway networks.
If all goes according to plans, FY2016-17 looks like it should be better. LADOT is poised to implement plenty of quality bikeway mileage during the current fiscal year, with protected bike lanes anticipated on Figueroa Street (MyFig), Venice Boulevard, Spring Street, Main Street, Van Nuys Boulevard and (newly announced in the report) Highland Avenue.
LADOT has recent accomplishments to be proud of, but, given Reynolds, a committed walk and bike champion at the helm, it is falling short of expectations. Cyclists, communities and advocacy groups will need to continue to press LADOT and L.A. electeds to ensure that progress continues.
Readers interested in the data behind this article can access the following Google documents: 2015-16 Bikeways, L.A. City Bikeways inventory, and Bikeways by Fiscal Year. The last two are derived from city's open data: Existing Bikeways
Stay in touch
Sign up for our free newsletter