Bicycling
Metro Bike-Share Opens July 7, Mobility Advocates Team up for Equity
12:53 PM PDT on June 29, 2016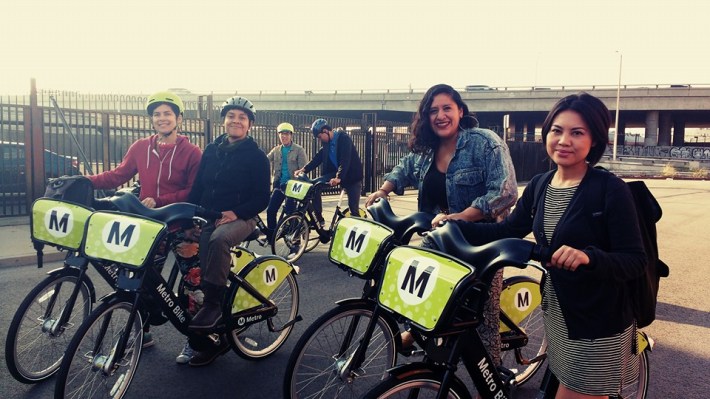 Southern California's largest bike-share system, Metro Bike Share, debuts next week!
Metro Bike Share will feature 1,000+ bicycles at 65+ docking stations in downtown Los Angeles. Starting July 7, Metro Bike Share will only be available to pass holders who sign up in advance. On August 1, the bike-share system will open to walk-up customers. The system is expected to expand to Pasadena in 2017, and additional L.A. County locations in the future. Metro Bike Share is operated by the Philadelphia-based vendor Bicycle Transit Systems (BTS).
At 11:30 a.m. on Thursday, July 7, Grand Park will host a bike-share kick-off celebration. The event will feature speakers, free snacks, and music. At the conclusion, riders will hop on bikes and ride to distribute them to bike-share docks throughout the system. Register for the kick-off via Eventbrite; RSVP and share via Facebook event.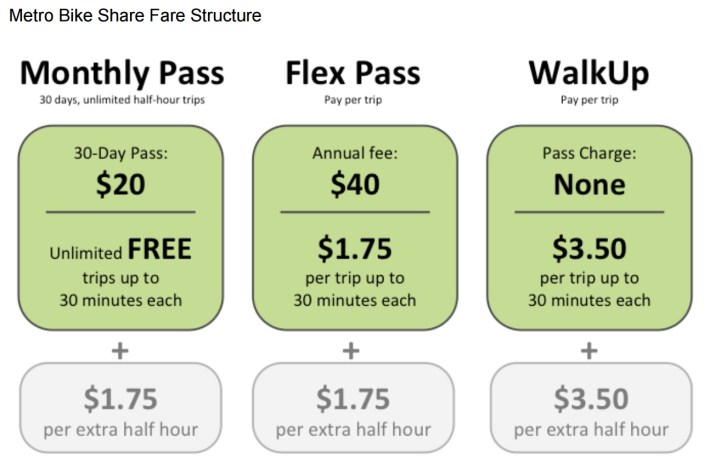 Under Metro's bike-share fare policy, riders can purchase a $20 unlimited Monthly Pass which covers all 30-minute rides with no per-ride cost. Alternately, less frequent system users can purchase a $40 annual Flex Pass, the pay $1.75 per trip. Walk-up use, which begins August 1, costs $3.50 per ride. For low-income riders, students, and seniors, bikes are available for the Flex Pass cost of $1.75 for up to 30 minutes usage, with no $40 annual fee. Correction: student and senior discount fares are approved, but at a later phase, not available initially. Sign up via the Metro Bike Share website.
The first 1000 riders who sign up for Metro Bike Share will receive a special membership kit including commemorative pins and TAP card.
Metro Bike Share will be L.A. County's first smart-dock system. Existing systems in Long Beach, Santa Monica, Beverly Hills, and (expected to debut this summer) West Hollywood, are all smart-bike systems. For those who have never used a bike-share docking system, watch Metro's instructional video for basic instructions.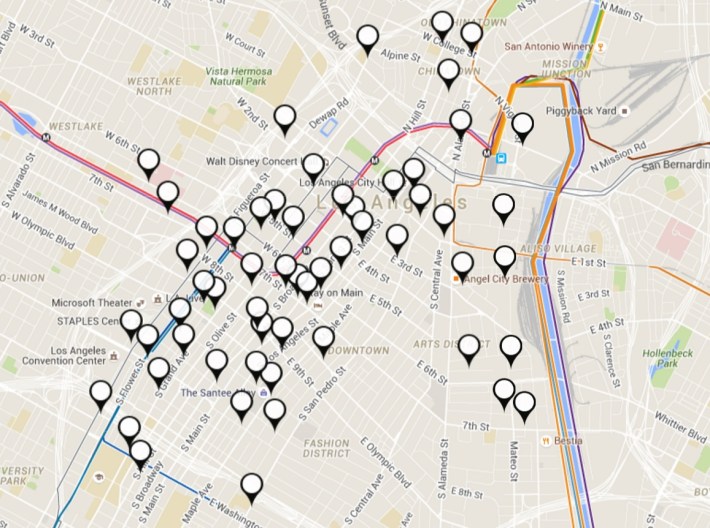 Bike-share docks have been appearing around downtown Los Angeles, and on social media. There are docks every few blocks from Chinatown to Union Station to the Arts District to L.A. Trade Tech College to Staples Center and in between.
One exciting aspect of the new bike-share system is that Metro is working to make it as accessible as possible to low-income riders. In addition to discounted costs for students, seniors, and those of lower-income and TAP card integration, Metro has teamed up with Multicultural Communities for Mobility (MCM) and the L.A. County Bicycle Coalition (LACBC) on a $100,000 program to make sure bike-share serves low-income riders. The program is funded by a $75,000 grant from the national Better Bike Share Partnership, with $25,000 in matching funds from Metro.
Generally bike-share systems have not served the mobility needs of very low income people, especially folks who do not have credit cards. MCM's Maria Sipin states that "MCM recognizes that existing bike-share systems have not been readily accessible to low-income communities of color, and this system can operate differently. MCM is committed to working with our partners to ensure that low-income communities of color transform this bike share system into one that promotes equity for all." 
According to a statement from MCM's Anisha Hingorani and Sipin and LACBC's Tamika Butler, the organizations will
lead a team of bicycle safety educators, outreach specialists and researchers to conduct bike safety trainings, presentations and provide materials in English and Spanish to facilitate discussion among community members, and gather feedback about experiences with the system and barriers to use.

Our activities are designed to identify how Metro can improve its bike share service to meet the needs of low-income communities of color and recommend improvements to Metro for the system to better serve more Angelenos.
According to Hingorani, one specific focus of engagement will be downtown's service worker stakeholders.
The grant activities are underway already and will continue through May, 2017. If readers are interested in volunteering to help make the MCM and LACBC bike-share engagement process a success, please contact Butler at Tamika[at]la-bike.org for more information and to sign up.
Volunteer DTLA Bike Ambassadors will work alongside bilingual English-Spanish outreach professionals to conduct surveys and invite community members to share their thoughts on the accessibility of bike-share.
MCM and LACBC are interested in potentially expanding the grant into the future and to go beyond Spanish and English to, per Hingorani, "serve all of our communities' languages."
Readers, what do you think? Are you excited about Metro Bike Share? How can Metro, BTS, LACBC, and MCM ensure that L.A. County bike-share systems better serve low-income communities of color? Will DTLA walkability be an issue? What are you looking forward to? What concerns do you have?
Stay in touch
Sign up for our free newsletter