City Planning
Coalition Grows in Opposition to Proposed No-Growth Ballot Initiative
1:16 PM PST on February 1, 2016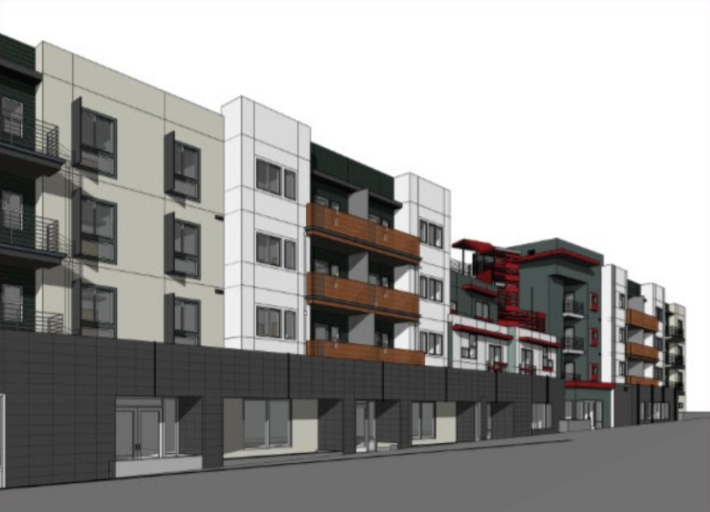 Communities United for Jobs and Housing, a growing coalition of affordable housing developers, community leaders, climate activists, transit advocates, and elected officials, has formed to oppose efforts by no-growth activists to pass a November ballot measure that would severely curtail, among other things, the city's ability to address Los Angeles' worsening housing shortage.
Nearly 40 people and organizations have begun to coalesce around stopping this initiative, spearheaded by AIDS Healthcare Foundation President Michael Weinstein, which seeks to  freeze in place the auto-centric and sprawling growth model of yesteryear
(BREAKING: Father Gregory Boyle, director of the nonprofit Homeboy Industries, was quoted as a high-profile endorsement of the initiative in a recent L.A. Times story. He has rescinded his support of Weinstein's initiative, according to the L.A. Times).
"If this initiative passes, construction of affordable housing in the city of Los Angeles would grind to a halt," said Robin Hughes, president & chief executive officer for the affordable housing provider, Abode Communities.
"This measure strips away essential and established processes and procedures for the approval of vital affordable housing developments, and would significantly contribute to the ongoing affordable housing deficit here in Los Angeles," she said.
In addition to seeking a two-year moratorium on all development, one of the main goals of the proposed initiative is to eliminate the practice of city officials granting individual projects general plan amendments, usually for additional height and density or parking reductions. But without that practice, Hughes said about half of Abode's projects, which provide homes for households making 60 percent or less of L.A. County's area median income, would never get built.
To get a better idea of what that means, in 2015, L.A. County's area median income for a household of four people was $64,800, according to the California Department of Housing and Community Development. In order to qualify to live in one of Abode's projects, a household of four people would have to make less than $38,880 a year.
Providing housing for working people to be able to live near to the jobs where they work is vital, said Hughes, and preventing affordable housing from being built in jobs-rich areas would only result in increased commute time for workers and more time away from their families, not to mention more congestion on the streets.
What's more is that the measure would also continue to squeeze the middle-class by severely restricting the amount of housing that could get built in L.A. in general, Hugh said.
"The way in which the measure is written now and its constraints… would have a significant impact on residential construction overall," she said.
Hughes isn't alone. National Organization for Women (NOW), Hollywood Rail Passengers Association of California, The Transit Coalition, United Way of Greater Los Angeles, and Climate Resolve have joined the opposition to the ballot initiative. Jay Handal, chair of the West Los Angeles Neighborhood Council and vice chair of Westside Regional Alliance of Councils, and Sandra Figueroa-Villa, executive director of El Centro Del Pueblo, are also listed as opponents of the proposed initiative, as are six of the sitting L.A. City Council members, including Mitch O'Farrell and Joe Buscaino, and former City Councilmember Ruth Galanter.
"I find that the premise [of the proposed initiative] is incredibly deceptive. We cannot have Los Angeles circa 1950. It just won't work. The housing crisis is out of control; the homeless situation is out of control. People can't find affordable housing," said Jonathan Parfrey, founder of Climate Resolve and CicLAvia.
He said that the restrictions imposed by the initiative would also likely prevent Los Angeles from successfully competing for cap-and-trade funds to build affordable housing near transit stations.
It would "increase traffic, encourage sprawl, add smog, and greenhouse gas to our already polluted skies," he said. "It would discourage sustainable communities, stymie the construction of public transportation and hobble efforts to build affordable housing, all of which our city desperately needs," he said.
He conceded that the ballot initiative is framed around some valid complaints, acknowledging that there are bad development projects out there. "But with this measure, they are throwing out the good with the bad," he said.
Bart Reed, executive director of the Transit Coalition, had similar concerns.
"This initiative is a roadblock for services our city and its residents rely on simply to get to work every day. If this passes, the transportation network Angelenos have spent tens of billions of dollars on will be left incomplete. If this passes the rich will be just fine but everyone else will be out in the cold," he said.
Alan Bell, former deputy director of L.A. City Planning, is another opponent of this initiative, saying that it "flies in the face of planning practice" and would only make it harder for communities to improve their quality of life.
"The way the initiative is worded, it could limit the ability of the city to correct planning decisions made in the past that allowed" nuisance uses, like auto shops and recycling centers, in certain neighborhoods. It would also make it much harder for low-income neighborhoods to attract the investment they would need to raise the quality of life, he said.
While the proponents of the initiative frame it as an anti-displacement measure, it in fact is the exact opposite, Bell said.
"Mixed-use development in Los Angeles occurs on commercial development. It's rare you are going to replace existing housing," he said. "If you cut off the opportunity to the develop commercial boulevards or along transit corridors, developers are going to look at redeveloping rent-stabilized units. You've created a huge incentive to knock down existing affordable housing."
And, he said, the initiative won't stop growth. In fact, the Southern California Association of Governments predicts that the city of Los Angeles' population will increase by about 763,000 people by 2040. That's roughly the current population of Long Beach.
"Where are all those people going to live? Where are they going to work? If you restrict economic development and restrict housing development, it just means unemployment is going to go up, rent is going to go up," Bell said.
Stay in touch
Sign up for our free newsletter