health
The Rail-to-(Almost)-River Project Gets Boost with $15mil TIGER Grant
6:32 PM PDT on October 30, 2015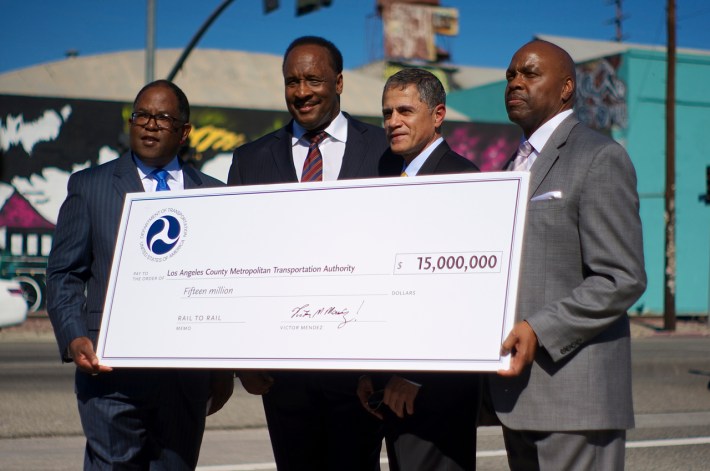 "[Let's give] a big round of applause for Victor Mendez. He brought money," quipped County Supervisor and Metro Board Chair Mark Ridley-Thomas. Turning to Deputy Secretary of Transportation Mendez, he continued, "Come back soon and come back often!"
Preferably with another $15 million grant in hand, he joked.
He might have been referring to the fact that Metro originally anticipated receiving $21.3 million from the program -- not $15 million. But the fact that L.A. got $15 million at all is still a pretty big deal.
There had been 627 applications from all 50 states and a handful of territories for the U.S. Department of Transportation's (USDOT) Transportation Investment Generating Economic Recovery Grant (TIGER) VII program and only 39 grants handed out, Mendez told the small crowd of press and staff gathered in the east parking lot for the Metro Silver Line at Slauson and Broadway.
The Rail-to-River project, he said, had stood out as an opportunity to turn a 6.4-mile stretch of a "dormant" and "blighted" rail right-of-way (ROW) in a "historically distressed area" into a biking and walking path that could more efficiently connect people to transit while also bettering the local economy, health outcomes for residents, and the local environment.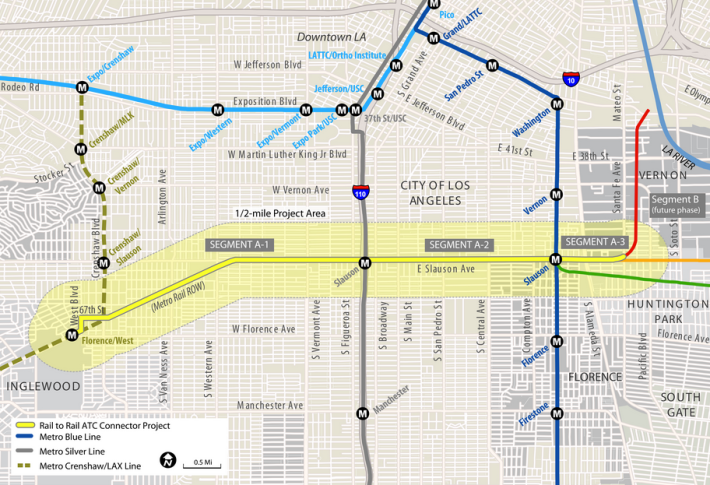 Given projections that the U.S. population will grow by 70 million by 2045, that freight volume will grow by 45%, and that existing infrastructure will not be able to meet either of those demands, he continued, citing the USDOT's Beyond Traffic 2045 report, the time for alternative transportation projects was now.
"Congratulations," Mendez concluded. "Let's get to work!"
First proposed by Ridley-Thomas and Supervisor and Metro Board Member Gloria Molina in 2012, the project looked to temporarily convert a rail ROW deemed infeasible for passenger rail in 2009 (see Harbor Subdivision study here*) into a community asset in an intensely park-poor neighborhood.
On October 23, 2014, the Metro Board of Directors voted to adopt the Rail-to-River Intermediate Active Transportation Corridor (ATC) Feasibility Study and directed staff to identify funding for full implementation of the project. At that time, the Board also authorized $2,850,000 be put towards facilitating the environmental, design, alternative route analysis, and outreach work required for the project to move forward and requested the staff report back in May of 2015.
While there was very, very little in the way of outreach -- throughout the feasibility process Metro representatives said they were reluctant to let the community know about the project because they didn't want to get the community's hopes up -- the report staff made in May was in favor of moving forward on the project. The Board then authorized the allocation of up to $10.8 million in hard-match funds to meet the requirements for the TIGER grant. Those local funds would be in addition to the $8.4 million in hard-match funds to be supplied should Metro win an Active Transportation Program (ATP) grant for $9.6 million, making Metro's total contribution for this phase up to $19.3 million.
In its entirety, the path may run more than eight miles, connecting users to the L.A. River via Randolph St. (below). But because the final configuration has not yet been confirmed, Metro appears to be focusing on getting the portion of the trail highlighted in yellow (in the map, above) underway.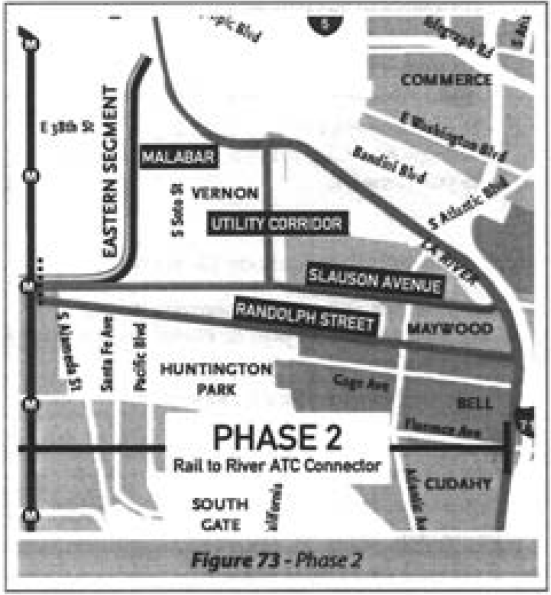 Because of this hold up on phase 2, the initial phase is currently being referred to as the Rail-to-Rail project, and will connect users to the Crenshaw/LAX, Silver, and Blue Lines. But at least the TIGER grant will help Metro get that first phase underway by putting the project on a bit of an accelerated schedule: the funds need to be obligated by September of 2017 and expended by 2022.
The project has the potential to effect a significant transformation in an area of South L.A. once governed by racially restrictive covenants that kept African-Americans from being able to own property outside of the area bound by Slauson, Main, Alameda, and Washington. The community hasn't seen a whole lot of investment since those early days, minus, of course, the Crenshaw/LAX Line (currently under construction) and the pending and controversial billion-dollar Reef project slated for Washington and Hill, just south of downtown.
Which may be why Mark Ridley-Thomas repeatedly referred to his mission to make the corridor safe, attractive, and accessible for residents as well as his hopes that it would "become a destination unto itself" and contribute to the economic transformation of the area.
That vision for it to be a "destination unto itself" is one folks in the community are very much on board with.
For Sandra McNeill of TRUST South L.A., the project represents the first step in building "the backbone of a network of safer streets as we work to draw other resources to South L.A. for bike and pedestrian infrastructure."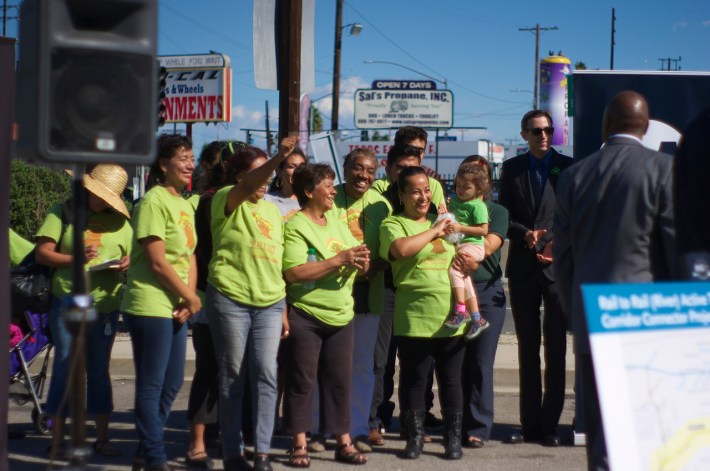 McNeill spoke of how TRUST's community organizers and volunteers -- many of whom were on hand to celebrate the victory (above) -- had spent a few evenings reaching out to cyclists at several intersections along the Slauson corridor. Of the 123 cyclists they had surveyed, she said, they found that 34 (28%) had been in collisions while 83 (67%) used bikes as their main mode of transportation through the area.
Their figure for collisions between bikes/pedestrians and cars skews a bit higher than current estimates, as people in the area tend not to report crashes. Meaning, unfortunately, that Metro's already ominous map of reported collision data (below) should probably be more heavily populated and with bigger circles.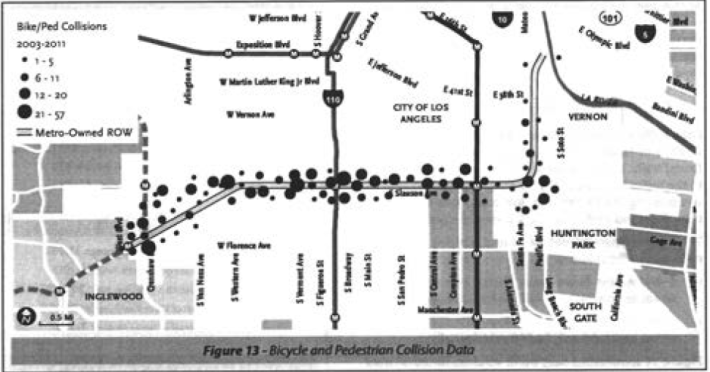 The project should be able to mitigate some of those issues with the enhanced crosswalks planned for a number of its crossings.
But McNeill also has her sights set on more than just making connections to transit.
"It can be a place we can activate," she said, gesturing toward the ROW and describing the opportunities for it to be turned into a canvas for art, for collaboration with local organizations, and for economic development via vending and local entrepreneurship. "It's exciting to think about!"
She's right -- it is. And it is also necessary.
For the corridor to be successful and a true an asset to the community, it needs to be more than an active transportation path. As noted in a previous article, gang activity is prevalent in several of the neighborhoods along the corridor. So, for people to feel safe walking or biking along a path that is largely bordered by windowless industrial buildings, the more activated it is, the more accessible it will be for all.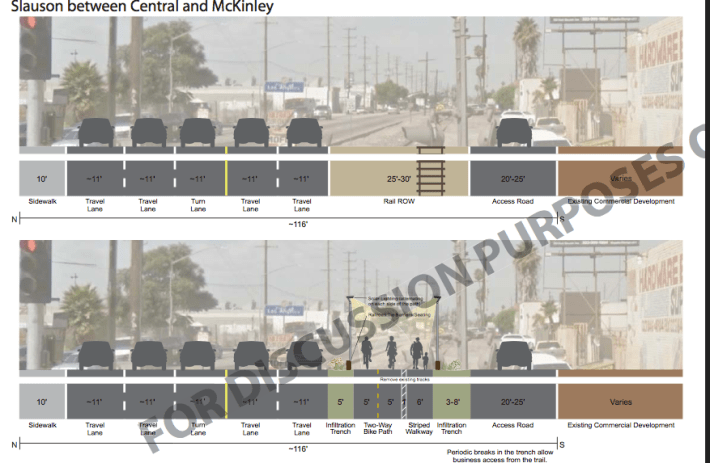 Fitness equipment, art, lighting, seating, picnic areas, shaded areas, vendors, and other interventions will help bring families and residents out to take advantage of the space.
Partnerships could help, too. Collaborating with local high schools like Augustus Hawkins, a school that has a robust social justice-oriented community engagement program, to design or activate sections of the path could help students take ownership of the project and feel more comfortable using it to get to school.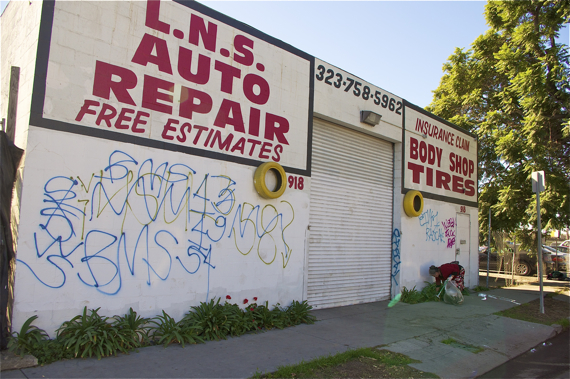 Working with St. John's (the clinic that put garden boxes in along 58th St. to benefit their diabetes patients) and other area clinics on how to activate the space via fitness, gardening, or other sorts of clubs might ultimately result in better health outcomes for local patients.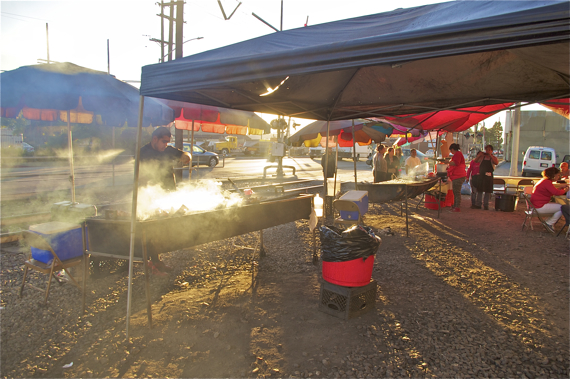 And working with the local vendors in the area -- many of whom who are local residents and who have been cooking for other residents for the better part of a decade (or selling them tools for more than 20 years, in the case of one man) -- will help ensure that the steady stream of regular visitors they attract on the weekends makes the corridor feel like an extension of the community.
The potential of the corridor is tremendous, in other words. What remains is for Metro to support a robust community engagement process from the outset and to seek to incorporate into its plans the kinds of interventions and activations that will enhance local residents' access to the area.
Metro's Phil Washington, who has come to Los Angeles speaking of Transit-Oriented Communities rather than Transit-Oriented Development, might just be the person to push that more community-specific approach. Speaking to those gathered at Slauson, he underscored his interest in seeing Metro make this a project that benefited local residents.
"We are," he concluded, "ready to beautify."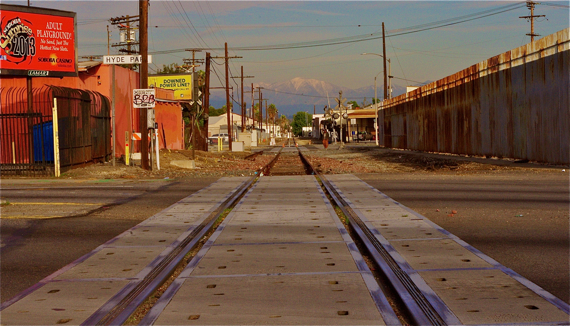 *The decision to turn the Harbor Subdivision corridor into a (temporary) bike and pedestrian path that preserves the ROW in the event it should become feasible to construct rail there at some future date has been angrily debated in each of the comments sections of previous articles on this project. Should you feel the need to once again vent your anger over the decision to stop holding the community hostage to blight while waiting for rail to become more feasible, I suggest you channel said anger more productively by contacting Metro directly. Thank you.
Sahra is Communities Editor for Streetsblog L.A., covering the intersection of mobility with race, class, history, representation, policing, housing, health, culture, community, and access to the public space in Boyle Heights and South Central Los Angeles.
Stay in touch
Sign up for our free newsletter