David Ryu
Editorial: My Unsolicited Advice for City Councilmember David Ryu
1:55 PM PDT on July 2, 2015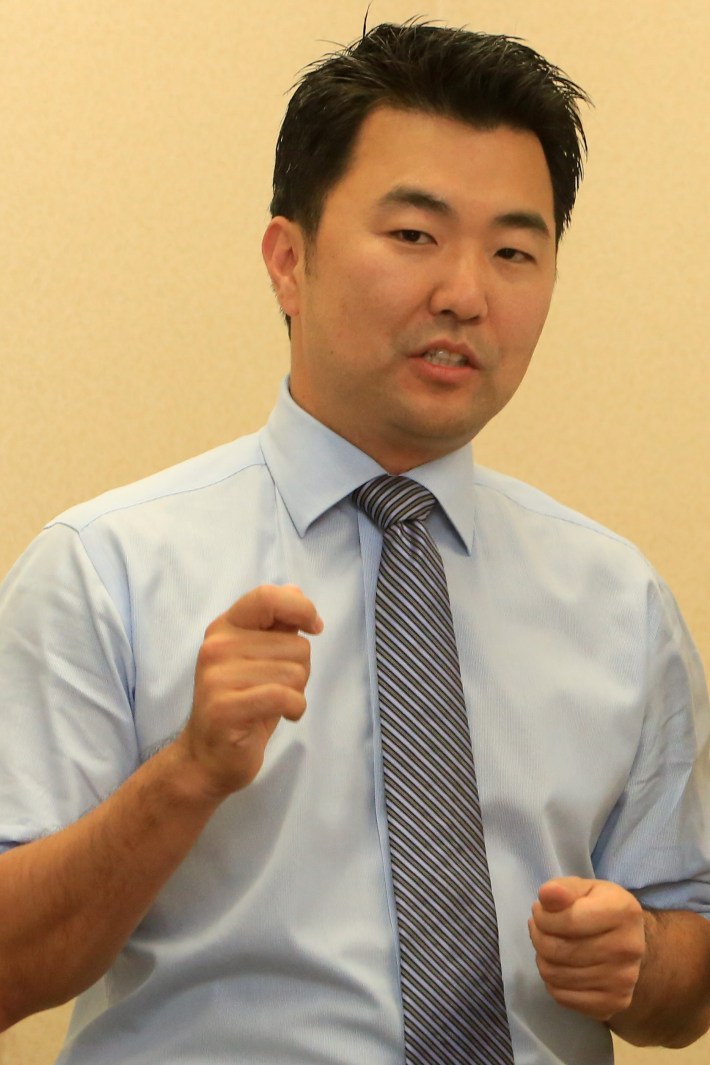 It's July. That means a new budget year for government agencies, where there is some turnover: some new faces, new officers, and new committees.
L.A. County Supervisor Mark Ridley-Thomas is the new chair of the Metro Board of Directors, replacing L.A. Mayor Eric Garcetti.
The Los Angeles City Council has two new members. Councilmember Marqueece Harris-Dawson replaces Bernard Parks, representing L.A.'s 8th Council District [map] in South Los Angeles. Councilmember David Ryu replaces Tom LaBonge, representing L.A.'s 4th Council District (CD4) [map] which extends from Van Nuys to Griffith Park to Miracle Mile.
New L.A. City Council committee assignments [PDF] were announced yesterday. There are a lot of Streetsblog issues before a wide range of committees, from Public Safety to Parks to Budget, but the two committees that SBLA tends to follow most closely are Transportation and Planning and Land Use Management (PLUM.) Both of these committees' chairs continue to be chaired by the same excellent livability leaders, Mike Bonin and Jose Huizar, respectively. The make-up of the committees have shifted in positive directions, in part merely due to Parks and LaBonge leaving. Though they occasionally supported worthwhile initiatives, neither Parks nor LaBonge consistently supported the needs of Angelenos who get around via transit, walk, and bike.
The new Transportation Committee will be: Mike Bonin (chair), Jose Huizar, Paul Koretz, Nury Martinez, and David Ryu. New members Huizar and Martinez, with Bonin, give the committee a progressive forward-thinking majority, likely to embrace a healthy balance of transportation modes. Ryu does not have a track record here, but cannot possibly be worse than LaBonge. And perhaps Koretz will some day make the connection that the transportation sector is responsible for about half of California's greenhouse gas emissions, reductions of which he has championed.
The new PLUM Committee will be: Jose Huizar (chair), Gil Cedillo, Mitch Englander, Felipe Fuentes, and Marqueece Harris-Dawson. Returning chair Huizar has an excellent livability leadership track record at PLUM. Councilmember Englander has a good, if slightly-mixed, record. Though he represents arguably the most suburban council district, and was first introduced to Streetsblog readers in 2012 as the villain of the Wilbur Avenue Road Diet controversy, more recently he has been very good, including championing the Reseda Boulevard protected bike lanes. Fuentes and Harris-Dawson are both very likely to champion community-minded planning that goes beyond just accommodating driving.
SBLA will likely have suggestions for new Metro Chair Ridley-Thomas and new Councilmember Harris-Dawson in the near future... but today I present my unsolicited advice for Los Angeles Councilmember David Ryu. First off, congratulations to honorable Councilmember Ryu! Perhaps you already know all this stuff, and I look forward to actually getting to speak with you, but here are five of my recommendations to help make CD4 streets great, safe, healthy, vibrant places and to improve the lives of people who live, work and breathe in Los Angeles.
1. Question Tom LaBonge's priorities
In a crowded field, you won on your merits... but it helped that you are a city hall outsider, without ties to LaBonge. Though some of the media perceived LaBonge as a cyclist, because he infrequently hosted bike rides and spoke at press conferences for bike-friendly events, most Angelenos who get around every day by bike and by foot were very frustrated with him.
Tom LaBonge supported a 20th century transportation system long after much of L.A. had moved away from it. LaBonge favored cars, freeways, parking, and the policies that make them proliferate. I don't expect cars to go away tomorrow, but LaBonge's policies result in place-less gridlock that does not serve anyone well. If you will just question the policies that LaBonge supported reflexively, it will go a long way to advancing livability in our city.
2. Support safer, multi-modal streets, especially in the most population-dense and transit-oriented parts of your district
One size fits all solutions are unlikely to serve your district well. You know that CD4, like Los Angeles, is a big diverse place. The needs of hillside home neighborhoods are pretty different from population-rich Hollywood and Koreatown, the densest parts of L.A., or even Van Nuys, among the densest neighborhoods in the Valley. High quality transit already serves CD4's dense walkable neighborhoods. You will likely preside over the opening of new Purple Line subway and Van Nuys Boulevard transit expansions, that will provide even greater options for your constituents.
Councilmember LaBonge opposed multi-modal projects that would have supported the safety and convenience of people already walking and bicycling - and would help solve the first mile/last mile issues, extending transit's effectiveness. I urge you to take a fresh look at proposals for a 6th Street road diet, a 4th Street bicycle boulevard, and other on-street projects that make it easier for your constituents to get around CD4. Koreatown, Hollywood, and Van Nuys -- all neighborhoods you share with other councilmembers -- will be better served when the city prioritizes walkability, health, and safety, over more car-throughput and more parking.
3. Stick up for a safe Glendale-Hyperion Bridge
Thank you for your past positions in support of a safe and multi-modal Glendale-Hyperion Bridge. Though the city council approved the questionable design, there could well be a lawsuit and other crucial future decision points before the city engineers proceed with construction on this retrograde project.
4. Don't let Griffith Park become Griffith Parking
The situation with Hollywood Sign access driving cars onto previously car-free areas of Griffith Park is not an easy one to solve. I encourage you to get some new eyes on this - and to do a real plan with real community input. Don't assume that more free parking has ever solved any traffic issue. Make sure your solution doesn't assume that all tourists, all of your constituents, or all Angelenos will get to our parks and our landmarks solely by car.
5. Pass the progressive Mobility Plan
The Departments of City Planning (DCP) and Transportation (LADOT) have been working for a few years on a new transportation plan for L.A., they call it Mobility Plan 2035. I think it could be a little stronger, but it is supported by walk and bike advocates, and it's getting a hint of a backlash from folks who seem to prefer a city perpetually in gridlock. The Mobility Plan can support the city's transition to a more multi-modal future, and can emphasize safety for everyone in embracing Vision Zero. I encourage you to approve the Mobility Plan when it comes to you in Transportation Committee and in council.
Stay in touch
Sign up for our free newsletter