Metro
News Bits From Metro Board February Committee Meetings
11:54 AM PST on February 20, 2015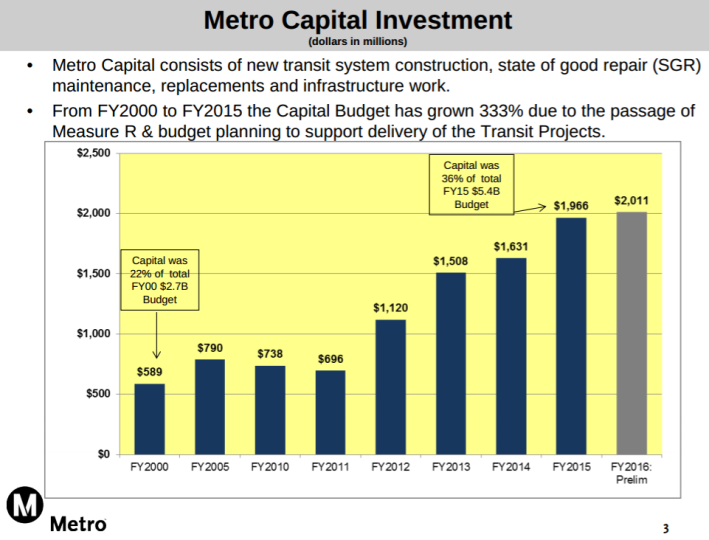 The Metro board of directors will meet next week, Thursday February 26. This week, the agency hosted its regular series of board committee meetings, where most of the negotiations occur. Here are eight things gleaned from this week's meetings:
1. Utility Relocation Threatens Rail Tunnel Construction Delays
For downtown L.A.'s upcoming 2-mile long Regional Connector light rail subway, the ground was broken, and demolition is underway. But, wait! Metro is still working on the "pre-construction" relocation of utilities. Shocker: it turns out that there are lots of unknown things, mostly abandoned utility infrastructure, buried beneath downtown's hundred-plus-year-old streets. Metro reports that they are still expecting 2020 completion, but are 3 to 5 months behind on utility relocation. And that is just the prep work that needs to completed before real tunnel construction can get underway.
Metro staff alluded to further details coming to the Metro board in April. It is not clear, but it could mean approving more money for Regional Connector pre-construction. 

And speaking of more money for the pre-construction phase (which is not always a bad thing - especially if it means paying now to avoid paying more later), next week the board is considering [PDF] adding $20.8 million to the $115 million pre-construction contract that is getting things ready for the second phase of the Purple Line Subway extension. Maybe newer Century City streets hide fewer buried infrastructure hazards than downtown does.
2. Metro Looks to Joint Development, Focused on Affordable Housing
SBLA expects to publish more on this soon, but the staff report [PDF] is out on Mayor Garcetti's motion pushing for Metro to step up its role in joint development of transit-oriented affordable housing. Some of the news is good: Metro lawyers are okay with encouraging affordable housing by discounting property the agency owns. Some of the resistance is predictable: Metro staff opened with a comment about the difficulty of providing enough transit-user (free) parking at these sites. 
3. Possible High-Level Hiring Freeze Before New CEO
Boardmember Ara Najarian moved [PDF] to prevent outgoing Metro CEO Art Leahy from filling management positions. The motion divided the board, with many boardmembers asserting that a hiring freeze could have the unintended consequences of hampering a new CEO and delaying projects underway.
4. ExpressLanes Getting A Little Crowded
Metro staff reported [PDF] that the ExpressLanes continue to see more traffic. With more traffic, it is difficult to modulate price and access to strike just the right balance. Staff report that, although average peak hour speeds remain above 45 mph, during a recent quarter eleven percent of the time the 110 Freeway Express Lanes were so congested the agency closed them to additional paying customers.
5. Minority and Women Hiring Mandates Not Quite Mandates
Metro boardmembers, including Jackie Dupont-Walker and Mark Ridley-Thomas, have been consistently vocal about hiring under-represented parties -- ethnicities, locals, veterans, and women -- in the agency's bazillion-dollar capital contracts. Metro staff reported [PDF] on the status of these programs, officially called Project Labor Agreement / Construction Careers Policy. Among many failures, Metro contractor Walsh-Shea has failed to meet apprentice hiring mandates in some cases. This should trigger something like changes to hiring practices, no? No. The remedy proposed by Walsh-Shea: re-tool the way they calculate their statistics.
New boardmember County Supervisor Shiela Kuehl was emphatic in her criticism of the way the agency was not taking hiring mandates seriously. When a sub-contractor fails to, say, build a tunnel, they don't get paid. But, when a sub-contractor fails to hire women, they get a talking-to but still get paid. Kuehl argued for Metro to implement serious "carrots and sticks" to ensure the agency meets hiring targets.
6. Mariachi Plaza Joint Development Project On Hold
Staff reported [PDF not posted yet] on the status of various Boyle Heights joint development projects. Staff recommends Metro "terminate the procurement process for Mariachi Plaza and engage in a community development guidelines process." Also in the staff report, developer McCormack Baron Salazar expects a March 2015 groundbreaking on the southwest corner of 1st Street and Boyle Avenue. The project will include 80 units of affordable family housing.
7. No Fare Gates for the Orange Line BRT
Metro staff analyzed [PDF] and recommended against $13M worth of fare gates for six Orange Line Stations.
8. FY 2015-2016 Budget Taking Shape
Metro staff are doing the groundwork to shape the agency's FY2015-16 budget [PDF]. With massive spending on five rail line construction projects underway, the capital budget is expected to surpass $2 billion for the first time (see graph at top of post.)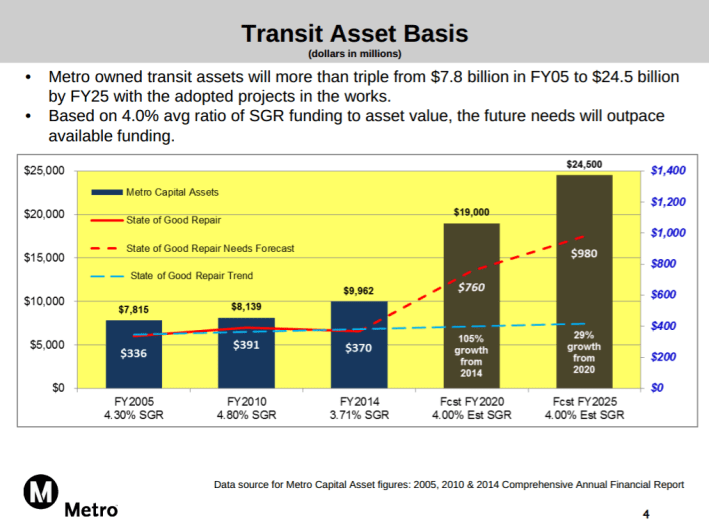 With great power comes great responsibility. With lots of money going to build things, maintenance costs are projected to ascend. Metro budget assumptions show a steep uptick in maintenance needs in the coming decade.
Metro staff and CEO Leahy continued to imply that "modest" fare increases would be needed soon, possibly next year.
One bright spot in the preliminary budget discussions: new boardmember County Supervisor Hilda Solis expressed in strong terms that the agency should embrace bicycling and walking... which are still a pretty miniscule part of the agency's budget.
Stay in touch
Sign up for our free newsletter