Eastside
Dupont-Walker, Community Press Metro on Surprising Changes Slated for Mariachi Plaza, Demand More Outreach
10:16 AM PST on November 7, 2014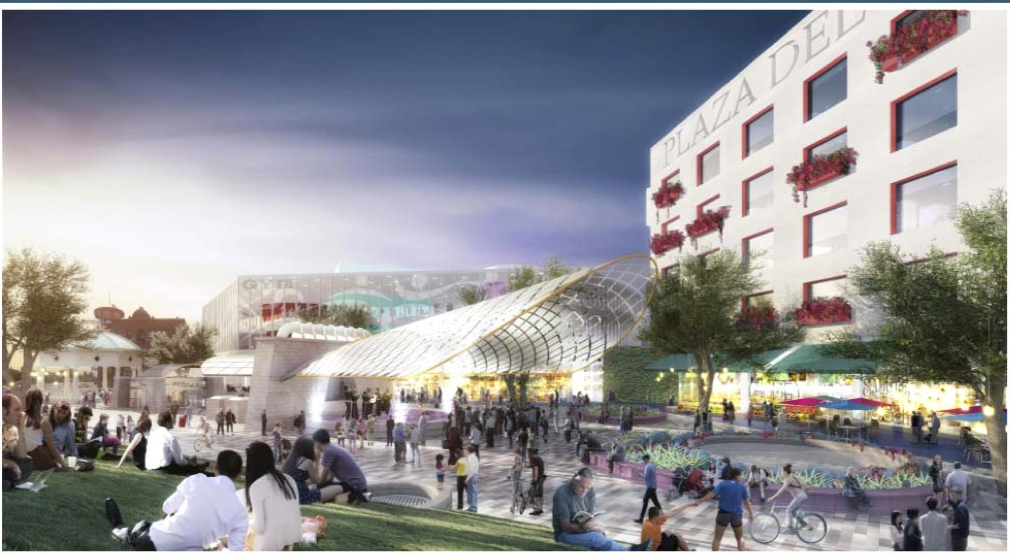 How can we ensure stakeholder input has value and is incorporated into planning? And, in so doing, help the community feel comfortable in trusting Metro to make sure that happens?
The queries, posed by Metro Board Member Jacqueline Dupont-Walker to Metro CEO Art Leahy during Tuesday's Planning Committee meeting were in response to Boyle Heights residents' complaints that Metro had failed to seek adequate community input on a potential development at Mariachi Plaza that would fundamentally transform the area.
She was right to ask.
Despite promises made in 2012 that, "prior to seeking Metro Board approval [for projects at Mariachi Plaza and other area sites], staff will be conducting a meeting to update the community regarding th[ese] development site[s]," no notice seems to have been given -- either to the community or the advisory committee for the Eastside Access project -- about Tuesday's motion to allow Metro to enter into an 18-month Exclusive Negotiation Agreement and Planning Document (ENA) with Primestor Development.
An ENA grants Primestor -- one of four applicants who submitted proposals for Metro's RFP to develop the Mariachi Plaza parcels -- the space to further develop their plans, work out the terms of a Joint Development Agreement (JDA), work out ground leases with Metro, and pull together the appropriate construction documents.
According to Metro, Primestor won out over the other applicants because of their track record with financing, commitment to job creation, "well-conceived proposal," "attractive, transit-oriented design," and expanded development footprint, made possible by their decision to "partner" with a neighboring property owner.
Specifically, that means that the buildings now housing J&F Ice Cream, Santa Cecilia restaurant, and Libros Schmibros (in green, above) will be turned into "retail and commercial office space that could provide a combination of food and beverage retail opportunities [and] a fitness center."
The vacant lot at Bailey (the grey square below, at right) will be converted into an 8-story office building with 6 floors (528 spaces) of parking and 2 floors of medical offices, helping address the spillover demand for medical services from White Memorial Hospital (which sits across the street from the lot).
Together, the two buildings would provide 120,570 square feet of commercial space and be called "La Plaza del Mariachi."
If that design comes as a surprise to you, either because of the notion that six stories' worth of parking falls under the definition of "transit-oriented design," because retail space appears to be built on the plaza itself, or because the murals that speak to the culture and history of the area and help define the space would be forever lost, you are not alone.
When Metro held meetings on the future plans for several properties along the Gold Line corridor in December of 2012 (see background here) and February of 2013, much of the community's attention had been focused on fighting A Community of Friends' (ACOF) plan to put affordable housing at 1st and Lorena. Residents believed they had been promised a pocket park there by Metro and objected to the added congestion and chaos 53 units could invite into the area.
Discussions about what to do with the Mariachi Plaza parcels were notably absent.
"That's what was amazing tonight," Greg Angelo, Metro's Director of Real Property Management and Development had told SBLA writer Kris Fortin after the December 2012 meeting, "The bulk of the conversation was about [the] Lorena [and 1st site]. And nobody said anything about Mariachi [Plaza], which shocked me."
My best guess for why that might have been the case was that the plans being tossed around at the time were quite vague and did not have anywhere near the scope (or footprint) that they appear to have now.
Behold:
Even as of January, 2013, the footprint seen above indicated only the plaza, the Bailey lot, and the small parcel across from the plaza as being eyed for development. (Not pictured is the southwest corner of 1st and Boyle, where Metro has planned ~80 one-, two-, and three-bedroom affordable units and ~4000 square feet of retail space.)
The Conceptual Development Guidelines Metro set forth for the Mariachi Plaza parcels were oriented toward promoting transit use, enhancing and maintaining the existing residential neighborhood, creating a sense of place, providing a secure environment, providing spaces for the community to come together, and supporting the goal of the community to make the area a cultural hub.
The poster board presented at that meeting (above) described the potential for the spaces to be turned into a mixed-use project combining housing and retail and/or having a use compatible with the plaza and the neighborhood.
Not a massive parking structure.
And not a plan that included the razing of buildings that are home to both businesses and murals which reflect the culture and character of the community, including Juan Solis' 1994 mural, Castellanos (which can be found on the west side of the bldg. pictured below).
Such a massive transformation of the space into something that no one seemed to have been asking for had residents worried Tuesday.
Arturo Ramirez, a mariachi musician who finds work at the plaza and relaxes there with other musicians after gigs, told Metro in Spanish that he feared they would lose the small businesses that had always supported the mariachis. Worse still, he was afraid it would change the character of community altogether.
The plaza is a center of community where neighbors can come together...the developments would take away that vision of the plaza and its culture, Ramirez said. We are not in agreement with the destruction of the culture...The mariachis are integral to the plaza and we want to continue to be a part of it...It gets its name from us.
Carlos Ortez, whose restaurant Un Solo Sol stands directly across the street from Mariachi Plaza, asked that any businesses displaced by the development of the area be assisted both during the construction period and with setting up shop in the new site or in a comparable site nearby.
"We represent the community, historically, for over 50 years or more," he said describing the long ties many of the owners have to the area and the relationships they've built up with the community. "It would be very shameful to destroy [all] that."
And being forced to move or pay a higher rent in a new site could be a terrible blow to a small business like J&F Ice Cream. Owner and long-time resident Minerva Villa had chosen to set up shop at the plaza just as the Gold Line opened five years ago, anticipating a massive influx of customers that never really came. When her husband lost a fingertip in a workplace incident three years ago and was subsequently fired from his job, making the business work took on a new urgency.
"My life, my home now depend on this business," she told me once, while describing the rhythm of the 13-hour days she works, six days a week.
Other residents commenting on the plans questioned the need for six stories' worth of parking.
"Who is it for?" they wanted to know.
There wasn't going to be any housing attached to the project, and the parking "rascacielos" (skyscraper), as one commenter called it, wouldn't necessarily be for the public (a long-standing request of local business owners). It thus appeared to some of the speakers that it was a ploy to bring in "outsiders" while effectively dismantling the most important cultural symbol and gathering place in the community.
"Please develop a community advisory board so that we can be informed," said Teresa Marquez, president of the Boyle Heights stakeholders association and long-time community member. "Think about us."
"We are thinking about you," seemed to be the message that Vanessa Delgado, the Director of Development at Primestor, wanted to convey to the residents.
Saying she had been born at White Memorial and gone to school in Boyle Heights, she reiterated the commitment of Primestor -- a developer with extensive experience working in lower-income Latino communities -- to finding ways to foster small business development and give qualifying non-profits or entrepreneurs spaces in the new sites.
They had done it in six past projects, she said, and she understood the importance of bringing hundreds of jobs into the community.
Moreover, they hoped that their design of the space would provide a kind of "amphitheater, protecting and enhancing the plaza," creating even more space for the mariachis. Although how exactly this was supposed to happen was not made clear.
Jenna Hornstock, Deputy Executive Officer of Countywide Planning and Development at Metro, who gave brief presentations about the Mariachi Plaza project and plans for 2 other sites, spoke favorably about Primestor's plans. But, she said, Metro felt that 528 parking spaces was excessive.
Primestor had anticipated that 140 of those spaces would be handed over for use by Metro (at a cost of $3 million). For its part, Metro didn't want them and asked that Primestor work on downsizing its parking plans accordingly.
Hornstock also said that they hadn't done much in the way of outreach prior to the Planning Committee meeting because they had been in a "blackout" period until very recently, reviewing proposals and interviewing prospective developers (above). But that they had apparently shared the plans for the plaza with 18 people prior to the meeting and would work diligently to form an advisory group going forward.
CEO Leahy went on to reassure both Dupont-Walker -- who was asking more questions about community engagement -- and those present that there would be extensive community outreach and an intensive design charrette process for the project. Saying that they were committed as a staff to making that happen (and also that they really had no choice, as the projects were joint developments and they would therefore have to follow city planning dept. procedures), Leahy asked that people give Metro a chance to prove they would do this one right.
Seemingly unconvinced, Dupont-Walker pressed him on the matter of small business displacement, asking whether there was a willingness to help protect and support small businesses in the area, too.
"There has not been a policy to include [disadvantaged businesses] and small business aid in our projects," he said finally, trailing off into an awkward silence.
Concerns aside, the motion to grant Primestor an ENA was approved by the committee and will be sent to the full Board for approval next week Thursday at 9 a.m.
Affordable Housing Projects: Cesar Chavez/Soto, 1st/Soto, 1st/Lorena
The other projects up for approval were somewhat less controversial, both because affordable housing is in high demand in Boyle Heights and because the interested parties had brought supporters to stand up and call for more affordable housing at the meeting.
Comments on these projects were therefore more geared toward making sure local people would have access to the housing, that it would be truly affordable, that small businesses would be protected, that new businesses would be things the community needed (theaters, healthy markets, etc.), and that adequate parking would be provided (even at Metro station projects) so that surrounding residential streets didn't get overly impacted by the increased density.
The development at Cesar Chavez and Soto (above), to be built as part of a JDA between Metro and Abode Communities, will have 77 family-oriented units (54 2-bedroom/1-bath units and 23 3-bedroom/2-bath units) and 8000 sq. ft. of commercial space divvied up between two four-story buildings that will be connected by a skybridge. Another Metro-owned parcel across the street (in light yellow, at right) is slated to be the home to a new grocery store. (See more specifics here and here).
The development at 1st and Soto (below) will include two buildings and be a joint project between the East L.A. Community Corporation (ELACC) and Bridge Housing Corporation. The developments will be joining a third affordable housing project on the block currently being built by ELACC (listed below as "not a Metro project").
The building adjacent to the Metro station will feature 49 affordable units in a 4-6 story structure with 12,500 sq. ft. of commercial space. The building across the street from the plaza will house seniors in a two-story structure with 39 units and 3900 sq. ft. of commercial space (more about the projects can be found here and here).
Both motions to grant ENAs on these projects were approved easily, and will also be put before the full Board next week for approval.
The last of the housing motions -- to grant the request for an extension of ACOF's ENA at the 1st and Lorena site -- generated much more discussion, including a heated exchange between the committee members and an agitated young woman.
The project has long been controversial for a number of reasons, one of many being the fear that ACOF had not planned to have the proper resources and safeguards on site to assist the "special needs" residents (the mentally ill, chronically homeless, etc.) they hoped to house there.
But there were other reasons, too.
Councilmember Jose Huizar's office opposed it once again, directing Planning Deputy Kevin Ocubillo to cite ACOF's previous changes to the plans (reducing retail space from 6000 to 5000 sq. ft. and eliminating some parking while adding 10 housing units) as failing to adequately address the community's housing or economic development needs.
Residents, still hoping for a park instead, cited the congestion on the weekends -- the site sits next to El Mercadito -- and argued adequate parking was key to minimizing the impact on the community.
CEO Dora Leong Gallo acknowledged they had struggled to get the ratios right, explaining that a change in the constraints on the site had forced them to adjust their plans. And that they hoped to be able to offer up to 10,000 sq. ft. of commercial space and 49 units, with some of those being specifically reserved for homeless veterans instead of a wider range of people with special needs.
They would hold another meeting to talk with the community if they got the extension, she promised.
They got it.
So what's next?
These motions must still be approved by the full Board, which will meet Thursday, November 13, at 9 a.m. (details here)
Also, during her presentation, the Primestor representative seemed to indicate that community meetings on the Mariachi Plaza design would be held sooner rather than later. No dates were given, but I'll be sure to post that information here when it is made public.
Sahra is Communities Editor for Streetsblog L.A., covering the intersection of mobility with race, class, history, representation, policing, housing, health, culture, community, and access to the public space in Boyle Heights and South Central Los Angeles.
Stay in touch
Sign up for our free newsletter