Eric Garcetti
New Chamber of Commerce Excited About Great Streets on Venice Blvd.
8:00 AM PDT on October 30, 2014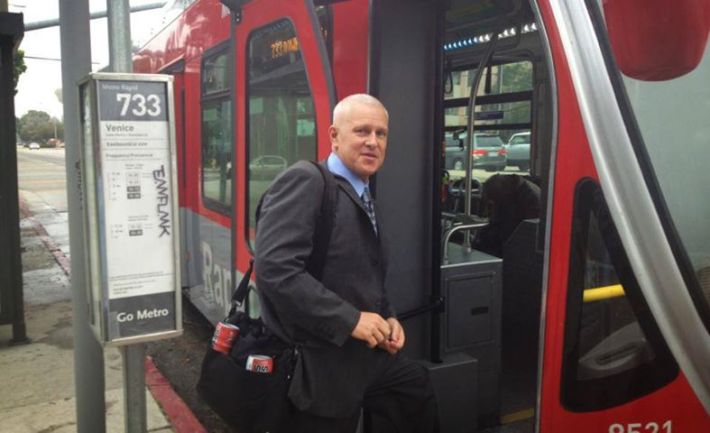 Mike Bonin is not someone who is known for thinking small.
"There's a universe of opportunities," said Councilmember Mike Bonin, of the proposed "Great Street" on Venice Boulevard. "But it's important that this not be 'Mike's project,' or the 'Mayor's project,' or the 'DOT's Project,' but the people's project."
Bonin was speaking excitedly about the "Great Streets" designation granted to Venice Boulevard between Inglewood Boulevard on the east and Beethoven Street on the west. Great Streets is an initiative to take a section of street in each of the fifteen City Council Districts and turn them into great places to walk, bike, sit outside, or just be...just exist.
While Bonin prefers the phrase "universe of opportunities" to describe everything that can be done, Mayor Eric Garcetti uses the term "urban-acupuncture" to illustrate the idea that these streets will be slimmed down to car traffic and opened up for other uses. Think of streets with trees for shade, modern crosswalks, clean and wide sidewalks, even just appropriately placed park benches and trash cans.
"A small burst of energy can transform a community," Garcetti is fond of saying.
"One small change, especially if the community is behind it, can get things rolling," Bonin echoes.
So what will Venice Boulevard look like after it has been changed to a Great Street? And when will Venice, or any of the other 14 Great Streets, actually start to see improvements?
There is not a good answer to the second question. Nobody seems to know when street improvements are going to come.
As for the first one...
"I have some ideas, but it's really up to the community," Bonin promises.
During the 2013 election, Bonin offered a vision of a Venice Boulevard teeming with small businesses and a walkable community during our candidates' forum. But when pressed in our Great Streets interview, he kept going back to the idea that this was the community's decision.
Not his.
Not Garcetti's.
The community's.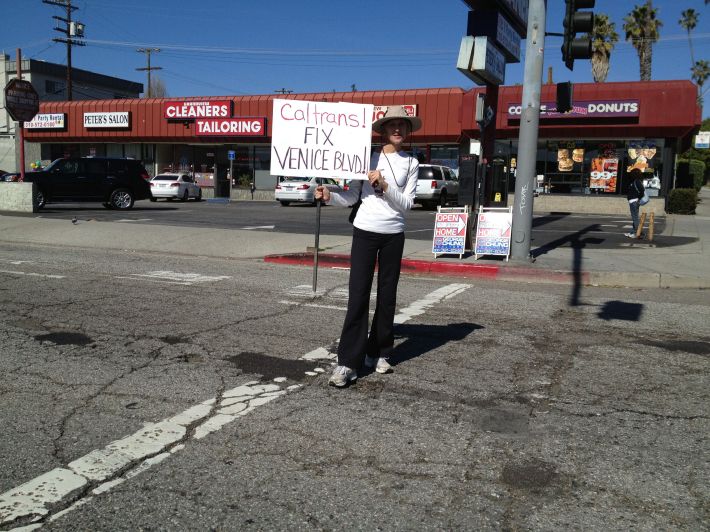 Bonin's office is kicking off the public process with a meeting in January. The exact date and time are yet to be determined. However, both his and the Mayor's staff promise a process which isn't "design and defend" by city staff but that begins by asking the question, "What do you want your Great Street to look like?"
Each of the fifteen street segments throughout the city were chosen not just because of geography, but because they are a place where some sort of energy was already in place pushing change. This could be in the form of a coming state grant, an active business improvement district, or something else. The "small burst of energy" that Garcetti mentioned is already in place on the fifteen corridors. And it is the job of both the Mayor's Office and the Council Office to help that small burst grow into something sustainable.
On Venice Boulevard, the burst comes in the form of the newly founded Mar Vista Chamber of Commerce. Headed by Sarah Auerswald, the Chamber is embracing the idea of changing Venice from the mini-freeway it can sometimes be.
The Chamber even has their own "Pop-Up" event scheduled on November 29. For the event, businesses along Venice Boulevard will move their storefronts onto the sidewalk, encouraging people to walk around the area, not just park, shop, and leave.
"The stakeholders we've been in touch with so far want to be involved in the process," Auserwald, who has literally canvassed the street herself, writes. "They don't want to be handed a set of plans and told that this is what's happening. We feel strongly that it's got to come from the grassroots up and not be handed down from above. That way, there's ownership at the local level, which is what's going to be necessary to sustain whatever changes happen for the long term."
Auserwald hopes the pop-up event gets people who aren't thinking about changes to Venice to start thinking outside the box. In fact, she sees Great Streets as a great chance for the Chamber to stand out in the community.
"We see our role as getting the word out and making sure every stakeholder who wants to be involved can be," she continues. "After that, the next steps are to start to look at all the possible designs and improvements that could be made to the street. Then, of course, the money must be found as well. Another thing that will need to happen is to deal with the fact that Venice Blvd is currently a State Highway, under the control of Caltrans and not the City of L.A."
The potential handover of Venice Boulevard from Caltrans to the City is another burst that the Mayor's Office is counting on. When Auserwald and I met at the Venice Grind last week (Streetsblog is a media sponsor of the November 29th Pop-Up), the road in front of our table was smoothly paved following the improvements that happened prior to the April 2013 CicLAvia to the Sea. However, that's not the condition on the entire Boulevard. Under state law, Caltrans has to fix the road conditions before handing over control, a process that is in negotiation.
With repaving comes other opportunities, but a Great Street isn't just a smooth street. There has to be more.
"We hope that in 10 years Venice Blvd will be a great, safe street, with a beautiful, sustainable design that encourages safe walking and biking alongside the cars that will of course still be driving on it as well," Auserwald concludes. "We see better maintenance, new lighting, more retail and restaurants we can all walk to and enjoy. We see a main street bringing people to a destination: Mar Vista.
Stay in touch
Sign up for our free newsletter