cap and trade
The Hidden Gas Tax That Doesn't Exist
1:50 PM PDT on October 27, 2014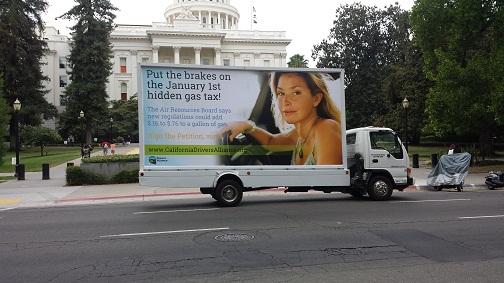 You may have seen the ads on Facebook, or on one of the roving billboards being pulled by a gasoline-powered truck. They warned darkly of a coming "hidden tax" on fuel that was so hidden nobody in the media was talking about it. You may have wondered what it meant, even as the ads urged you to sign a petition today.
Last week, the 
oil-industry-backed effort
 to get people riled up about the "coming hidden gas tax" delivered its petition [
PDF
] to the California Air Resources Board's monthly meeting in Diamond Bar.
The California Drivers Alliance gathered a whopping 115,000 signatures, and "dozens" of people showed up to deliver them. It urges the Air Resources Board to delay its "plan to increase fuel prices next year" and charges that the agency has been "unresponsive" and "has not even put this far-reaching policy on its agenda for public discussion."
Not a word of which is true.
There is no "hidden gas tax" that will suddenly come into being in January. The Air Resources Board has no "plan to increase fuel prices," nor could it do so. The only change coming is that transportation fuels will become subject to California's cap-and-trade system.
That means that distributors and transporters of fuels must either 1) comply with requirements to produce no more than a certain amount of greenhouse gas emissions (the "cap" on emissions), or 2) buy enough "pollution credits" from the state to "meet" the cap. This is the "trade" part of the system.
The EPA estimates that transportation contributes a quarter of the greenhouse gas emissions in the country.
To adopt the industry's tactic of endless repetition: "There is no 'hidden tax,' or any other tax associated with [California climate change law A.B. 32] programs," according to a written statement from Dave Clegern of the Air Resources Board. "There is simply a market mechanism, which industry preferred, to allow businesses to spread their emission reductions between now and 2020 . . . instead of having to make those greenhouse gas reductions all at once."
The Air Resources Board knows that the industry prefers this method because it has said so. "The oil industry and dealers were at the table through this whole process, and have been aware this coverage was coming for at least five years," wrote Clegern.
In official comments submitted to the Board in 2011, the industry's trade group, the Western States Petroleum Association, wrote: "WSPA reiterates its support for the Cap and Trade program and a market-based approach to implementing AB 32." [PDF]
Of course WSPA has fought hard against A.B. 32 and against many details of its programs, including the schedule for gradually decreasing the emissions cap and the timing of bringing transportation fuels into the system. At one point, WSPA recommended not doing that "until there are widespread cap-and-trade programs that include fuels throughout the U.S. and the world." [PDF]
That could put it off as long as infinity, which would probably be just fine with the oil companies.
Meanwhile, despite what the billboards want people to believe, there is no reason for a sudden jump in fuel prices in January.
The Air Resources Board "has no control over fuel prices, so if there is an increase January 1, it is because the oil industry has decided that should happen," wrote Clegern.
More to the point, oil companies have already been buying pollution credits under the cap and trade. This is partly because stationary sources of emissions--including oil refiners--have been subject to the cap since 2013.
While the Air Resources Board can't say who has purchased allowances, there is a public record on which companies have been bidding in the auctions, and many fuel companies are on the list [PDF]. "It would certainly be prudent for a business with five years' notice of this program to do so while the cost of allowances is quite low," wrote Clegern.
"We know that there have been millions and millions of credits that have been purchased that can't be used for another three years," said Tim O'Connor of the Environmental Defense Fund. "So we know many of these market participants have been buying them. Oil companies have had this expectation of compliance for years."
Since they've been buying credits, it's logical to assume they are already passing the cost on to consumers.
Have they? Who can say?
There are two things that one can say with certainty about fuel prices: they have risen over time and will continue to do so, and they do so in anything but a straight line. The reasons for fuel price fluctuations are not clear, and they make predicting future gas prices a very imprecise science.
Since 2005, the price of gas in California has fluctuated by an average of $1.16 per gallon--not just gone up, but up and down and up and down.
Here is a chart showing changes in gas prices in California over just the last twelve months.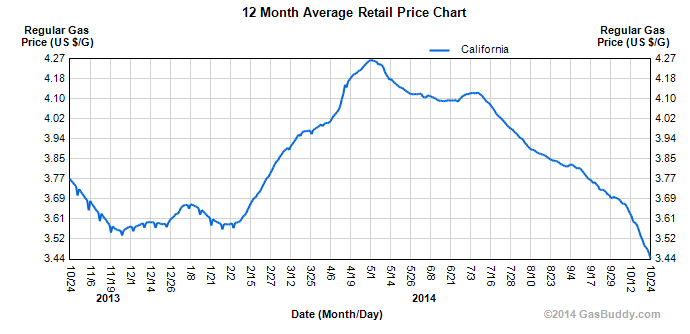 O'Connor has a name for the way prices fluctuate: rockets and feathers. "Year after year, prices at the pump shoot up – yielding significant additional profits for fuel suppliers – then casually drift down back to a point higher than where they started."
"[The California Drivers Alliance's] story is that cap and trade raises prices," said O'Connor. "But they avoid any discussion of a whole litany of information that shows that it isn't necessarily true."
"For example, with fuel diversification—moving away from a transportation system based solely on gas and diesel—you can decrease prices at the pump just by shifting demand. With more choices for fuels, demand for gas and diesel will lessen, and prices can go down. Also, providing more choices for mobility [so not everyone depends on driving] will also lower prices. And increasing diversification can decrease price volatility, making fuel prices much more stable and reliable."
You can sign a petition in support of "the timely implementation of California's pioneering clean air and clean energy standards (A.B. 32), along with setting clear, comprehensive, and ambitious greenhouse gas reduction goals to extend the benefits of the law beyond 2020" here.
[NOTE: This story was updated to clarify the way cap and trade works]
Email tips, alerts, press releases, ideas, etc. to melanie@streetsblog.org.
For social media coverage focused on statewide issues, follow Melanie @currymel on Twitter or like our Facebook page here.
Streetsblog California editor Melanie Curry has been thinking about transportation, and how to improve conditions for bicyclists, since her early days commuting by bike to UCLA long ago. She was Managing Editor at the East Bay Express, and edited Access Magazine for the University of California Transportation Center. She also earned her Masters in City Planning from UC Berkeley.
Stay in touch
Sign up for our free newsletter