Scofflaw Cyclists
Sorry Dan Walters, Everyone Already Deserves Safety — Even Cyclists
10:02 AM PDT on September 17, 2014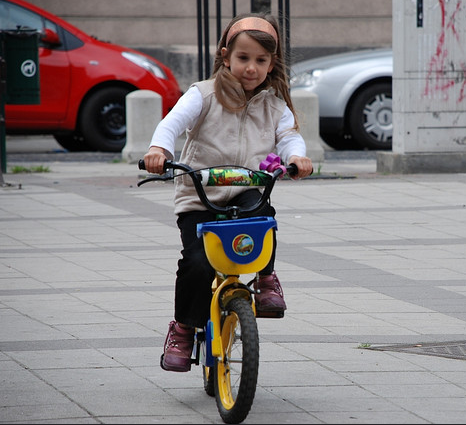 Dan Walters of the Sacramento Bee had a nasty exchange with a bicyclist riding on a sidewalk, and now he's disgusted that bicyclists want to feel safe while riding. "If bicyclists want respect and safety, they should act like they deserve it," his headline stated in yesterday's Bee.
I'm very sorry Mr. Walters' colleague, Hilary Abramson, had such a horrible experience after being hit by a bicycle on a sidewalk, but that hardly means that nobody on a bike deserves respect or safety.
Walters concludes from these two incidents that the three-foot passing law that went into effect yesterday "should be matched by one that absolutely prohibits bicycles on sidewalks statewide with stiff fines for violation, and another that makes hit-and-run bicycling just as much a crime as hit-and-run driving."
Walters and his colleague apparently didn't listen when it was pointed out to them that maybe people ride on the sidewalk because they don't feel safe in the street, a problem the three-foot law is intended to help address.
Maybe he's just steamed because the bicyclist he lectured about riding on the sidewalk wasn't patient enough to spend time discussing the issue with him.
Maybe he should have glanced up at the signs around him; he may have seen that many of the sidewalks "around the Capitol," where he confronted the cyclist, are designated bike routes.
I'm tired of hearing that people on bikes are jerks that don't deserve respect. I've been yelled at, honked at, lectured, and almost run over by people driving cars, more than one of them doing illegal and dangerous things like talking on cell phones. I can't pretend I am always patient myself when interacting with drivers while I'm on my bike.
But I'll try to be patient with Walters:
Hit-and-runs on a bike are already "just as much a crime as hit-and-run driving." Several recent cases found cyclists guilty of vehicular manslaughter and reckless driving, and it's hardly a stretch to think a bicyclist can be found guilty of hit-and-run. Increased penalties for hit-and-run crashes and efforts to catch more hit-and-run perpetrators, as recent bills aim to do, apply to everyone.
I would never claim that all people are angels on bikes but, I hope we agree, neither are they in cars. Cyclists and drivers and pedestrians all bend and break laws. Our behavior is more similar than different. The difference is cars' speed and mass, which combine to make a whole lot of dangerous momentum.A cyclist colliding with a pedestrian is bad, but it's no equivalent to car colliding with a bicycle. Take a look at these statistics for the U.S.: all traffic fatalities: 29,000-39,000 each year. All pedestrians killed by cyclists: about six each year. It's big news, often national news, when a cyclist kills a pedestrian, because it doesn't happen very often.

That bike hit-and-run experienced by Abramson was horrendous. There's no excuse for it. But people are hit by cars every day, and many aren't around to speak of it.

What Walters calls "arrogance" when bicyclists "cut in and out of traffic, blow through red lights and stop signs, and imperil pedestrians by careening down sidewalks" may be anything but. Bikes "cut in and out of traffic" for a lot of reasons: to avoid potholes and broken glass that car drivers can't see and aren't affected by; to avoid cars cutting them off and car doors opening suddenly in their path; to change lanes to make turns. These are all legal maneuvers, and yes, bicyclists ought to be able to feel safe enough on the road to perform them.
While some bicyclists "blow through" red lights and stop signs, car drivers do too, and with much more dangerous results. But certainly not every bicyclist runs red lights.Besides, many of those who choose to cross against a light do it cautiously and after making sure that there isn't any cross traffic. That may irritate drivers, but it's hardly a danger to them, or to anyone else. Of course it's not legal. But there are many cases where stop lights don't even detect that bikes are there, and therefore won't turn green for them no matter how long they wait. Thankfully engineers have finally begun tackling this issue.
But insisting that every single bike stop completely at every single stop sign, even when there is no cross traffic, is just silly. Yes, I am quite aware that is what the law requires in California. But these traffic control devices were invented to control the flow of heavy vehicles, the drivers of which cannot see around corners or maneuver quickly the way bicyclists can. If you disagree with me, I suggest you take a bike ride on a quiet street that has stop signs at every intersection, and see whether you're still stopping after the fifth or sixth block.
Walters says: "If bicyclists want to be taken seriously, they should also be paying some of the cost of marking bicycle lanes and building bike paths, rather than making motorists pick up the tab, as [a] pending bill would do."Sigh.There's a lot to unpack here.
Many drivers, including some newspaper columnists, believe a common fallacy that their gas taxes (and other car-specific fees) actually pay the full cost of building and maintaining roads. They don't. Roughly half of car infrastructure is paid for by general sales taxes, which everyone pays at the same rate, whether they have a car or not. Sales taxes from cyclists and from people too poor to own a car are already subsidizing drivers' freeways.
Building bikeways benefits everyone, including drivers, by creating safe routes that people can ride instead of driving—cutting down on congestion, pollution, greenhouse gas emissions, noise, etc. This includes trips to work, to schools, and shopping as well as recreational rides that just keep people healthy.
Many bicycle riders, like myself, also own cars. If a motor vehicle fee is approved by local voters (see #4), every car owner would pay the same fee, whether they own one bike or many.
Voters would have the opportunity to approve, or reject, any proposed motor vehicle fees aimed at building and maintaining bike paths.
Yes, those of us who ride bikes would like to be taken seriously, and treated with respect. It can be hard to hear some of the cynicism and derision aimed our way, even it if is true that the so-called "bikelash" may be a mark of our progress.
But it's a different story when we are physically threatened. Like every other road user, bicyclists want to feel safe while we are on the road.
I'm grateful to Dan Walters for helping raise awareness of the new three-foot law, and also for giving me the opportunity to respond to some common misconceptions about bicyclist behavior. If the outcome of his provocative article is that some drivers and some bicyclists practice safer behavior, then everyone wins.
Streetsblog California editor Melanie Curry has been thinking about transportation, and how to improve conditions for bicyclists, since her early days commuting by bike to UCLA long ago. She was Managing Editor at the East Bay Express, and edited Access Magazine for the University of California Transportation Center. She also earned her Masters in City Planning from UC Berkeley.
Stay in touch
Sign up for our free newsletter