CicLAvia
Open Streets Slated for SFV, SGV, Pasadena, LB, Santa Monica, and More
10:55 AM PDT on May 28, 2014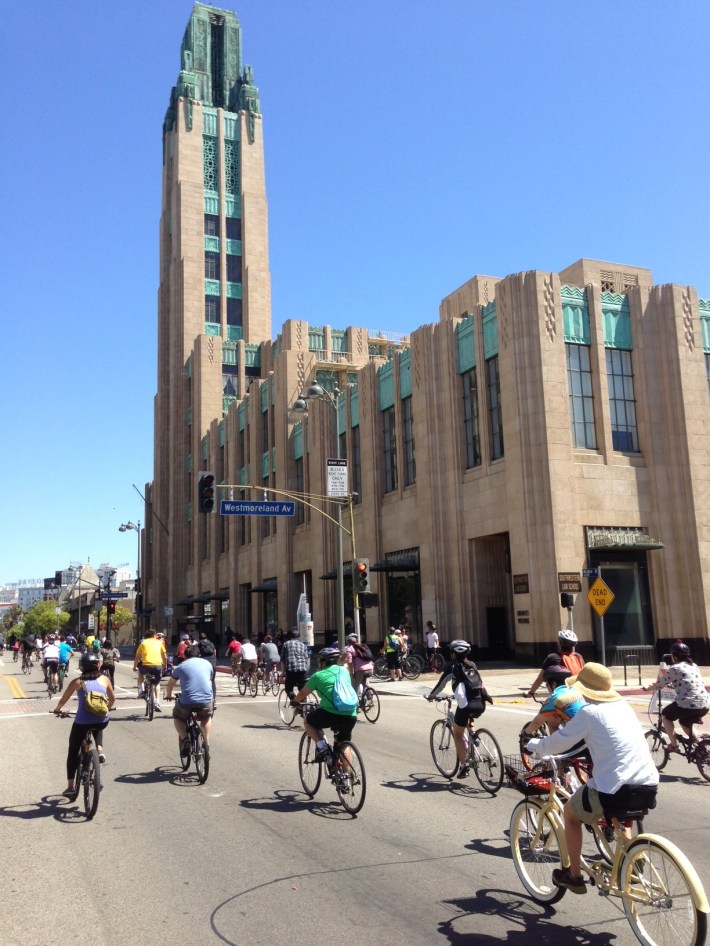 It is not fully approved or completely finalized, but a document has circulated that shows Metro's staff recommendations for open streets events for FY2015-16. Open streets events, or ciclovías, are car-free festivals primarily for bicycling and walking, more or less the same as Los Angeles' popular CicLAvia.
So far in L.A. County, cities, primarily the city of Los Angeles, have partnered with the CicLAvia nonprofit organization to host these events. The new Metro list shows the popular event spreading out to new cities and new neighborhoods, and new cities working with new organizational partners.
Metro has become a major sponsor for open streets events, allocating $2 million in event funding for each of the next two fiscal years, July 1st through June 30th. The agency is allocating the funding to cities that apply. Metro received about two dozen applications, ranked them, and recommended funding twelve upcoming events.
Nearly all the planned events connect with Metro's rail system. Two open streets events are projected to coincide with the grand openings for Metro's Gold and Expo rail line extensions under construction.
Metro's guidelines, as stated in the document, prioritize "funding one event per city before funding multiple events." Proportionally, this puts larger cities--Los Angeles and Long Beach--at somewhat of a competitive disadvantage.
The city of Long Beach applied to host three "Beach Streets" events, but only received funding for one, to take place in northwest Long Beach.
The city of Los Angeles applied for funding for both San Fernando Valley and South L.A. events, but only received funding for SFV. The city of Los Angeles also found a way to squeeze in a third CicLAvia event. L.A.'s "Heart of Los Angeles" route centered on downtown L.A. is being extended east into unincorporated East L.A., so it is hosted by the County of Los Angeles, despite the event being mostly within L.A. city limits.
In future calls, perhaps there could be prioritization of limited funding using some sort of per capita criteria.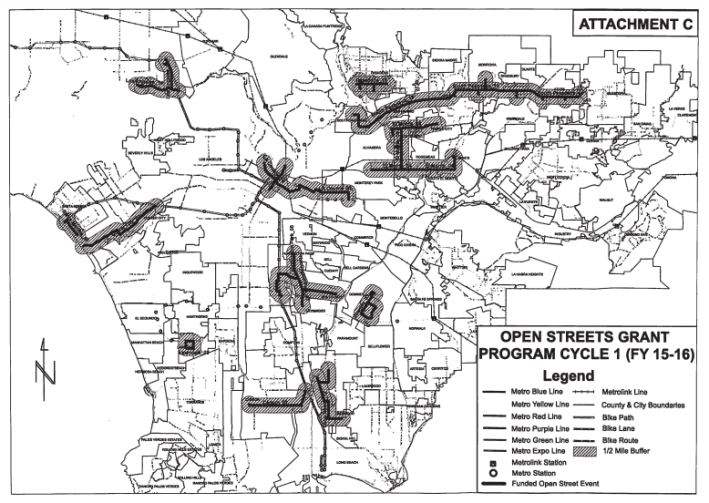 The upcoming open streets events list was made public on the Metro website and circulated by @Calwatch via Twitter. The "open streets recommendations" document is posted here. Update: Per Metro, the document was not officially made public yet, and the full report, which may differ from what was posted, will be released in early June. While the document includes a map (above) it is not easy to tell exactly what streets are included in each event. 
The document represents the Metro staff recommendations. The funding list will still need to be approved by the Metro Planning and Programming Committee, then the full Metro Board. These approvals are expected in June 2014. Though there are maps and dates specified, open streets events go through a lot of changes, so consider these tentative.
Below is the full list of upcoming open streets events slated for approval, listed in date order. 
Fall 2014
Spring 2015
City of Long Beach - "Beach Streets" in Bixby Knolls and North Long Beach, including connection with Metro Blue Line at Wardlow
Cities of El Monte, South El Monte, Rosemead, Temple City, San Gabriel, and Monterey Park - "San Gabriel Valley Earth Day Festival"
City of Pasadena - "CicLAvia Pasadena" on a primarily east-west route, apparently on Colorado Boulevard, including connections with Metro Gold Line: Del Mar, Memorial Park, Lake, and Allen stations.
City of Culver City - "CicLAvia Culver City" on a route roughly paralleling Ballona Creek from the Expo Line to the beach.
City of Lawndale - "Lawndale Community Bicycle Ride" on a square-shaped loop route.
City of Los Angeles - "CicLAvia the Valley" on a southern San Fernando Valley route that appears to include Lankershim and Ventura Boulevards, with connections to the Metro Red Line. CicLAvia the Valley was recently profiled in the L.A. Register.
Cities of Huntington Park, South Gate, Lynwood, Los Angeles, and County of Los Angeles - "CicLAvia Southeast Cities" including connections to the Watts Towers, Metro Blue Line, and Metro Green Line
Spring 2016
City of Carson - "Car Free Carson" on a primarily east-west route, apparently on Carson Street, including connection with Metro Blue Line Del Amo Station
City of Downey - "Downey Ride and Stride" on a loop route, located 0.4 miles from the Metro Green Line.
Cities of South Pasadena, San Marino, Pasadena, Arcadia, Monrovia, Duarte, Irwindale, and Azusa - "San Gabriel Valley Golden Streets" on long east-west route, to tentatively coincide with the grand opening of the Metro Gold Line Foothill Extension. Golden Streets was recently profiled in the San Gabriel Valley Tribune.
Spring/Summer 2016
City of Santa Monica - "Expo Opens Santa Monica" event to coincide with the grand opening of the Metro Expo Line Phase 2. The route appears to include Colorado Avenue and Main Street.
Not Funded
The following cities applied for open streets events, but were not recommended to be funded in this round:
City of Long Beach (Fall 2015 "Beach Streets Downtown Long Beach" and Spring 2015 "Beach Streets Grand Prix Open Course Pre-Ride")
City of Los Angeles (Winter 2014 "CicLAvia: South L.A." already announced for December 7, 2014, including connections to Metro Blue and Expo Lines)
City of Pico Rivera (Summer 2015 "Walking the Gold Line Open Street Event")
City of Hawthorne (Spring 2015 "Taste of Hawthorne")
City of Walnut (Fall 2014 "Walnut Family Festival Open Street Faire")
City of Montebello (Spring 2015 "Montebello Walk and Roll: Pedal, Walk, and Stroll for Wellness")
City of Inglewood (Spring 2015 "Inglewood Open Streets / Open Studios")
City of Huntington Park (Fall 2014 "Wolfpack Hustle Gran Prix")
(Notes: SBLA contacted Metro and CicLAvia for background on this story, but neither would comment on the record until the full approvals have been completed. This story was updated at 3pm per input received from Metro. Updates in italics in body of story.)
Stay in touch
Sign up for our free newsletter