light rail
Ethan Elkind's Railtown – How Planning, Engineering and Mostly Politics Shape L.A. Rail
2:16 PM PDT on March 13, 2014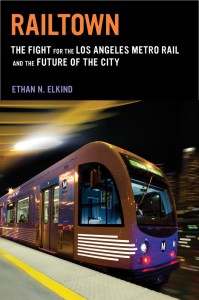 The UC Berkeley Faculty Club meeting room was packed on Tuesday evening with people who came to hear Ethan Elkind talk about his book, Railtown: The Fight for the Los Angeles Metro Rail and the Future of the City.
Elkind, who holds a joint appointment as Climate Policy Associate at the UCLA and UC Berkeley law schools, entertained the crowd with a wry, rapid-fire summary of some of the complex political forces that quite literally shaped the current and future Metro system.
Like many contemporary cities, L.A. originally grew along streetcar lines. Then, as cars became more ubiquitous, it spread out into interstitial areas and beyond, becoming an "endless expanse of subdivisions." A map of the oversized extent of Los Angeles County ("the size of Delaware and Rhode Island combined....Why does Delaware get to be a state?") gave an idea of the vast areas overseen by only five county supervisors, with huge and varied constituencies. The mottled shape of the city of LA showed the relatively minor power base of its mayor.
Federal money for transit helped start the conversation. "If the city could put up 20% of the cost of building an urban rail system," said Elkind, "then the federal government would pay 80%--this was a very enticing deal." Terrible air quality and bad congestion added to a general frustration with the existing transportation in LA, helping set the stage for rail.
He showed a slide with an overhead photo of the city ("That photo cost me some money," he said—which is why Streetsblog didn't post it here). It showed an endless cityscape, and jutting up were tall buildings clearly outlining the Wilshire Boulevard corridor.
"If you're going to build rail," said Elkind, "This is where you should do it, along the most densely populated corridor in the western U.S."
But other interests intervened, and the Blue Line to Long Beach became the first route, "on the bones of the old streetcar network," taking the same route as the last remnant line of the old streetcars, which shut down in 1961.
The second route, the Green Line, was built on a transit right of way in the center of the Century freeway, located there due to a lawsuit against the freeway. Because the right of way was already set up, the route was cheap and convenient. Also, it was argued that it could serve the aerospace industry in the western marsh below LAX.
But the Green Line didn't go to the airport. And with the end of the cold war, the aerospace industry collapsed.
Meanwhile efforts to get a line through the most heavily populated areas were diverted by politicians who wanted—or didn't want—rail through their districts. At one point Elkind showed a slide of an early route plan for the Red Line subway, calling it "Wounded Knee" because the line curved up from Wilshire through downtown, bending in a tight curve in an effort to hit all the important spots.
Then came the methane explosion in 1985 on Fairfax, and those who feared more methane leaks joined forces with those who feared gentrification and almost brought the whole subway to a halt.
Elkind discussed the personalities at play, including US Representative Henry Waxman, who at first seemed supportive of rail but then pulled his support after the methane explosions, Mayor Tom Bradley, who "accidentally" promised the groundbreaking of a subway within eighteen months of taking office (he was only off by about twenty years), and Supervisor Kenneth Hahn, who wanted to see the old streetcar system revived in a renewed Los Angeles.
He touched on construction problems, including the sensational ones: the tunnel fire under the Hollywood Freeway and the sinkhole that almost ate Supervisor Zev Yaroslavsky. Regarding these, Elkind gave this valuable advice: If ever you are appointed to a transportation agency or commission, step down before construction begins. "I may have just saved a few careers with that advice."
Elkind also mentioned backlash against rail, from anti-transit Reagan Republicans to the Bus Riders Union lawsuit arguing that rail served rich commuters to the detriment of transit-dependent bus riders.
He traced the shifting landscape of fundraising, from the first failed effort to pass a sales tax measure, through several successful measures that passed with slight majorities before the 2/3 vote requirement was in place, to Mayor Villaraigosa's successful championing of Measure R, with slightly more than 2/3 vote.
Elkind's lessons for transit planners include: don't try to build a line through any area with more than 50% home ownership. The Pasadena Gold Line was chosen in part because its route went through an area with a high proportion of rental units, he said.
Elkin recommended when you build rail, locate it where there is density. If the density doesn't yet exist, it has to be allowed, or you won't get the ridership you need. "It's tough, with local control over land use, and when locals don't have much incentive to see more density around rail," he said. "But why should the region pay for a regional rail system when local jurisdictions won't allow density to be built around stations?"
That route along the most heavily populated corridor in the Western US, Wilshire Boulevard? "The purple line is just around the corner," he said. "By 2036 you'll be able to get to Westwood."
Marty Wachs, professor emeritus of city planning at UCLA and UC Berkeley, retired senior researcher in the Transportation, Space and Technology Program at RAND, and author of numerous articles and books about transportation, was invited to discuss Elkind's book. He brought the evening to a sobering conclusion with some hard questions about the value of rail in Los Angeles.
Elkind's book, he said, made it clear that planning and engineering have much less influence on the shape of rail than politics. "It made me worry about the irrelevance of analysis and of what we do at the university," he said.
Then he asked, "Is rail in L.A. a success or a failure? I don't know the answer. Certainly it's overly expensive, it doesn't stop in the right places, it's poorly designed. Certainly it offers transit options that didn't exist before."
He broke down five criteria for measuring success, four of which were used to bolster the ballot arguments for the sales tax measures that made the system possible.
Ridership: "Is 370,000 riders a day a success? One bus line along Wilshire carries 2/3 as many people every day for much less money."
Cost: "What is striking is the pride of elected officials in how much money they were able to obtain and spend on this system," he said. "Other people refer to it as pork. Would people be more mobile at lower cost if we'd built bus lines instead of rail?"
Air pollution: Air quality has dramatically improved, but mostly due to lower carbon fuels and clean engines, not to rail.
Congestion: LA has more vehicle miles traveled today than it did thirty years ago. Does anyone notice less traffic?
Economic Development: The downtown corporate interests who pushed for rail, arguing it would improve LA's economic development, have all been sold to other companies that are not headquartered in LA. Today, there are no Fortune 500 companies in downtown.
Equity: "We have a long history of transferring money from the poor to the rich via transit," he said, pointing out that the sales taxes that fund the system are regressive since everyone pays the same percentage no matter their ability to pay. "So the low-income woman next to me on the train is paying for my free parking with her sales taxes," he said.
Elkind later offered a response to Wachs' comments on his blog. Twice. He largely agrees with Wachs but points out that "it behooves us to help make sure the verdict [on rail], when it ultimately comes, is a good one."
Streetsblog California editor Melanie Curry has been thinking about transportation, and how to improve conditions for bicyclists, since her early days commuting by bike to UCLA long ago. She was Managing Editor at the East Bay Express, and edited Access Magazine for the University of California Transportation Center. She also earned her Masters in City Planning from UC Berkeley.
Stay in touch
Sign up for our free newsletter