City Planning
Introducing L.A.'s Proposed Health and Wellness Plan, What It Isn't and Is
10:04 AM PDT on March 11, 2014
The city of Los Angeles Department of City Planning is kicking off a series of seven community planning forums starting this Saturday, March 15th, and running through April 12th. They're at various locations from Granada Hills to San Pedro. The forums are for public feedback on three citywide planning processes: re:code L.A., Mobility Plan 2035, and Plan for a Healthy Los Angeles. This week, Streetsblog will preview each of the citywide initiatives. First off, it's the city's new health plan.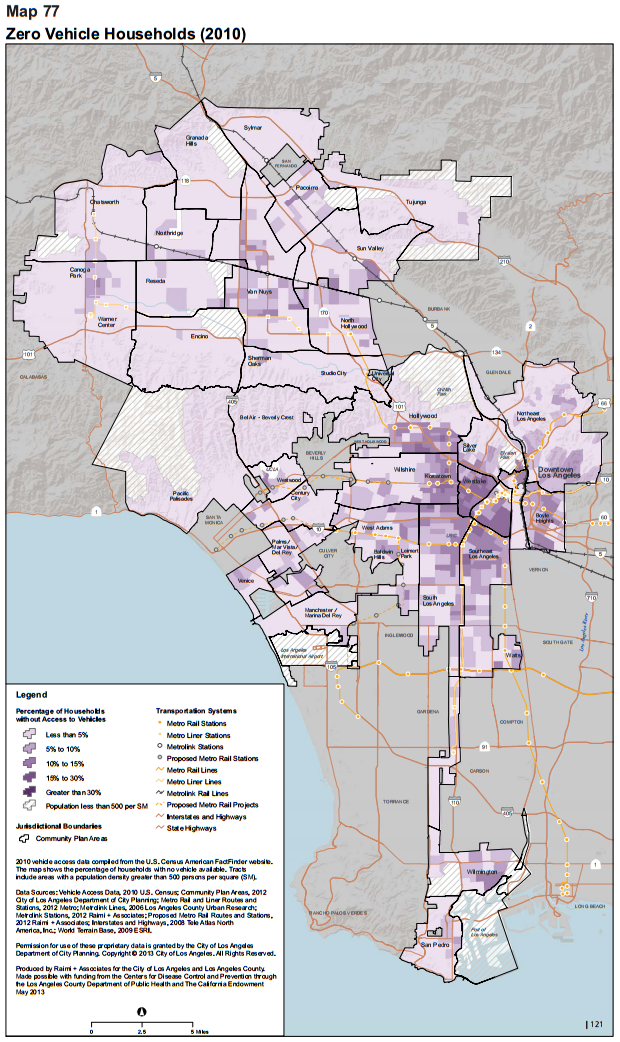 There's a brand new plan on the block.
Until now, the city of Los Angeles hasn't had a stand-alone health and wellness plan as an element of its General Plan. Formally, the new plan is titled Plan for a Healthy Los Angeles and it has its own website, blog, Facebook, Twitter, mailing list, and RSS feed.
The Plan for a Healthy Los Angeles (Health Plan) is a collaborative effort spearheaded by the Department of City Planning (DCP), with the L.A. County Department of Public Health, the California Endowment, and the project consultant Raimi + Associates.
A draft Health Plan (pdf available via Plan download page) was released February 13th for a 90-day review period. DCP is requesting public comment on the draft, via the upcoming forums which conclude April 12th, 2014, or via email or in writing. The deadline for comments is May 13th, 2014.
What may be most interesting about the Health Plan is what isn't in it.
Streetsblog readers are familiar with the clear connections between transportation and health. Collisions kill in the short run. Car-centric systems decrease physical activity, which kills in the long run.
The Health Plan contains very little transportation planning, but instead acknowledges "the connection between health and mobility" and directs Angelenos to "please see the Mobility Plan 2035" for actual transportation plans and policies. The only transportation policy in the health plan is "increasing community access to open space and recreational opportunities, as well as to medical care facilities."
Similarly, the Health Plan mentions but does not focus on economic development, equity, environmental justice, or housing. These are covered by the city's General Plan Framework and the General Plan Housing Element, respectively.
So, what's left? Quite a bit, it turns out.
The health plan focuses on six main areas:
"A City Built for Health" includes: increasing goods and services in underserved neighborhoods, and promoting active design and disabled access.
"Bountiful Parks and Open Spaces" includes: expanding parks (especially in underserved neighborhoods), revitalizing the L.A. River, safer parks, and community stewardship of parks.
"Food that Nourishes Body and Soul" includes: urban agriculture, farmers markets, and more equitable access to healthy affordable food outlets.
"An Environment Where Life Thrives" includes: reducing air pollution, increasing the number of smoke-free places, reducing impacts of oil extraction, and remediating brownfields.
"Lifetime Opportunities for Learning and Prosperity" includes: supporting early childhood, lifelong learning, arts, libraries, workforce training, and youth employment.
"Safe and Just Neighborhoods" includes: supporting gang prevention programs, innovative public safety, community policing, and reintegrating the formerly incarcerated.
Under each of the above headings there are specific goals, objectives, policies, and programs. These are wrapped up into a massive spreadsheet Action Plan, which assigns responsible city departments, from the Police Department (LAPD) to Recreation and Parks (DPR) to Public Libraries (LAPL) and more. Some responsibilities for actions are placed outside the city to other governmental bodies including Metro and the School District (LAUSD.)
Like many city planning documents, the Action Plan is full of very good measures, but it's not clear what it will take for these to go from written description to on-the-ground implementation. Many of the actions, including things like creating healthier buildings (with features including "pronounced, attractive staircases" and "pedestrian-oriented environment") will take additional work by DCP to craft, adopt, and enforce ordinances. It's even less clear how implementation will proceed for items that require actions by other departments and other agencies. It's likely to take plenty of future political will, organizing, and funding. Nonetheless, as communities seek to advance health measures, it is somewhat helpful to have an adopted policy document to reference.
The draft Health Plan policy document is accompanied by a very visual health baseline document called the Health Atlas for the Cty of Los Angeles, which maps various elements across the city: childhood obesity, education, crime, rent, and much more. Streetsblog readers may find the Health Atlas' Transportation chapter interesting. It includes data on households without access to a vehicle, commute modes - driving alone, carpooling, public transportation, walking, and bicycling - as well as various motor vehicle collision data.
In addition to the static Health Atlas document, there's an interactive mapping tool great for plannerd time-wasting exploring health statistics visually. The tool breaks city data down by community planning areas - not highly fine-grained, but useful for ranking various parts of the city.
For example, below is a sample map showing the prevalence of carpooling in Los Angeles: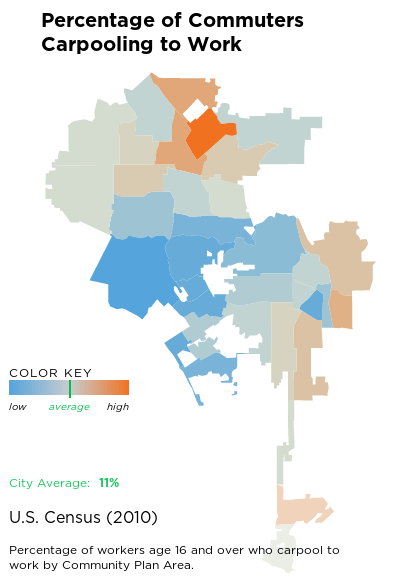 Clicking on the map criteria shows a bar graph:

Moving one's cursor over the bars highlights which part of the city each corresponds to.
The city's elevated focus on health is very welcome. Clearly there's a lot already underway to improve health, and a lot more still to be done.
If anything, some of the Health Plan's goals are a bit tame, which may be because the proposed Health Plan is the first of its kind for the city. Perhaps this plan can establish a sort of baseline, with future health plans narrowing in on priorities where the city can push the envelope.
These tame goals are reminiscent of the commands of the king in The Little Prince who only makes "reasonable" orders, for example, ordering the sun to set at sunset. The Health Plan calls for "schools that are safe," "continuing a public library system that provides... learning services... for all" and "community policing." These are all societal goods that positively impact health. It's worthwhile to to acknowledge and legitimize support for them. But the LAUSD, LAPL, and LAPD would likely continue to strive for these goals, in some form, whether or not they receive approval in the city's General Plan.
Read the draft Plan for a Healthy Los Angeles here. Hear more about the plan, and give your input, at any of the upcoming meetings. Stay tuned to L.A. Streetsblog this week for introductions to the city's Mobility Plan update and Zoning Code update.
Stay in touch
Sign up for our free newsletter