MyFigueroa!
The MyFigueroa! Streetscape and Protected Bike Lane Plan Moves Forward as City Council Begins Hearing the Appeal
12:58 PM PST on January 23, 2014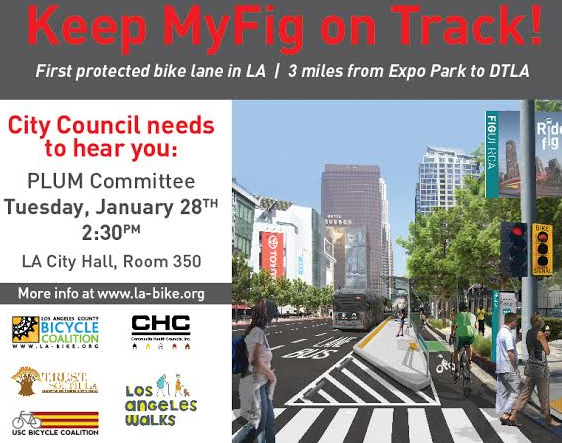 Next week, the Los Angeles City Council will hear the formal appeal of the environmental certification of the MyFigueroa! project brought by Darryl Holter, owner of the Shammas Auto Group. But, even as the Council begins to hear the appeal, the MyFigueroa! team is preparing to put the project out to bids in February and March.
In short, MyFigueroa! is a streetscaping and safety project that would put Figueroa Street on a road diet to make room for the city's first major cycletracks, or separated bike lanes. Los Angeles recently added some traffic dividers to a buffered bike lane through the 2nd Street tunnel, but repeated car crashes into the tunnel's wall show that these barriers aren't sufficient to completely protect cyclists.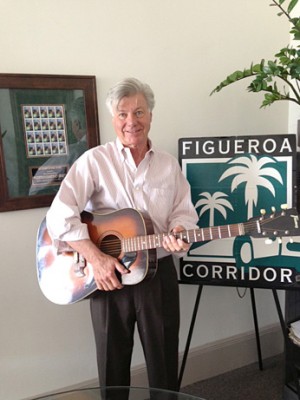 At next Tuesday's meeting (agenda not yet available online) of the City Council Planning and Land Use Committee, Holter's complaint will be heard by Council Members Gil Cedillo, Mitch Englander, and Chair Jose Huizar. Following that hearing, the City Council Transportation Committee will consider the appeal. Both bodies will make recommendations to the Full Council, who will then vote on whether or not the Planning Department's certification of the environmental documents was correct. Last August, City Planning ruled that the project will have no significant environmental impact.
For his part, Holter has claimed repeatedly in public that he is not trying to derail the project, but rather ensure that there is a mechanism to remove the project should it have unintended negative impacts. He has asked for traffic studies after the project is completed to determine whether or not the projections are being met. Since nobody opposes this idea, it's hard to believe that that is all he is looking for.
If Holter's appeal is upheld, then Planning will have to either prepare a new environmental study, prepare a new mitigation plan for newly identified impacts, or alter the project. The grant for the project requires construction be completed by the end of the year, but a change in state law may extend that deadline. The MyFigueroa! team is waiting on word from the state on whether their project qualifies for an extension.
Of course, an appeals process through the City Council doesn't always mean that a project and study will be evaluated on its merits. Politics will surely be in play. Thus, the key figure is the City Councilmember who represents the MyFigueroa! Corridor area. Jan Perry was an outspoken supporter of the project, but she was replaced by Curren Price after last year's election. Price seems enthusiastic, but with some caveats.
"I am very excited about the My Fig project and I'm thrilled that it's happening in South L.A., an area in so much need of infrastructure improvements. It is especially exciting to think that we could be the first area in the city with cycle tracks, and I am committed to making this project a success so that it serves as a model for the rest of the City," he begins. "This project has the capacity to be a great asset for our community – but it has to be done right and with the support of all of our constituents and stakeholders."
However, the statement becomes less supportive and voices more concerns as it continues.
"Figueroa Street sees nearly half a million cars on a daily basis and, as currently designed, My Fig would eliminate 4 lanes of traffic. This would result in an additional 2-3 minute wait per intersection on the 3-mile stretch of Figueroa between MLK and 8th Street. Like any Angeleno, I am not a fan of adding any amount of traffic to our already congested streets. This is why I asked LADOT to take a deeper look at alternative options that would allow us to move forward with a pedestrian and cycle-friendly project while also heeding concerns about traffic."
That said, Price clearly states that he does not want to see the project completely killed.
"To be clear, I am only open to alternatives that ensure we stick to the primary goal of the project – providing meaningful transit options to residents in the community."
Holter, the Business Improvement District he leads, and the California Science Center have all written the City Council asking for changes, a delay, or the cancellation of the project. On the "pro" side, the Los Angeles County Bicycle Coalition, Los Angeles Walks, TRUST South L.A., Community Health Councils, and the USC Bicycle Coalition plan to rally their constituents for next week's hearing. And, as of the publishing of this article, the LACBC petition asking for the city to invest in protected bike lanes has gathered over 1,400 signatures.
"Los Angeles has done a great job of striping as many bike lanes as possible over the past three years, but what's been missing is high-quality '8-to-80' design and network connectivity," writes Eric Bruins with the LACBC. "MyFigueroa provides both: LA's first protected bike lane will connect multiple employment and entertainment centers and two of LA's neighborhoods with the highest rates of bike use. We're all watching this project to see if the City is serious about bringing next-generation bicycle infrastructure to the streets of Los Angeles."
Meanwhile, even as the City Council wrestles with Holter's appeal, the project itself is moving forward.
MyFigueroa! is a plan to create Los Angeles' first Complete Street or Living Street. The project area includes four miles of streets that stretch from Downtown L.A. to South Los Angeles: Figueroa Street from 7th Street (downtown) to 41st Street, just south of Exposition Park; 11th Street (from Figueroa) east to Broadway (in the South Park neighborhood); and Martin Luther King Jr. Boulevard from Figueroa west to Vermont Avenue, on the south edge of Exposition Park.
The construction documents for Figueroa Street, 11th Street and Martin Luther King Blvd are almost complete. Construction bids for Martin Luther King and 11th Street could go out to bid in February, followed by Figueroa in March.
Stay in touch
Sign up for our free newsletter