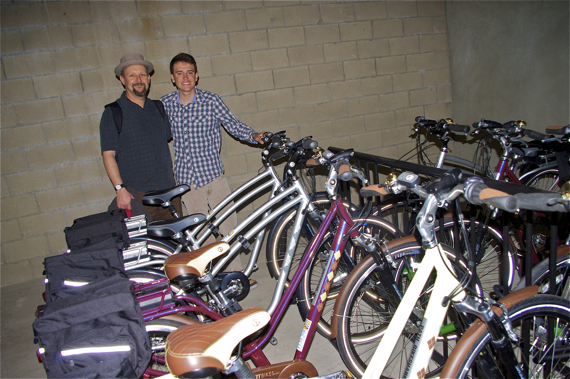 Gesturing toward the new bicycles that he and Eagle Scout Diego Binatena had just locked up to the rack at one of PATH's residential facilities, the LACBC's Colin Bogart noted that the bikes represented the ultimate in self-sufficiency.
For the recipients of the new bikes they may be that and much, much more.
Megan Colvard, Associate Director of Community Engagement at PATH -- the largest provider of permanent supportive housing and other services to the homeless -- looked at the bikes as a way to help mitigate the social isolation that those they serve often experience. Eric Hubbard, Development Director at Jovenes Inc. -- one of the few organizations in the region that focuses on helping homeless youth access supportive housing, skills training, and employment support -- felt the bikes could be one more tool in helping their youth go from Invisible to Invincible.
In addition to all that, I realized, Diego Binatena, the 17-year-old Eagle Scout who had put together the mini-bike share programs for PATH and Jovenes, may have come up with a more manageable and easily replicable approach to bike share than any of the proposals we've seen so far.
I looked at the gangly Olympic hopeful and wondered if he really grasped the extent of what he had just done.
It's entirely possible that he did.
A Scout since first grade and son of Santa Monica Housing Authority Administrator Julie Lansing, community service and helping those in need had always been an important part of his life. So had biking. Just this year, he won a number of races, including the California Junior State Road Championships and was recruited by the USA Cycling National Team to race in Europe.
When it came time for him to do his Eagle Scout Service Project -- a project intended to deliver benefits of some significance to the community while demonstrating the Scout's ability for leadership -- marrying his love for bicycles with his desire to help the homeless in a bike share program seemed like a good way forward.
After hearing that the LACBC had bikes they might be able to donate to his project, he headed for the drawing board.
He did research on potential recipients for the bikes, figured out what a share program would look like, and then took his power-point presentation on "Cycle Forward BIKESHARE" to neighborhood councils, bike clubs, and bike shops. The LACBC contributed 20 electric-power assisted bicycles that had originally been donated to them when Kilowatt went out of business (with the caveat that they find a good home for them). Other donations came in the forms of funds and/or bike racks, helmets, locks, commuter bags, and safe-cycling program materials. Stan's Bike Shop even offered to help provide Jovenes with free safety classes and bike maintenance for the first year of the program.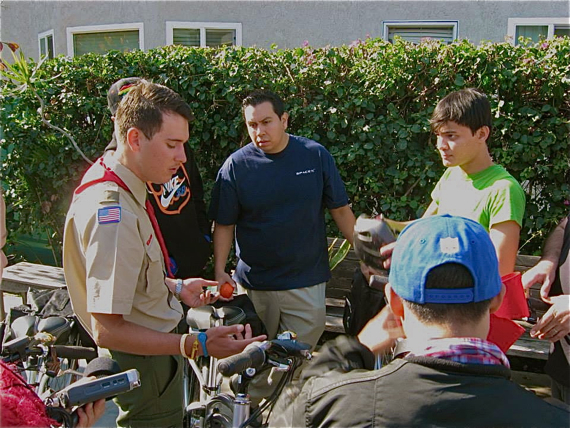 Residents at PATH and Jovenes will be able to temporarily "check out" one of the ten bikes each facility received to go to job interviews, run errands, visit friends or family, or just take a spin.
As such, the bikes have the potential to not only cultivate a greater sense of independence within residents, but they can also help free up the service providers to offer residents more support. Right now, says Hubbard, the staff at Jovenes spend a lot of time transporting the youth back and forth to job interviews and other obligations as part of their efforts to help the young men get back on their feet.
Both Hubbard and Colvard also spoke of doing group rides with residents or participating in CicLAvia.
Having seen firsthand what participation in a bike club has done for at-risk youth, I told Hubbard, group rides have tremendous healing potential for those that have spent a lot of time on the margins. In the case of the Watts-based Los Ryderz, for example, I've watched the youth grow into a family, learn to trust each other, learn to believe in themselves, and start to dream a little bigger about their futures, all of which are goals that both PATH and Jovenes have for their residents.
Perhaps most interestingly, the program may provide a model that other non-profits, long-term residential facilities, youth centers, workforce centers, or health centers could adopt to encourage their constituents to cycle more or help them get places they need to go.
In the model Binatena has created, the bikes are housed in a common, safe, and convenient location that all residents have access to, maintenance of the bikes is taken care of, and programming (group rides, safety classes, field trips, health dialogues, etc.) can be built around the bikes to help people get comfortable with riding. That combination seems more likely to get someone who might otherwise be reluctant to try cycling onto a bike (and keep them on it) than a bike from a stand-alone bike share.
The program isn't without kinks. At the moment, both organizations are working out how to deal with questions of liability that might arise when residents take the bikes out. But, both also seemed confident that those issues would be worked through very soon.
"This is pretty amazing!" I gushed at Binatena as I looked over the bikes lined up at PATH.
Truth be told, I actually think I said that to him in some variation half a dozen times or more.
I couldn't help it. It truly is pretty amazing to see such a simple idea that packs so much potential.
Best of all, it is gives those with the very least the tools to help themselves do a little better.
I'm looking forward to riding with residents once the programs formally launch in the coming days and updating you on how the program is working. In the meanwhile, if you'd like to know more about Diego and his project, please click here. More about PATH, located in Hollywood, can be found here. More about Jovenes Inc., located in Boyle Heights, can be found here.
Sahra is Communities Editor for Streetsblog L.A., covering the intersection of mobility with race, class, history, representation, policing, housing, health, culture, community, and access to the public space in Boyle Heights and South Central Los Angeles.
Stay in touch
Sign up for our free newsletter