Long Beach
California Coastal Commission Urged to Ban Offshore Fracking in Scathing 29-Page Letter
10:45 AM PST on November 19, 2013
Following an Associated Press article that was syndicated nationally by multiple outlets, the coast of California—particularly ——became the center of attention in regard to a controversial practice: fracking.
Fracking—also known as hydraulic fracturing, which essentially is done by pumping chemical-laced solutions into shale formations to stimulate oil extraction—and well stimulation—acidizing oil wells to stimulate them—has been particularly high in Long Beach and, unbeknownst to many (including State officials), it's been going on for decades.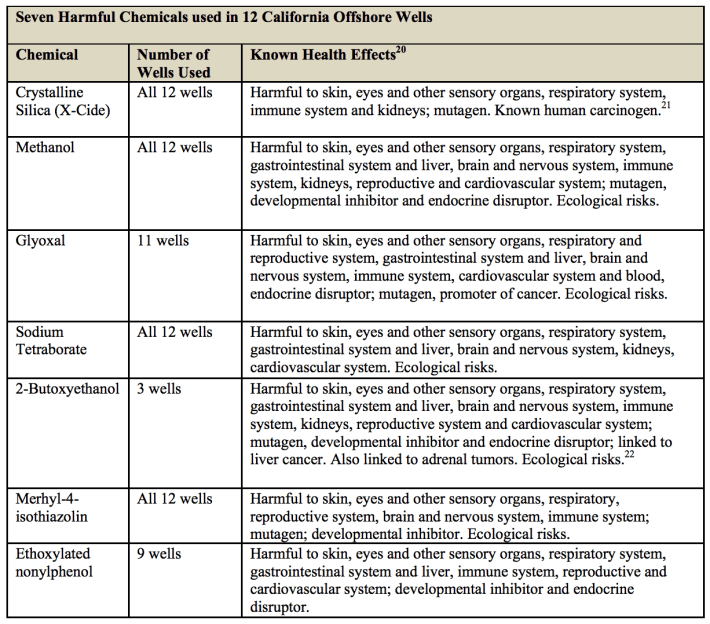 According to Kevin Tougas, Oil Operations Manager for the Long Beach Gas and Oil Department, acidizing began in the 1960s on the west side of Long Beach's oil field while the first frack occurred in the early 1970s on the east side at what is now called THUMS Island (y'know: the Disneyland-designed "resort").
Why?
"Simply because the Long Beach area is the locale for the third largest oil field in the nation," Tougas said. "Relative to the amount of wells drilled per year, fracking represents less than 10% of our operation."
Well, that's fine and dandy—cool, only 10%. But there are severe implications, for both human and biological health, aren't there?
"The City has always made protecting the environment the top priority [though the City did not take a position in regard to SB4, which sough to regulate tracking and well stimulation more deeply]," Tougas said. "All fracking in the Long Beach area has been completed in full compliance with all state and federal regulations and there has not been any known instances of harming the fresh water zones, humans or marine life."
Tougas also noted that the City of Long Beach's contractor, Oxy, participates voluntarily in FracFocus to report detailed information about fluids and chemicals that are used in a particular treatment.
That stance—"no known instances of harm"—has been at the center of the offshore fracking controversy, leaving environmental scientists and oil companies battling over whether, oh, y'know, shooting a whole buncha chemicals into places like the Santa Barbara Channel—the site of the 3M gallon crude spill back in 1969—is perfectly fine for the environment when it happens to be done offshore (because the practice has largely been regulated or flat-out banned on land because of the harmful effects it produces).
Enter the Center for Biological Diversity (CBD), the organization that just sent last week a scathing 29-page letter/report to the California Coastal Commission (CCC) calling for the immediate halting of all fracking practices along California's coast.
In it, the report (amusingly) cites not just research from other states—such as the Pennsylvania Fish and Game Commission's proof of poisoned waters affecting its river bass—but the CCC's own research and worries against fracking, such as this year's staff report.
"While industry claims that companies have been safely fracking wells in California for decades," said Emily Jeffers, an attorney speaking on behalf of the CBD, "modern fracking is new, different, and more perilous. Today, to help profitably draw oil out of shale formations, companies will drill extensive horizontal wells, and repeatedly fracture the surrounding shale by pumping a mixture of chemicals called 'slick water' down the well under immense pressure. Slick water is truly hazardous, containing chemicals that could cause cancer or damage to the nervous cardiovasculatory, and endocrine systems. Solid and fluid oil exploration wastes can generally be placed into three categories: produced water, drilling fluids and cuttings, and associated wastes. Produced water can contain harmful substances like benzene, arsenic, lead, hexavalent chromium, barium, chloride, sodium, sulfates, and boron, and it also can be radioactive."
This isn't the first time fracking has been addressed in Long Beach. A meeting last year regarding the matter was met with little more than a shrug from the very regulatory agency—the California Department of Conservation's Division of Oil, Gas, and Geothermal Resources (DOGGR)—that oversees the practice. Concerned citizens, particularly in communities less affluent than those not affected by the practice, brought forth questions that were generally met with silence.
Tougas, however, seems persistent that the fracking implications are not part of the conversation in Long Beach because wells undergoing hydraulic fracturing in the Wilmington oil field are not in the vicinity of groundwater production.
"Water is recycled in a closed system," Tougas said. "No fracturing fluids are disposed in pits or off-site… The base of the underground safe drinking water—or in laymen terms, fresh water—is normally around 1750 feet, give or take, and key fracturing intervals are at around 4500 feet and deeper… [W]ell-established fracturing processes are utilized, obtaining all necessary approvals. Of note is that local processes are focused on deep lower quality sands which use relatively small treatment volumes compared to the new frack designs occurring in the shales back East."
Though this may be the case with regard to fresh water, addressing the other major issue affecting massive marine biological ecosystems was not directly addressed, despite the AP report showing that between Long Beach, Seal Beach, and Huntington Beach—some of California's most biologically diverse spans of waters—have been fracked 203 times at six sites over the last two decades.
"Absent a total ban, the Coastal Commission can take several concrete, proactive steps under the Coastal Act to limit the practice in state and federal waters and ensure the continued health of our coastal ecosystem," Jeffers said. "While the permitting of oil and gas drilling off the coast of California involves other regulatory agencies… the Coastal Commission can take [our measures] to ensure that California's marine resources are protected to the full extent of the Coastal Act."
Your move, CCC.
Stay in touch
Sign up for our free newsletter