bike lanes
Westwood Bike Lanes Connecting National and Wilshire Killed by Council Office
1:00 PM PST on November 14, 2013

Streetsblog received word last night from Jonathan Weiss that the proposed bicycle lanes on Westwood Boulevard between Pico Boulevard and Santa Monica Boulevard are opposed by local City Councilmember, Paul Koretz. Weiss serves as Koretz' appointee to the City of Los Angeles Bicycle Advisory Committee.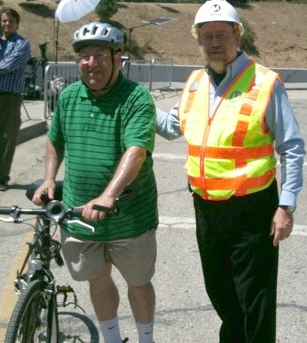 This news comes as a blow to cyclists that use Westwood Blvd. every day to commute to and from UCLA and other destinations. Bicycle lanes already exist south of National Boulevard and north of Santa Monica Boulevard, making this an obvious connection in the city's Bicycle Plan. The UCLA Bicycle Coalition and LACBC organized "Ride Westwood" to support the connection.  However, after the Los Angeles Department of Transportation held a public information session that turned senselessly raucous, the future of the lanes seemed uncertain.
Our coverage of the meeting even led to a lively segment on the local conservative political talk radio show John and Ken on KFI 640 AM.
Local opposition to the lane publicly centered around an LADOT study of a bus lane (bikes allowed) which would have removed travel lanes and parking.  That plan was DOA.  Instead, the Los Angeles County Bicycle Coalition proposed a "floating" bicycle lane where the parked-car adjacent bike lane would be moved to the curb during rush hour so that the road could continue to have a peak hour lane.  After the public meeting, the LADOT began a study of the floating bike lane (which they had only briefly introduced as an "idea" at the public hearing), but that was put on hold by the Councilmember.
Now, the floating bike lane plan has been rejected by the Councilmember before he has allowed the formal study to be was completed.  In response, today, the LACBC released an action alert calling on Koretz to move forward with a full study of the lanes that includes all stakeholders.
Weiss argues that the road width is actually wide enough to put in lanes without removing parking or mixed-use lanes if lanes are narrowed.
"There is ample room for bike lanes without losing car lanes or parking," Weiss writes in a letter to Koretz. "Providing bike lanes would actually free up traffic by separating bikes from cars.  And safety concerns will continue to keep risk-averse people from riding – exacerbating, rather than relieving, automobile traffic to UCLA and keeping buses stuck in traffic.  (Biking is actually faster than the bus during the evening commute.)  UCLA has done a great job in cutting its carbon footprint, but this bottleneck on its doorstep hinders its ongoing efforts in that regard."
It is wildly unlikely that the city will move forward with a bicycle lane project without at least tacit support from the Council office, which is bowing to pressure from homeowner groups that have been hostile to transportation options outside of the automobile. One homeowner group, the "Westwood South of Santa Monica Blvd." homeowners, even formed a "bicycle committee" which met three times, received a long and well-researched report on why the Bicycle Lanes should be put on Westwood Blvd., and then circulated a letter opposing even studying of a design proposal to make lanes less obtrusive.
While the timing of such news is never good, it does provide a call for action for the Los Angeles County Bicycle Coalition, whose Neighborhood Bicycle Ambassador Committee for the Westside has its regularly scheduled meeting tonight (details at the bottom of the post.)
NYCDOT Commissioner Janette Sadik-Khan likes to remark that projects that are aimed to improve mobility for all road users should be first explained as safety projects. After all, who can argue against safety?
Apparently, the Westwood South of Santa Monica Homeowners Group can.
In her eloquent and well researched series (part I, part II) on bicycle safety on Westwood Boulevard, Calla Weimer shows that the stretch of Westwood Boulevard where the lanes are proposed are among the most dangerous blocks to bicycle in the city.
"Cyclist Endangerment I" reported data on the number of collisions involving cyclists by year for the WSSM stretch of Westwood Blvd. In 2011, six collisions resulted in police reports for this six block stretch of roadway. A WSSM Board member responded to this information as follows (8 Oct 2013, e-mail):

"I personally think the raw number isn't very meaningful. Some may see it as low, some may see it as high. I don't think there's enough context to interpret the value …"
After providing context, Weimer digs deeper to use more data to show the highly dangerous situation on Westwood right now.
Skeptics might still counter that the six collisions in 2011 were a statistical aberration. Such a short stretch of roadway is subject to a high degree of variability in collision rates from year to year, after all. But even if we take the average number of cyclist collisions over the three year period 2009-2011 to represent the statistically expected number of collisions in 2011, the count still comes to four. On a per mile basis, that number yields cyclist collisions for the WSSM stretch of Westwood Blvd at a rate 21 times higher than for LA County as a whole and a share of cyclist collisions relative to all collisions at a rate 3.2 times higher.
But this homeowners group doesn't just write the write against better information on bicycle safety, they also call the cops. The following email was sent, without irony or shame, from the homeowners group to residents earlier this month.
Westwood South of Santa Monica Homeowners' Association (WSSM)

Many residents were disturbed by a person with a backpack and a bicycle, seated on the curb at Prosser and La Grange all day and evening. It was especially unnerving after reports of two young men on bikes casing homes in our area. It turns out that a Bike Group at UCLA assigned people to count bikes at that corner without the most basic courtesy of notifying residents or the HOA or the Council office. Police resources were unnecessarily wasted, and residents were unnecessarily upset.
That's right, if you're doing bicycle counts don't forget to call the Homeowners Association, the City Council Office, and the police to make sure you don't upset someone vigorously clutching their pearls.
These are the people Paul Koretz is listening to. Studies, road conditions and safety be damned.
LACBC Neighborhood Bike Ambassador meeting for West Los Angeles
We hope to meet you all at our next meeting, which is
When:Thursday, November 14 at 6:30 pm.
Where: UCLA - Public Affairs Building - Faculty Lounge (Room 5391)
337 Charles E. Young Dr. East (near Wyton and Hilgard).Please RSVP to alek@la-bike.org
Stay in touch
Sign up for our free newsletter