Advocates Push for a More Livable "Death Bridge": The Glendale-Hyperion Bridge Saga Continues
4:10 PM PDT on October 23, 2013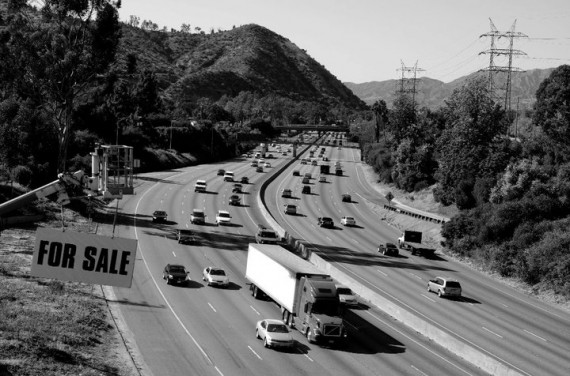 "Who wants to ride up the death bridge?" asked Matthew Mooney, livable streets advocate and creator of the Silver Lake Neighborhood Council's Comprehensive Mobility Project subcommittee, as we left the meeting on the Glendale-Hyperion Bridge Redesign in Atwater Village last night.
I had never called it that myself, but understood well why he would.
I've lived a couple of blocks from the bridge for the past 12 years and, in theory, I am deeply in love with it.
As I stroll across it into Atwater Village, I love to stop and gawk at the river, gaze at the hills of Griffith Park and the Verdugos, or marvel at just how many cars are packed onto the 5 freeway and wonder out loud where all these people could possibly be going.
Then, I get to the end of the narrow walkway and I am dumped out of my dream state onto the tiny Isle of Pedestrian Despair (pictured below), protected from the cars whizzing by at 40+ mph on either side by only a few white lines, and I have to begin calculating how fast I can dash across two lanes to the safety of the far sidewalk.
At heavy traffic times, I often think to myself that I am grateful that I have no children or pets that might be saddened if I were to be flattened while playing this real-life version of Frogger.
When I bike the bridge to get to a doctor's appointment or the post-office or the artwalk or one of the many places I need to get to on a regular basis, the situation feels even more dire.
So dire, in fact, that I have learned to time my rides down the hill into Atwater to the light at Hyperion and Rowena. Meaning, I wait until eastbound cars are stopped at a red on Hyperion to give myself a head start.
"They'll see me this way," I tell myself as I move into the middle of the lane, take a deep breath and hold it for the duration of my sprint down the hill.
As someone who has been on a bike for 20 years and endured insane conditions (like being sexually assaulted while in motion), it takes a lot for me to admit terror.
But the jaunt down the bridge manages to get me every time.
The road is in miserable condition -- strewn with asphalt chunks, pebbles, cracks, uneven patches, and potholes. And, I've got cars coming up behind me at high speeds as well as cars that I can't see yet, but which will be coming up on my right at equally high speeds and trying to merge into my lane as I reach the end of the bridge. And, the whole time, I am entirely aware that whomever is behind me on the bridge is desperate to get past me because I am in the middle of the lane. I know that's where I have to be because of the poor conditions, the curves which make it harder for drivers to see me, and the fact that I need to give myself a buffer from traffic merging from my right, but to a driver who has never biked the area, I probably seem more like an entitled miscreant.
Sometimes, I nearly give myself whiplash trying to look over both my shoulders. Other times, I stare straight ahead and continue holding my breath, figuring that if I'm going to die, it is probably best if don't see it coming.
Riding back up the hill is equally as challenging.
Once you master riding in the middle of four lanes of traffic as you dash toward the bridge from the light at Glenhurst/Glenfeliz (accessing the bridge requires you to be in one of the two center lanes) and get comfortable with cars making last-minute, unsignaled lane changes right in front of you or nearly clipping your back tire, you are greeted by terrible conditions. The westbound asphalt is like cobblestone in sections (and not in a good way) and the curves and high walls along the bridge mean that drivers coming up fast from below can't see you (and you can't see them) as you slowly slog up the hill.
So, once again, I usually find myself taking up a lot of the lane for visibility purposes. And, while I'd like to think drivers are sympathetic because it is a long hill, I'm pretty sure that they hate me because they don't have any understanding of why I have to ride positioned as I do.
It is at these moments that I think about raising my fist to the sky and melodramatically invoking a pox upon city officials and engineers on behalf of drivers, cyclists, and pedestrians alike, but I'm usually too busy trying not to die.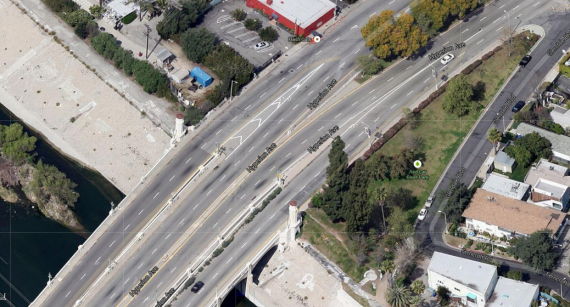 I am not alone in this.
At the meeting at Atwater Crossing last night, about thirty advocates, residents, and stakeholders gathered to tell the members of the Atwater Village Neighborhood Council's Public Safety Committee that they, too, had issues with the current design of the bridge and with what appear to be the city's plan to turn it into the equivalent of a highway.
You see, the new plans don't seem to be geared toward remedying any of the current issues in ways that people that actually live in the area and traverse the bridge would like to see.
Many reported already being hesitant to either walk or bike the bridge now and are upset by the idea that lanes might be widened to freeway standards (complete with a median crash barrier, banked turns, and wider car lanes) while omitting the possibility of bike lanes. Such an "improvement," many argued, encourages cut-through traffic and speeding through two very pedestrian and cycling-heavy neighborhoods that are peppered with schools and lots of kids on foot.
Even the planned pedestrian improvements -- removing the sidewalk on the south side of Glendale Blvd/Hyperion in favor of widening the one along the north/westbound side and adding a new crosswalk on the north side to access it -- don't offer a particularly promising fix.
As some argued last night, that approach privileges those living on the north side of the boulevard over those on the traditionally less well-to-do south side. Pedestrians on the south side would have to travel a few extra blocks and make a few extra crossings to get to the north crosswalk just so they could access the bridge sidewalk that was otherwise 100 feet in front of them. Besides the equity issue, argued some, the intervention could do more harm than good, encouraging pedestrians on the south side to try their hand at dashing across an even speedier Glendale rather than going so far out of their way.
It also isn't clear that pedestrians would find a stroll along a bridge where traffic whizzed by at 50 or 60 mph very appetizing or a safe place to take their kids on an afternoon excursion.
Most notably, the advocates complained, the approach is entirely out of sync with both the shift towards returning the river (which divides the two communities) to its natural state and making it accessible and the steps that both Atwater and Silver Lake have taken in recent years to become more livable. Atwater, for its part, has managed to use bike- and pedestrian-friendly enhancements to take an incredibly wide boulevard and make it feel small-townish and friendly -- the kind of place where you want to promenade around in the evenings, sit outside at an outdoor cafe, or catch a late-afternoon sidewalk dance or musical performance. Silver Lake's road diet along Rowena, while not entirely popular with drivers, has (by my casual observation) improved driver behavior and safety at the intersection with Glendale Blvd. and encouraged more women to bike in the area.
"Improvements" aimed boosting the flow of car traffic for those moving through the neighborhoods, the advocates concluded, are instead likely to undermine the livability steps forward made by those that actually live, work, cycle, walk, and go to school there, both now and, as Mooney reminded the group, "for the next 100 years."
As the group packed up to go, many voiced disappointment at the fact that only two of the Public Safety Committee members had been present at what they had been told would be an official committee meeting.
While, as individuals, those members supported the advocates' petition for reduced speeds on the bridge, the discouragement of cut-through traffic, and a design that was in line with Complete Streets principles, they were unable to take an official stand on the petition as a committee until a quorum was present. Meaning, that it might be some time before the committee is able to take a position on the design plans or send it to the governing body of the neighborhood council for approval.
In the meanwhile, the advocates ask that stakeholders come out to the October 28 public hearing at 6 p.m. at the Friendship Auditorium (3201 Riverside Dr.) to voice their opinions on the redesign plan. If you'd like to get more involved with advocacy for the bridge, check out the Facebook group here. If you'd like to see more about the plan itself, please check out the EIR here.
Sahra is Communities Editor for Streetsblog L.A., covering the intersection of mobility with race, class, history, representation, policing, housing, health, culture, community, and access to the public space in Boyle Heights and South Central Los Angeles.
Stay in touch
Sign up for our free newsletter