City Planning
There's One Week Left to Tell LA/2B about Your Aspirations for Your Community
1:12 PM PDT on September 23, 2013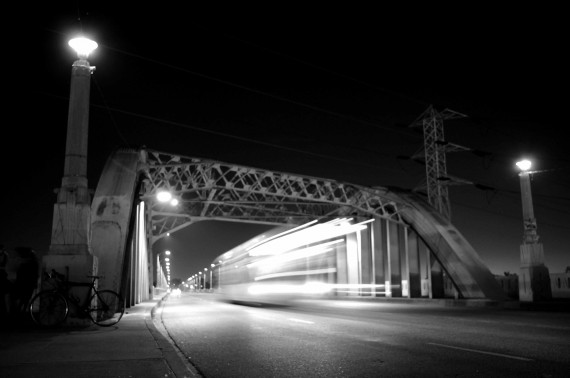 Planners working on prioritizing the programs that they will implement as part of the Mobility Element need your help.
Over the past couple of months, they've been sending out invitations for folks to peruse the programs listed on the LA/2B town hall site. They are looking for you to add your thoughts to the mix.
Why?
Because they don't have the funding to implement all the programs at once and need to know more about how best to address your immediate mobility needs and those of your neighborhood, given the resources they do have.
Your feedback matters because, as discussed in previous articles, although people across the city aspire to have beautiful, functional neighborhoods, the obstacles to achieving that goal and the needs of residents may vary from place to place. Areas like Boyle Heights or South L.A., where residents rely heavily on public transportation or street safety can be an issue, will have different needs than Silver Lake or downtown.
One neighborhood might prefer resources be dedicated first to crosswalk repair, street trees, and street lighting to facilitate and enhance transit access while another might be satisfied with their street conditions and prefer to see funds directed toward the creation of parklets or projects like the Sunset Triangle Plaza. Or, you might feel that community-designed parklets could be the ideal infrastructure fix to enhance the pedestrian experience and bring more business and investment to streets like Crenshaw, Cesar Chavez, or Central Ave. Use the comments to describe where and how you think particular programs might have the greatest impact.
You can also use the comments to offer your suggestions on how some programs can be better implemented.
The ongoing hit-and-run crisis -- including the recent death of teen Nathaniel Mota as he left church in South L.A. -- may mean that what we really need are for resources to be directed toward more signaled crosswalks (not just crosswalk maintenance) so that people can cross their streets without fear. For South L.A. in particular, building networks that make parks accessible is important, but not necessarily as important as creating programming for those parks so that people can use them year-round or feel safe moving through neighborhood streets to get to those park spaces (i.e. more Summer Night Lights style-programs, gardening workshops, or hiring local youth to do graffiti removal or mural painting).
Whatever your thoughts on how to enhance your mobility through the city, you've got one week left to make your voice heard. On Sept. 30th, voting ends and the commenting period closes.
If you live in South L.A., Community Health Councils has put out a guide with links to the programs that they and the South L.A. organizations they work with have determined to be important priorities for the area.
If you would like to take a look at all of the programs for yourself, they are listed here.
If you're interested in voting or commenting on a specific category of programs, you can take your pick from those listed below (descriptions taken from LA/2B website):
Analysis: Programs in the Analysis category evaluate the City's existing performance measures (TDM, VMT, LOS, and fees and credits associated with development projects) to identify appropriate new strategies to encourage/require projects to incorporate improvements for non-motorized transportation, mixed-use development, and reductions in VMT and transportation impacts. *Keep in mind that the Action Plan includes all the programs adopted in the 2010 Bicycle Plan because the Bicycle Plan is a chapter of the Mobility Element.
Communication: Programs in this category aim to increase communication to the public through various media outlets, wayfinding signage, and informational/interactive campaigns by use of various media platforms (tv, radio, 311, PSA, internet sites, mobile apps) to alert all travelers (vehicle, bike, ped) about potential impacts to daily travel. In addition to announcements and special awareness campaigns, this category also addresses the need to include wayfinding signage and design as visual markers for users of all modes of travel. *Keep in mind that the Action Plan includes all the programs adopted in the 2010 Bicycle Plan because the Bicycle Plan is a chapter of the Mobility Element.
Data: Programs in the Data category track, consolidate, or integrate various databases (collision, bicycle counts, etc) to create a comprehensive inventory/database of data; increase coordination among various agencies by sharing data. Access to current and accurate data and trends is critical to the development of additional improvements and the continuance of policies and programs that reduce traffic impacts and greenhouse emissions, and encourage ROW improvements for non-motorized travel. *Keep in mind that the Action Plan includes all the programs adopted in the 2010 Bicycle Plan because the Bicycle Plan is a chapter of the Mobility Element.
Education: Develop education and training programs for LAPD officers, transit operators, schools, and the public to establish standard procedures, increase awareness, encourage involvement, and make safety for all users a priority. Training and informational sessions will inform the public about alternatives to driving, safe practices for motorists and bicyclists. This category addresses the need for City agencies to work with schools, community organizations, and nonprofits to get involved in a traffic safety education campaign. *Keep in mind that the Action Plan includes all the programs adopted in the 2010 Bicycle Plan because the Bicycle Plan is a chapter of the Mobility Element.
Enforcement: This category identifies programs that can help enforce traffic safety laws through citations, inspections, and safety training programs. *Keep in mind that the Action Plan includes all the programs adopted in the 2010 Bicycle Plan because the Bicycle Plan is a chapter of the Mobility Element.
Engineering: This category addresses engineering standards and future improvements to the City's ROWs. Future traffic impacts, safety standards, ADA access, green streets, pedestrian zones, and the proposed networks will require specific engineering treatments to the roadway, sidewalk, and intersection. *Keep in mind that the Action Plan includes all the programs adopted in the 2010 Bicycle Plan because the Bicycle Plan is a chapter of the Mobility Element.
Funding: The programs outlined in the Funding Category address the need to identify existing and new sources of transportation funding from all levels of government. These programs call for the utilization of fees, pricing measures, assessment districts, grants, and taxes to fund improvements for all modes of travel.
Land Use: Programs in this category respond to issues of access, connectivity and integration of transit in the future development of the City. They incorporate walkability standards and pedestrian improvements as an important part of ROW improvements and identify mixed use development around transit areas as an important model for new projects.
Legislation: This category calls for new legislation/laws that focus on the safety of all roadway users and identifies programs to reduce the traffic and environmental impact of motor vehicles.
Maintenance: These programs call for agencies to continue to maintain and rehabilitate all parts of the public right of way (ROW); to take on a coordinated/integrated approach. This includes the future maintenance responsibilities for facilities in/on the proposed network routes.
Management: Programs in this category identify key partners for transportation management within the City and throughout the region. Transportation Management Organizations TMO/TMA, employers, and City agencies are key partners tasked to reduce vehicle trips, strengthen partnerships between organizations, and strategize/provide alternative modes of travel to/from/during work.
Operations: An underlying component of programs in this category relies on the coordination between agencies (specifically public and private transit providers, trucks/goods movement, shuttle services, and City fleet vehicles) to provide efficient/timely service, connections, and access to a wide range of the public.
Parking/Loading Zones: These programs address the need to incrementally reduce the amount of parking required for specific uses, especially in transit areas or areas of proposed high density. Parking strategies include existing programs such as Express Park and demand based meter pricing, and new programs such as modified parking districts, shared parking, parking maximums, and conversion of curb parking to bike share and bike corrals. In addition, programs in this category also identify the need for distinct off-street and on-street loading areas, to reduce traffic impacts to all users.
Planning: Programs in the Planning category identify areas, corridors, and routes for future integration into existing and proposed transportation networks and zones. In doing so, the programs focus on increasing access to significant community facilities, transit/activity centers, and destinations. They also distinguish between corridors appropriate for goods movement as opposed to pedestrian or slow-school zones.
Public Space: Programs in the Public Space category encourage either temporary and permanent closures, or repurposing of the roadway for special events (CicLAvia) and public spaces (parklets and Streets for People). This category identifies opportunities to use streets as spaces that are accessible to all users.

Schools: This category encourages programs such as Safe Routes to Schools to partner with schools (LAUSD), PTA, students, and the community to create safe zones for pedestrians and bicyclists. Programs address education, training, design, and awareness campaigns to promote bike/ped facilities around all schools.
Support Features: Programs in this category address all the features and amenities that must be provided and maintained to create world class, multi-modal transportation networks. These programs will require existing providers/agencies (Metro, LADPW, and other private/nonprofit organizations) to expand, increase, or reconfigure their services to include improvements along the proposed network routes (i.e. pedestrian/bicycle street lighting, bicycle parking/valet, transit shelters, multi-modal mobility hubs/connections, street trees, trash cans, and landscaping).
Sahra is Communities Editor for Streetsblog L.A., covering the intersection of mobility with race, class, history, representation, policing, housing, health, culture, community, and access to the public space in Boyle Heights and South Central Los Angeles.
Stay in touch
Sign up for our free newsletter