Bicycling
By the Numbers: Counting Bikes and Pedestrians in Watts
12:56 PM PDT on September 11, 2013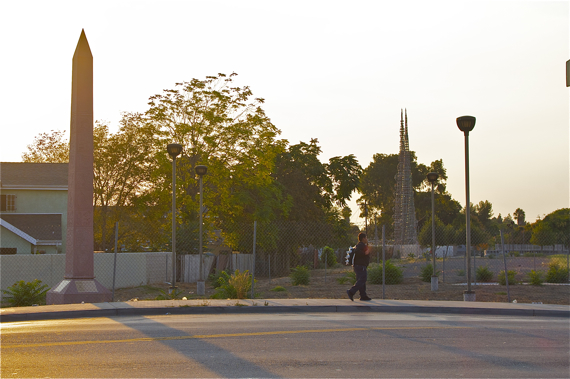 As the cloud of sarin gas descended on the scene, party-goers once happily doing the Carlton dance were suddenly writhing on the ground in agony.
Huh?
I rolled over and looked at the clock. It was 4 a.m.
Thanks, NPR, for invading my weird retro dream.
I rubbed my eyes and stumbled toward my coffee maker.
Why did I agree to count bicyclists and pedestrians so early in the morning, so far away from my bed?
Early as the start to the day was, it made for a nice ride to Watts. The streets were practically empty and the air was fresh as I struck out around 5:45 a.m. I could almost feel the city yawning, stretching, and scratching its head.
As I parked myself along the train tracks near the intersection of Grandee and 103rd (the 103rd St. stop on the Blue Line), I looked around for my fellow counters. I didn't see any. The busy site was all mine.
Even so, it turned out not to be too hard to keep track of the flow of people.
Foot traffic moved completely in tandem with public transport.
As soon as a bus pulled up at the stop in front of the Watts Station house, 10 uniformed kids would come walking in my direction. A train arriving would bring older students and people on their way to work.
Very few people passing through the intersection had walked or ridden their bikes from somewhere else in the neighborhood. Which turned out to be a good thing because, about 45 minutes into the count, I realized that there were two other counters kitty-corner to me, hidden behind a telephone pole about 1000 ft away.
Shit.
How did that happen?
I contemplated just staying where I was because it seemed clear that there would be little overlap. People heading to or from the Metro or bus stops that passed in front of them would reach their destinations without ever crossing my screenline.
In the end, I went over to check in with them. From there I went to a couple of other sites to see if they were in need of partners (they weren't). Then I spoke with Martin from the LACBC and went back at my original post.
"Who are you?" demanded a woman wrapped from head to toe in a black hijab as I settled back in. "Who sent you here? Do you have permission from the MTA?"
Ah, hello, Wyjeah.
She and her husband are vendors at the Watts Station and she keeps track of who comes and goes in the area.
Which means she tends to harass me whenever she sees me talking to somebody, claiming she works for this or that city agency (or several, depending on her mood) and then threatening to report me to the city.
She doesn't much care what my reasoning for being in the area is. And when bike/ped counting is your game, you don't have much leverage. I mean, what are you going to do, threaten to count her if she comes toward you again? No.
So, I let her take a picture of me and told her she was welcome to do whatever she felt she needed to do so I could get back to doing my thing.
She turned out to be the most exciting thing that happened that morning.
I was expecting to see more people dashing in front of trains and disobeying traffic signals, but there was very little of that.
Instead, if people had trouble navigating the four sets of tracks, it was often because they were in a wheelchair or pushing a stroller loaded with children or groceries.
A woman in a wheelchair on the north side of 103rd wanted to get to the metro station, so she and her friends crossed the Blue Line tracks and then crossed 103rd (in the space between the UP and Blue Line tracks) because there is no crosswalk before the Blue Line tracks. There is one located at Graham (a block east of the station), but I'm guessing she thought navigating her chair around the overflowing bus shelter and the vendors on the south sidewalk would be too much of a pain.
Only one car made a left turn onto the tracks, even after the gate arms were already down. And a school bus got stuck in the middle of an intersection (see photo), obeying a red light, unable to move because it would have meant rolling onto the tracks.
But, nobody honked or tried driving around the bus. They just waited patiently and went about their business when the light turned green again.
The afternoon was even less eventful.
Stationed near the Watts Towers at 108th and Santa Ana with bike/ped counter extraordinaire Herbie Huff, I found myself counting just a handful of people per interval.
The contrast was striking.
Considering that Wilmington is a commercial corridor of sorts and it isn't too far from the Metro station, it would have been natural to expect more foot traffic. Especially on such a nice afternoon. But locals don't necessarily consider Wilmington the safest street to move along, so if they weren't students from the school across the street or people who called the area home, they were very unlikely to feel comfortable moving along it.
A local man drove the point home for us when he called out from his car window to check and make sure we were OK. We had been joined by two of Huff's friends, and suddenly, we apparently looked like a conspicuous gaggle of white people who were dangerously far from their natural habitat.
"Don't stay out here too late!" he warned.
Another woman, the only female biker we had seen, came back around and stopped to ask if we were tourists.
I explained we were counting pedestrians and cyclists to get a sense of how people moved around in the community and see what resources might be necessary to improve the environment. We were excited to see her, I said, because she was the only female biker we had seen all afternoon.
She gave me a huge smile and agreed more women riding would be a good thing.
"Be safe," I said, "You're riding on the wrong side of the street."
"I will," she said as she pedaled off on a child's bike that was several sizes too small for her. "I just live around the corner."
"Did you count her?" asked Huff's girlfriend, noting that it was almost 6:01.
"Hell, yeah."
We're interested to know what you saw or learned from your counting experience. Did you note any unexpected patterns or have any strange encounters? Share your stories below!
Sahra is Communities Editor for Streetsblog L.A., covering the intersection of mobility with race, class, history, representation, policing, housing, health, culture, community, and access to the public space in Boyle Heights and South Central Los Angeles.
Stay in touch
Sign up for our free newsletter