Metro
Failure of L.A. MTA Rapid Buses: Welcome to Rapid 704
8:36 AM PDT on July 25, 2013
The City of Angels is noticeably transforming. Our once car-centric town is becoming less car-dependent. Public transit is having a comeback. Pedestrian and bicycle infrastructures are improving.
New rail lines are being built, existing ones are being extended. Service on trains is increasing. Service on buses is also increasing. …Or is it?
Actually, the Rapid lines are disappearing. Hm-mm… Not everything is as euphoric as it first sounded. Let's backtrack a moment, and look at some interesting things that have happened to our bus service.
Approximately seven years ago MTA faced significant budget shortfalls, and was forced to cut service. Some of our busiest bus lines were compromised. On some routes MTA was too liberal initially, and launched Rapid service without a true need. But just on some routes. Most other bus corridors suffered heavy cuts without good reason. This includes complete elimination of Rapid buses on some lines, and significant reduction of service hours on others.
Rapid line 704, running on Santa Monica Blvd., has seen some of the worst service cuts imaginable. Santa Monica Blvd is a major urban east-west corridor. Many transit-depended patrons, as well as choice riders, have utilized bus service along this route for decades. Hence MTA  once ran very frequent, reliable service: Limited #304 buses at every 5-7 minutes during rush-hour.
To meet growing transit demand, around year 2006 Rapid buses joined the corridor, replacing Limited #304 service. The Rapids ran every 7-9 minutes at rush-hour and every 12-15 minutes – midday. Moreover, every single Rapid connected downtown Los Angeles with downtown Santa Monica. This direct and efficient one-seat ride, between two major municipalities, received strong ridership. Good for business, good for passengers; good for Metro!
Rapids outnumbered Locals #4 in ridership. In fact, during the initial Rapid service launch on Santa Monica Blvd, 60-foot buses were erroneously assigned to Local #4, while little 40-foot NABI's – on Rapid 704. To no surprise, MTA did things the other way around! Hence the giant 60-foot Local orange buses ran half-empty, while the small Rapids were packed like canned sardines. Luckily, during the next "service shakeup" Metro switched things around, placing 60-foot buses for Rapid service and shorter buses on Local. Both lines continued to be popular.
Just when we started believing in L.A.'s mass transit, service reductions came along. Line 704 was no exception. Buses were now running at 9-12 minutes at rush-hours, and 20-minute intervals – midday. Not quite reliable, but still usable for a one-seat ride between downtown L.A. and downtown Santa Monica.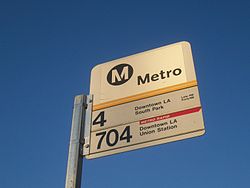 Then it gets bad. "Metro Connections" program (as MTA misleadingly calls it) was formed. In reality, this is purely "Metro Disconnections". MTA's meaning of "Connections" is actually "Forced Transfers". One-seat rides became forced transfers on many routes, further complicating our already complicated bus system.
As a part of "Metro Disconnections", Metro cut nearly a third of its #704 buses – to terminate at West L.A. / Sepulveda. Passengers were now stranded half-way. Midday frequencies to/from Santa Monica were reduced from 15-20 minutes to every 40 minutes. Buses became overcrowded instantly. Confusion, chaos, nuisance, and unreliability – became the attributes of this Rapid line. Obviously, ridership declined dramatically, especially among choice riders. Visiting the beach now required a very long wait for a bus, or else – a transfer on the already at-capacity Santa Monica's Big Blue Bus. Bad for passengers, bad for Big Blue Bus; bad for Metro. 
For me personally, this drastic and unjustified service cut on line 704 was the last straw. Left with no other option I'm now back in my driver's seat, polluting the air and adding to our gridlock. As a small business owner, I cannot deal with 40-minute intervals, overcrowded buses, and multiple unnecessary transfers.
----- Fast-forward to 2013 -----
The situation with MTA's budget has improved. Bus service is slowly getting back to what it once was. But Rapid 704 continues to remain a scapegoat in MTA's eyes, despite crying-out loud from the public to improve service and despite common sense dictating to reinstate at least some of its buses.
Santa Monica Blvd. transit service has not improved a bit since its draconian cuts. Today, six years later, we still see half of midday Rapids terminating at West LA / Sepulveda, stranding many riders. Semiannually adjusted bus schedules continuously show a steady decrease in the number of buses.
I especially feel for tourists – who probably didn't expect to see this 19th Century type of service in one of the largest cities in the world. Newcomers unsuspectingly thought line 704 will take them straight to the beach. No way! Those "lucky" buses to the beach still run every 40 minutes midday on weekdays, and every 20-25 minutes on weekends. Probably nowhere else in the world could you see such unreliable, infrequent, outdated bus service. Especially on a major corridor. (Although, nowhere else in the world would you also find a major metropolis without a comprehensive subway system!)
MTA also cannot comprehend the art of adding more buses to the beach in summer, as tourism strongly demands. Nope, this 500-pound gorilla will never adjust schedules according to the demand. They neither try reducing the overcrowding during summer (busy tourist season), nor during busiest school times. MTA seem to do what's convenient for them, not for the public. Speaking of lose-lose situations…
I've always wondered, why oh why has Metro continuously neglected such an important bus line. Is it total incompetence and lack of common sense – to realize that 40-minute bus intervals in a large city are beyond unreliable? Or is it lack of research? Indeed, Metro officials obviously have not taken sufficient trips on this line. MTA has yet to learn that most passengers do not get off at Sepulveda (or Westwood), but continue further west. Likewise, going eastbound – only a handful of passengers boards the bus at Sepulveda (or Westwood), while the majority boards the bus way back, in Santa Monica.
In fact, by the time an eastbound 704 Rapid arrives at Sepulveda, all seats are already taken; it's standing room only! To be even more accurate, most seats already fill-up by the time an eastbound Rapid approaches Bundy Drive.
By cutting half of its Rapid #704 fleet in West L.A., Metro apparently tried to emulate line 720 (Wilshire Blvd Rapid). On line 720 it does make sense to terminate selected buses in Westwood. The area around Westwood & Wilshire is a major destination: large office complexes, UCLA, including its medical facilities, and Westwood Village with a large promenade and numerous restaurants. Thus on line 720 many passengers do get on & off at Westwood.
But on line 704 our situation is quite the opposite: the Santa Monica Blvd & Sepulveda stop is practically "middle of nowhere". The only activity you can see is transferring to Culver City Bus' line 6. Hence you only see several passengers entering/exiting the 704 Rapid at Sepulveda or Westwood.
Public meetings were held regarding this line. People clearly spoke to preserve, and improve, the Rapid service. MTA clearly ignored. Ridership clearly dropped. MTA clearly lost revenue. It's as simple as that.
Ironically – and embarrassingly for MTA – even Culver City Bus (a much smaller municipal bus company) runs its fleet with much better intervals. For instance, on the low-density Washington Blvd buses run every 15 minutes all day, with 12 minutes during rush-hours. Metro, on the other hand, runs its buses every 20-40 minutes on the corridor that's much denser, and has much higher transit demand, than on Washington Blvd.
At the same time, kudos to Culver City for showing decent logic and respect to its patrons by running their buses frequently all day. Unlike MTA, Culver City does not have this ridiculous "short line" system (aka "Metro Disconnections"). All of the Culver City buses run their entire routes, all day. Perhaps MTA should take this as a good lesson, and stop stranding passengers half-way.
But then it gets worse. Some of the Westside Governance Council representatives suggest to cut service even further. That's right; if 40-minute frequencies isn't infrequent enough, they now want to cut midday Rapid service altogether! Because – as they claim – ridership is very low. Well duh, of course ridership is low – that's because service continues to stay inadequate, with no improvements on the horizon. Obviously, patrons will seek alternate commute methods, including driving. By the way, that same MTA official openly admits, "20-minute intervals is unreliable", yet he himself suggests to not only keep those infrequent headways, but to cut service further. I'm not sure if this can be classified as pure inconsistency, hypocrisy, or bureaucracy. But it's a perfect path to failure.
So, here are the reasons why MTA needs to consider Santa Monica Blvd as a priority project to reinstate its Rapid service to its original efficiency, high frequency of service, and full length of its route:
Santa Monica Blvd is one of the several major east-west transit corridors in LA County, going directly to the beach;
Santa Monica Blvd serves some of the densest – and most popular – regions in LA County, including: Downtown LA, Silverlake, Hollywood, West Hollywood, Beverly Hills, Century City, West LA, and Santa Monica. Many residential, commercial, and entertainment districts, as well as tourist destinations, are located along the corridor;
Santa Monica Blvd buses have (or rather, once had!) some of the highest ridership in the County;
Service frequencies need to be more-less consistent with adjacent corridors. For instance, buses on nearby Wilshire Blvd run at every 3-5 minutes. Now, compare that to every 20-40 minutes on Santa Monica Blvd;
Santa Monica Blvd was a very successful transit corridor for decades, before service cuts took place.
And here is what specifically needs to be done on this corridor:
Every single Rapid bus should go to/from downtown Santa Monica,

not

West LA / Sepulveda;
Weekday rush-hour frequencies should improve from 9 – 12 minutes to 5 – 9 minutes;
Weekday midday frequencies should improve from 20 – 40 minutes to 12 – 15 minutes;
Saturday frequencies should improve from 15 – 20 minutes to 12 – 15 minutes;
Sunday frequencies should improve from 20 – 25 minutes to 15 minutes;
Drop the idea of reducing service even further. Instead, improve frequencies, and ridership will most certainly increase.
To summarize, I would like to address a million-dollar question: overall, has public transportation in L.A. improved over the years?
Yes and No.
On one hand – metro-rail is expanding, and train service on our subway and LRT lines is more frequent than ever. Metro-rail is open for longer hours, as well.
But on the other hand, our bus service has gotten much worse, especially comparing to a decade ago. And – no, it's not because "Rail projects are stealing all the money" – as Bus Riders Union folks claim. New rail projects are funded from a different source than our bus operations. Bus service cuts have nothing to do with metro-rail expansion.
The culprit of inadequate bus service is lack of federal and state funding. But it's also MTA's inability to better allocate its existing funding. Hence service is reduced or eliminated where it wasn't supposed to. For instance, a couple of years ago weekend service on Rapid line 780 was suspended due to "low ridership".
True, ridership was low – but it was because MTA placed the bus on the wrong segment! Instead of running weekend 780 Rapids between West L.A. Transit Center hub (near Fairfax & 10 Fwy) and Hollywood, MTA ran it between Hollywood and Pasadena City College, where very few people traveled on weekends. Had MTA done just a little research and logical thinking, they would learn that most weekend riders travel along the busy Fairfax Avenue, including the popular Grove. Buses #217 are packed on weekends, and they're extremely slow. Rapids would definitely help to reduce weekend overcrowding and speed-up the commute. I still hope one day Rapid 780 weekend service will be reinstated, but this time – on the appropriate segment!
Not to disrespect MTA, but their practices and decision-making oftentimes make little sense. Metro officials define low ridership on a certain route, and thus cut service further due to "low ridership". Without realizing that low ridership is due to their own wrong decision to cut service on a busy line! Line 780, 704, 750, are only a few examples where passengers had to be disappointed with drastic cuts, despite having great ridership in the past.
Getting back to our line 704. Substantial drop in ridership along Santa Monica Blvd could have been avoided, had MTA Westside/Central council done more research. High-density corridor, especially the one connecting major metropolitan regions, means high potential ridership. Which requires frequent, reliable transit service to meet high demand. Better service means more passengers. More passengers means higher farebox recovery ratio. Higher farebox recovery means more revenue for Metro.
I do have hopes that Rapid line 704 service will improve, and it should happen very soon. Bus passengers need to speak up, write to MTA and perhaps to our new mayor Eric Garcetti. After all, transit service is all about satisfying the needs of customers.
Our City of Angels deserves better public transportation.
Stay in touch
Sign up for our free newsletter