Election 2013
What's Next and What do the Results Mean?:City Council Edition
3:42 PM PST on March 6, 2013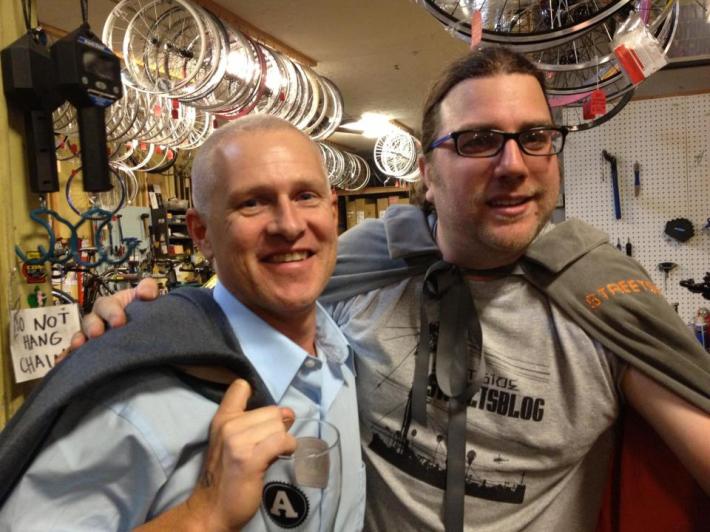 (Note: Look for a post Friday on some exciting ways we'll be covering the race going forward, including how you can help shape our coverage. Please feel free to leave comments, but consider this the start of our discussion of the 5/21 election, not the end of it.)
One thing that was clear from last night's election: the best way to prepare for a City Council election is to be a member or past-member of the state legislature. A pair of legislators, Felipe Fuentes and Bob Blumenfeld, won election to the Council and a second pair have moved to the general election. No current or past state legislators were eliminated yesterday. A fifth legislator, Mike Feuer, is now the front runner in the race for City Attorney.
Here's a breakdown of where each race now stands and what it means for Livable Streets advocates.
CD 1: Senator Gil Cedillo vs. Jose Gardea
Cedillo was within a hair's width of winning the election outright, but he also had only a razor thin six point lead over his rival. While Cedillo is winning the name recognition battle, Gardea is Chief of Staff to current Council Member Ed Reyes, giving him an advantage in local knowledge and a draw on access to community advocates.
Both candidates took part in an LACBC/Streetsblog Los Angeles/L.A. Walks/Occidental College Candidates Forum and the after forum interview series. However, the headline out of the debate wasn't a Livable Streets Issue but Cedillo's "mis-speaking" on why he missed a vote on groundbreaking greenhouse gas legislation in 2005.
Gardea speaks more movingly about Livable Streets issues, telling the LACBC candidate surveys that he is impressed by Guadalajara's "Via Recreativa" weekend open streets program and going into detail about projects completed on Reyes' watch.
In short, if you like Ed Reyes, you'll probably like Jose Gardea. If you like Senator Cedillo, you'll probably like Council Member Cedillo
CD 3: Bob Blumenfeld wins outright
Blumenfeld is a big believer in transit and the role transit can play in the development or re-development of an area. Replacing Dennis Zine, one of the remaining candidates for Controller who was "termed out," Blumenfeld will represent a large portion of the Southwest San Fernando Valley. As we noted earlier, Zine's record on livability was mixed, so if Blumenfeld brings the enthusiasm to transit issues to Downtown that he brought to Sacramento, the area could see a livability boost.
So how do we know he's a supporter of transit and understands it? He told us so in an op/ed that appeared on Streetsblog in 2011 in support of legislation he authored that would expand the state's role in financing transit operations.
Unfortunately, funding for transit hasn't kept pace with demand. While we have secured a more stable funding source for transit in recent years, the demand for transit services has increased around the state, especially as fuel prices have risen, traffic congestion has grown, and Californians look for ways to cut commuting expenses and their environmental impact.
 I would bet that fare increases for LADOT and/or Metro will be an issue in the next four years. If Blumenfeld becomes a powerful voice for equitable transit funding, then the Valley may have made an excellent choice yesterday.
CD 5: Koretz crushes little known under-funded rival who threatened to shoot city staff that tries to put bike lane on Westwood Boulevard.
Paul Koretz has been a solid vote for progressive transportation at the City Council. He's also supported controversial bike projects if he both believes in the project and there's some show of public support (see: Motor Ave). Will he support lanes on Westwood or Sepulveda? Time will tell, although he doesn't seem very enthusiastic at the moment.
CD 7: Felipe Fuentes replaces Richard Alarcon
Alarcon served for years on the City Council Transportation Committee, Metro Board of Directors and State Assembly. While nobody will mistake him for Janette Sadik-Khan, he was a solid voice for Livability, traffic calming, and transit. He fought for as many miles of Westside BRT as we could expect given the opposition of local Council Members and Supervisor Yaroslavsky and produced the best Safe Routes to Schools applications of anyone in the city.
Despite also serving in Sacramento, Fuentes is more of an unknown. He's barely appeared on Streetsblog and was lambasted in L.A. Weekly as the worst legislator in Sacramento. He didn't fill out the LACBC Candidate survey. He's going to have to work hard to match Alarcon's record on livability.
CD 9:  Senator Curren Price holds lead over Ana Cubas
Price holds a slim lead over community activist Cubas in the race to replace the termed out Jan Perry. Price doesn't have a strong record on livabilty and didn't fill out an LACBC candidate survey. However, in 2009 he did write a piece for Biking in L.A. as part of their election coverage.
Meanwhile, Cubas talks the talk in her LACBC Candidate Survey.
We're playing our coverage close to the vest because we plan on holding a CD 9 Candidate Forum with LACBC/L.A. Walks and others in the next ten weeks. We'll let the candidates speak for themselves then.
CD 11: Chief of Staff Bonin to replace "Boss" Rosendahl
If you liked Bill Rosendahl, you'll love his Chief of Staff Mike Bonin. That was the message city hall staffers that worked for both men gave me repeatedly. While Rosendahl believed in the equitable treatment of all road users, Bonin, an avid cyclist, has more personal experience. He actually purchased his bicycle from Orange 20 and has wrenched at the Bikerowave. Plus, Bonin is involved with all of the legislation and bicycle programming that has gone through Rosendahl's office, so he arrives on the scene with the background to hit the ground pedaling on day 1.
Oh, and Bonin is the only candidate on the ballot to actually have attended a Streetsblog fundraiser. Bonus points times two.
CD 13: Surprise...It's Mitch O'Farrel v John Choi
Eric Garcetti has a strong record on livability as a Council Member, so for many this race is an important one. Matt Szabo and Josh Post, two candidates who didn't advance, both made livability a centerpiece in their campaigns. Neither O'Farrel or Choi has yet, but they'll have their chance at a yet-to-be-announced candidates forum. You can read more about O'Farrel's bike positions at the LACBC Candidate surveys.
CD 15: Joe Buscaino Cruises to Re-Election
Buscaino has started to talk transportation and livability recently after a couple quiet years following the special election to replace Congress Woman Janice Hahn. He's a strong supporter of the SCIG/BNSF Rail Yard but is also making a lot of noise about street conditions and the city's ongoing hit and run crisis.
Stay in touch
Sign up for our free newsletter