Bicycling
Zoning a Healthier Los Angeles?
8:48 AM PST on February 22, 2013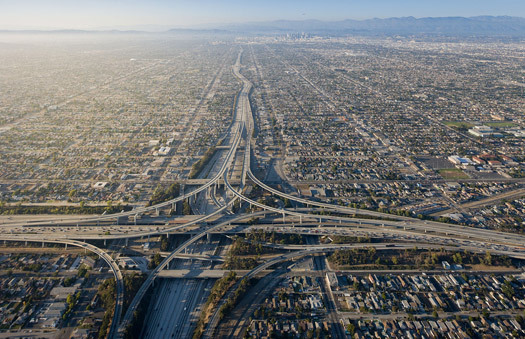 (editor's note: When I saw L.A. County was being praised for updating its zoning code to encourage wider sidewalks and bicycling facilities, I went to some zoning experts to ask them to weigh in on the county's proposal. Occidental College Professor Mark Vallianatos answered my call. - DN)
Shock City
The Los Angeles region was intentionally planned as a horizontal city to avoid some of the perceived ills of dense European and east coast metropolises. Policy makers, planners, voters, industry and real estate interests  made choices around land use and infrastructure that enshrined the single family house, the commuter streetcar, and later, the automobile as the building blocks of L.A.   Just as London, Manchester, and New York symbolized the scale and challenges of the 19th century industrial city, Los Angeles, with its sprawl and unprecedented car culture, was the "shock city" of the 20th century, a new way of organizing urban land.
The Tangle of Health and Zoning
This simplified history of zoning is context to consider as both the County and City of Los Angeles are revising zoning laws with a goal of promoting health. We should acknowledge a central irony in this topic. Land use rules implemented in the past to protect public health have today become health hazards. As Emily Talen puts it in her book City Rules: How Regulations Affect Urban Form, "[z]oning contributed to health problems by spreading people out, increasing their reliance on automobiles and a sedentary lifestyle." Rules that kept peoples' homes in different districts than heavy industry were rapidly expanded to separate all commercial uses from residential zones. Starting in the 1930s, Los Angeles began required new buildings to provide on site parking for cars, subsidizing driving at the same time that separate use zoning was undercutting walking. Zoning has also long been used to segregate people by income and race. For instance, one of the first  zoning laws adopted in Los Angeles discriminated against Chinese-owned laundries and single family zones were "protected" from apartment buildings.
The exclusionary effect of some land use regulations contributed to clustering of "concentrated disadvantage:" in neighborhoods with high poverty, unemployment and crime and with few amenities.
In addressing health through land use, the County and City have a chance to undo the damage of earlier rules while also addressing new challenges and opportunities. 
Los Angeles County Healthy Design Ordinance
On February 5th, 2013, Los Angeles County adopted a Healthy Design Ordinance.  The ordinance amended the County's planning and zoning code "to encourage a healthy lifestyle in the County by promoting walking, bicycling, and other exercise, and by creating better access to healthy foods." The new rules are intended to promote health in four areas:
provide better walking environments by widening minimum sidewalk width from four to five feet; requiring pedestrian through ways at the end of new cul-de-sacs and mid-block on streets longer than 700 feet; and requiring more street trees close to sidewalks to "establish a continuous street tree canopy."
Encourage more biking by requiring new or remodeled buildings of 15,000 square feet or above to include bike parking and allowing up to 5 percent of car parking spaces to be swapped for bike parking for buildings located close to bike paths or lanes in the County's bicycle plan and close to transit.
Improve access to healthy food by allowing community gardens in more residential and commercial zones and making it easier for farmers markets to get permits.
Highlight healthy design features by requiring more maps of proposed streets and subdivisions to indicate the location of landscaping, lighting, street furniture and bike parking in more detail and making it harder for developers to eliminate sidewalks and bike infrastructure.
These are all welcome policies. It is especially encouraging to see that the County's healthy design goals start with promoting walking. In his book Walkable City, Jeff Speck describes a "General Theory of Walkability" that holds that people will walk more if it is useful, safe, comfortable and interesting. A useful walk depends on proximity: people should live close to destinations they need to regularly visit so that they can walk to work, to shop, to see friends. The County's new ordinance tackles some of the worst forms of exurban isolation by starting to link cul-de-sacs, but this is far from creating walkable places. Fortunately Los Angeles County is also proposing to expand transit oriented districts and is drafting a new mixed use zoning designation as part of its general plan update. In these mixed use areas, which are limited to small portions of six of the more urbanized areas of unincorporated County land, commercial and residential uses would be permitted in the same buildings, minimum parking requirements are reduced by 25 percent, and parking lots banished to the rear or sides of buildings.
The Healthy Design Ordinance takes modest steps towards comfort and interest by expanding street trees and other pedestrian amenities. It will not do much to enhance safe walks beyond requiring more and slightly wider sidewalks. Ideally, the County can draw upon the excellent Model Design Manual for Living Streets, funded by its Department of Public Health, to revise street standards and create better walking streets and sidewalks County-wide. I'd also recommend Los Angeles Walks' call for shared space streets, pedestrian overlay zones, piloting car free areas, and vehicle speed reductions. 
The County's bike parking standards are anemic in comparison to City of Los Angeles' recently adopted rules that allow commercial buildings to swap up to 30 percent of car parking for bike parking and residential buildings to trade out to 15 percent of car parking.
I've written in streetsblog before about the potential for land use and transportation strategies  to improve access   to healthy food and about permitting farmers markets, so I am glad that the new County policies address both active living and food access. Los Angeles County has been exploring whether to legalize green carts to sell fruits and vegetables on sidewalks in certain areas. I wish that this policy had been included in this package of healthy design reforms.
City of Los Angeles Comprehensive Zoning Revision, Health and Wellness Element
The City of Los Angeles is preparing to launch a five year process to revise its zoning code, which hasn't been fully updated since 1946.  The City has also received funding from the Los Angeles County Department of Public Health to add a Health and Wellness Element to LA City's General Plan. These are opportunities for the City of Los Angeles to move towards a framework of rules around the built environment that encourage a healthier city.  Among the key issues that can be addressed, I'd include:
What is the purpose of zoning? Which zoning rules are necessary in a world with comprehensive building codes and environmental regulations of potentially harmful uses?
Can Los Angeles "legalize a walkable city?" The Planning Commission recently passed the Cornfields Arroyo Seco Specific Plan, a mixed residential, commercial and light industrial zone that is LA's first land use plan in a lifetime without minimum parking requirements. But will this kind of mixed-use innovation be reserved for small areas near transit and places with few current residents- or can it infuse much of the city? Los Angeles is still operating under a General Plan that mandates preservation of the majority of its developed land as low-density single family residential zones. Is there a way to break through the NIMBY politics of many neighborhoods to make more of Los Angeles walkable?
When to mix and when to separate? I operate under the assumption that we need far more mixed use zoning in Los Angeles, but there are still neighborhoods that are exposed to excessive concentrations of pollution from freeways, auto body shops, refineries, and warehouses and railyards.
Is there still a role for zoning in keeping toxins away from the places where people live, work and play, or should we be phasing out harmful emissions?
How to promote an inclusive city? By controlling physical places, zoning has sometimes kept less powerful socioeconomic or ethnic groups "in their place" at the margins of society. We cannot afford to exclude residents from amenities and opportunities or shut the door on newcomers or new ideas. Can zoning codes be flexible enough to incorporate low-cost housing, home-based businesses, street vending, street art, and other informal uses? What is the best way to make housing more affordable and reduce segregation?
Stay in touch
Sign up for our free newsletter