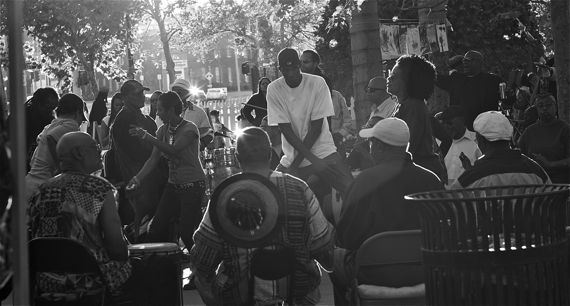 TONIGHT! The Crenshaw Line, Neighborhood Bike Ambassadors, and Fracking -- way too much fun for one person to handle!
Interested in seeing bike lanes come to your favorite street? Want to help educate the community about why they should ride and how to ride safely? Would you like to connect with other people in the community that care about making the area safer and more bike-friendly? Join the South L.A. Neighborhood Bike Ambassadors tonight at 6 pm at 8475 South Vermont Avenue (the Council District 8 Constituent Service Center). Need more convincing? Check out this article about a previous meeting with city planning staff.
Want to learn the latest on the Crenshaw Line and take a virtual tour of the LAX Transit Corridor Project? Hear more about the construction schedule, the work of the CLC's Transit Safety discussion group or  the Project Labor Agreement and Construction Careers Policy? Then join neighbors, local business owners, and community leaders for the Quarterly Meeting of the Metro Crenshaw/LAX Transit Corridor Project Community Leadership Council (CLC) tonight, between 6 and 8 pm at the First Church of God, 9550 Crenshaw Boulevard, Inglewood, CA 90305. Meetings are open to the public and they are invited to speak on agenda items discussed during the meeting. To RSVP or find out more, please contact Donald Taylor, CLC Lead Consultant, by phone at (310) 308-2136 or via email at oscompdt@aol.com.
Finally, on tap tonight: Fracking. The Community Advisory Panel (CAP), established to foster productive communication between the community, the County, and PXP (the corporation drilling and fracking in the Inglewood Oilfield), meets on the fourth Thursday of every month at the Kenneth Hahn Recreational Area Community Center, located about a mile inside the park from the 4100 S. La Cienega Blvd. entrance. Tonight's meeting will run from 7 - 9 pm. Members of the public are welcome to attend. If you have some free time on your hands and would like to immerse yourself in the issue, please visit their documents page to catch up on the latest regarding health surveys, noise complaints, drilling plans, and responses to public comments.
ONGOING (but starting today is recommended): What would you ask the mayoral candidates?

Community Coalition, the Black Workers Center, the Alliance of Californians for Community Empowerment, L.A. County AFL-CIO, L.A. Alliance for a New Economy, SEIU ULTCW, SEIU Local 99, SEIU USWW, Strategic Concepts in Organizing & Policy Education, and the WLCAC are joining forces to sponsor a South L.A. Mayoral Candidates Forum at 6 p.m. on Jan. 31 at Ward AME Church, located at 1177 W. 25th St. They hope to ask candidates about their specific plans for South L.A., including jobs, public safety, housing, and other important issues facing our community. Community Coalition (CoCo) is also asking for your feedback. What questions would you like to ask the candidates. Send them your question TODAY and then vote on your favorite question on CoCo's Facebook page. RSVP for the forum; the first 100 people get preferred seating if they arrive by 5:45pm. For more information, contact Jesús at 323-750-9087 or visit CoCoSouthLA.org.
THIS WEEKEND -- Gardens, Art-related Bus Tours, Engaging Men in Preventing Violence, Bike Rides, and Artwalks
Saturday:
The Neighborhood Land Trust will be hosting a community gathering at the newly opened 76th Street Park (833 W 76th St, 90044), Saturday, January 26, from 10 am - 12 pm. Join neighbors as they make plans for the future of the park and participate in some of the fun activities they have planned, including a FREE Zumba Party at 10:30 am (with a class at 11 am) and a salad bar potluck after.
Where would you like to see art in your community? L.A. Commons will be taking community stakeholders, youth leaders, and other interested participants on a bus tour of the Building Healthy Communities South LA Corridor this Saturday from 8:30 to 11 am in order to identify possible sites for the upcoming Community Arts projects. These might be spaces for murals, public art pieces, or banners. They will provide coffee and snacks and the tour is free. Meet at the Expo Center (free) parking lot at the corner of Martin Luther King and Bill Robertson Dr. at 8:30 am. Please contact Beth Peterson at 323.620.6822 or email beth@lacommons.org to RSVP TODAY!
Saturday afternoon, Peace Over Violence, the Los Angeles Child Guidance Clinic, and the Brotherhood Crusade will host a performance of "Engaging Men" to encourage men to stand as leaders and allies in the movement to prevent violence against women and girls. The acceptance of violence in women and girls' private relationships is not only dangerous to them, but it can contribute to making public spaces -- schools, shopping districts, parks, or transit -- hostile to all women and girls. The Engaging Men Project is a call to action for the men and youth in the South L.A. community to be positive role models in this effort to keep families and neighborhoods free from violence. The performance will be held at the Weingart YMCA, located at 9900 S. Vermont Ave. at 6 pm. For more information, please contact David@peaceoverviolence.org.
Sunday:
Black Kids on Bikes ride again. This, and every fourth Sunday of the month, the BKoB will ride out of Leimert Park, meeting up at noon and heading out at 1 pm. Want to know more about them? Check out this piece on their participation in the MLK Day Parade last weekend.
If you don't feel like riding, hang out at the park and check out the Leimert Park Artwalk. The artwalk was launched in 2010 by community and business leaders who had the passion to develop an event rooted in the foundations of culture, art, music, and community. The artwalk convenes on the last Sunday of the month, between 2 and 8 pm in the heart of Leimert Park. For photos of the ancestors' parade, held on the artwalk's 2nd anniversary, click here.
Sahra is Communities Editor for Streetsblog L.A., covering the intersection of mobility with race, class, history, representation, policing, housing, health, culture, community, and access to the public space in Boyle Heights and South Central Los Angeles.
Stay in touch
Sign up for our free newsletter