Bicycling
Bike Smut 6: Bike Porn Comes Back to Long Beach
9:18 AM PST on January 17, 2013

Before you, dear reader, make any assumptions, I will be entirely frank: when I say "bike porn," I am not being metaphorical or symbolic. I truly mean... Well, bike porn. Or as the creators Reverend Phil and Poppy Cox call their annual dive into bike-sexuality: Bike Smut 6, set to screen 13 filmic interpretations of bicycrotica.
And before one makes an odd assumption that I am referring to two bicycles somehow fornicating or before one dismisses the concept due to its rather blunt moniker, let me explicate that the endeavor that is Bike Smut 6--and the five that have gone before it since 2007--does not lack an intellectual bite. In fact, the concept is drenched in it.
Of course, this isn't to say that the founders haven't had their fair share of trouble in trying to exude sex-positivity via bicycling. Reverend Phil not only championed what is now the world's largest naked bike ride in Portland, he has been arrested multiple times for riding his bike a la birthday suit and has been banned from PGE Park after he scored cheers by running the bases nude in between innings.
However, even outside that, one shouldn't be shocked--nor wave away the concept cerebrally--that the booming culture of bicycling has become fetishized (and it started in, of all places, Portland). And for Cox, a fetishization hasn't necessarily occurred more than a natural marriage between people who respect the intimacy of physicality and bicycling.
"I don't think [bike porn] is some flagship-type idea--it's natural to attach your desires and arousals to your sexuality," she said. "The bicycle is so DIY: it's an empowering tool for so many people. It makes it so easy to become inspired by it. You use your body to make it go where you want. A vehicle... That's different. Yeah, you know how to drive it, but what is the likelihood that once it's broken down, you know what's going on? Little."
In this sense, Cox connects the do-it-yourself attitude that exudes from bike culture and pairs it with the do-it-yourself nature of human sexuality--and wants to play on the inspiration both draw from our creative side.
This deeply explains not just the broad picture of Bike Smut, but its details as well, specifically the fact that none of the films in any of the tours are replicated or distributed. One has to literally partake in the communal gazing of the material in order to ever see it--something that Phil and Cox feel challenge not only typical pornography itself, but a culture which is slowly being driven into communication-in-isolation via texting and digital telecommuting.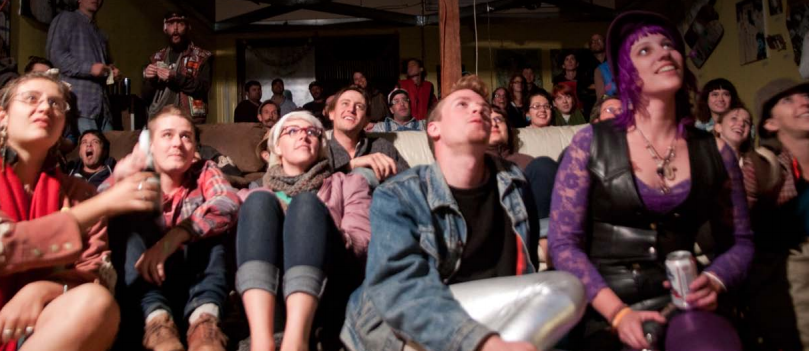 According to Cox and Phil, this homogenizes porn into "lame porn" because a stigma about something we are continually bombarded with--sexual images--prevents us from actually discussing sex or creating erotic images that supersede stereotypes.
Take, for example, Cox's explanation of the high amount of lesbian bike-sexual scenes included in this year's tour, which she also describes as the series' most graphic.
"Let's be honest: most lesbian pornography is made for straight men. And why I think we get so many lesbian submissions is that there is a dissatisfaction amongst women--lesbian and straight--more than there is amongst gay men. While it is my goal to recruit as many gay male bike-sexuals as possible, I think most gay men are happy with what's being offered out there."
Instead of showcasing what the viewer desires--one of the main things mainstream porn thinks (emphasize the think) it does--this style of erotica shows people not forcing themselves into what they think is erotic, but doing what they themselves know and feel is erotic. When one begins to weave it with bicycling ideology--not encouraging behaviors that simply makes others comfortable but encouraging behaviors that are environmentally and ethically sound--the two cultures of new wave erotica and bicycling do not seem so detached.
This would explain the inclusion of "Crash Into You," which features queer porn entrepreneur Courtney Trouble, who appeared in Long Beach in late 2011 for a series of lectures examining queer porn. She herself explained that as a director of her erotica, she feels more like a voyeur than a director since she watches what two people enjoy doing instead of dictating the style of arousal she wants them to partake in.
As Pox astutely pointed out: first we free people from their cars when not needed, and then we liberate them from strict, archaic definitions of arousal.
Bike Smut's run in Long Beach, now in its third year here, is thanks to "Give Me 3" creator Danny Gamboa, who happily hosted the event at his home last year after the art gallery it was set to appear at ran into a scheduling conflict. This year, the event will be hosted by WE Labs, downtown Long Beach's creative co-work space.
"Last year, I had about 60 people in my studio--it was intimate and it was fun," Gamboa explained. "But WE Labs... People can ride their bikes around, y'know? Every year is different and I don't know what to expect."
Well, Danny, we'll be honest: we'll try not to embarrass ourselves with the anticipation.
>Bike Smut 6 will premiere its series of films on January 20 at WE Labs, located at 105 W. Broadway in Downtown Long Beach. Tickets are $8 and only those over the age of 21 are permitted entrance. Doors open at 8PM; screenings begin at 9PM. 
For tickets, click here.
For more information, click here.
Stay in touch
Sign up for our free newsletter