Streetsies 2012: It Was the Best of Times
12:15 PM PST on January 2, 2013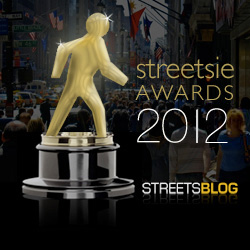 Best Innovation: Every now and then, Los Angeles comes up with some pretty cool ideas ahead of everyone else. This category honors some of the best creative ideas for the area.
The nominees: Sunset Triangle Plaza, Santa Monica Bike Campus, New Parklet Design for East, Northeast L.A., 50 Parks Initiative, Bike Center
Editor's Choice: Santa Monica Bike Campus
Biggest Streetsblog Story in L.A.:  This category looks at the stories and interviews that we covered that were either under-reporterd or ignored in other press outlets. This list is quite a bit longer than in year's past, thanks in large part to the work of Sahra and Kris. Note, to qualify we have to have covered the story more than once.
The nominees: How Gang Activity Impacts Livable Streets, This Is What Full Disclosure Looks Like, What Is Actually in Bike Nation's Deal?, The Subway Mayor Triumphant, L.A. Suddenly a Bike Friendly City, Carwash Unionization Leads to Better Conditions, Business, Measure J Spins, Battle Over MTA Owned Properties in Boyle Heights, Endeavoring to Make the Best of the Space Shuttle Route
Editor's Choice: Subway Mayor Triumphant, the two-part interview with the Mayor was a groundbreaker for Streetsblog...all the Streetsblogs
Biggest Streetsblog Story, SOCAL: Sometimes the biggest stories don't take place in Los Angeles, and our team was there, covering major stories in Santa Monica, Long Beach and beyond.
The nominees: Long Beach Wants to Be Safest Bike City, Advocates, AG Win Legal Battle Against SANDAG Plan, What Happens to LOSSAN/Surfliner?, BNSF Railyard Claiming Air Quality Improvements, High Desert Corridor Slinks Towards Progressive Design
Editor's Choice: LOSSAN/Surfliner. Nobody, and I mean nobody, covered this story besides Dana.
Biggest News from the Election: I don't know if you heard, but there was an election this year.
The nominees: High Speed Rail Not a Wedge Issue, Measure J Fails with 66.1% of the Vote, Obama and Dems. Come Roaring Back
Editor's Choice: Measure J fails with overwhelming support
Best Journalism: Sadly, sometimes the best journalism doesn't happen on Streetsblog.
The nominees: Chris Hawthorne's Boulevards Series in the Los Angeles Times, "Los Angeles Learns to Embrace Bikes" by Adam Nagourney in the New York Times, Simone Wilson's Piece on L.A.'s Hit and Run Epidemic in L.A. Weekly, Kim Bui on KPCC's Mapping Project for L.A.'s Dangerous Intersections
Editor's Choice: Simone Wilson on Hit and Runs at L.A. Weekly gained a lot of press attention, and led to the awesome story where I called Roadblock handsome.
Hooray! We Finally Got: L.A. got a lot of shiny new infrastructure, bus rapid transit, rail service and more, how exciting!
The nominees: New Bus Benches!, Road Diets!, Orange Line Extension!, Expo Line!, Late Night Trains!, Grand Park!, Bike Friendly Streets!, Pedestrian Coordinators!,  Driver's Licenses for Undocumented Workers, Congestion Pricing!, Bike Box!, Continental Crosswalks!
Editor's Choice: New late night train service. It heralds a new day for L.A. in taking itself seriously as a transit city, and unlike many of the other nominees, it actually came as something of a surprise.
Welcome, Friends/ Best "New" Group Thats Aided Our Coverage: We met a lot of great new groups this year.
The nominees: The Ovarian Psycos Bicycle Brigade, Libros Schmibros, Real Rydaz, Cast a Shadow, The Falcons, Los Ryderz, East Side Riders.
Editor's Choice: I'm copping out a little bit since I know the Ovas are going to win the reader's choice. They're the Ron Paul of bike groups when it comes to social media. So I'm splitting between the Real Rydaz and the East Side Riders.
D.I.Y. Heroes: There's a lot of great D.I.Y. stories, from bike groups celebrating when city's don't to organizations creating livable places in their community.
The nominees: Watts Village Theatre Company, SM Spoke Throws Its Own Bike Corrals Party, Los Angeles Community Garden Councils, LACBC Does Bike Counts While City Fiddles, New Co-Op in Watts?, Resiclarte, Corazon del Pueblo
Editor's Choice: LACBC Does Bike Counts
Looking Forward: There's lots to look forward to in 2013 and beyond, L.A.'s first truly livable street on Figueroa, bike share in L.A., L.B., S.M. WeHo and more, and of course CicLAvia is increasing its number and promising completely new routes.
The nominees: My Figueroa!, Bike Share, Boyle Heights Community Pushes for Livable Streets on Neglected Roads, 3 (or more) CicLAvias
Editor's Choice: Expanded CicLAvia
BWAHAHAHA: Sometimes you just have to laugh.
The nominees: Newt Gingrich's Bus Breaks Down in WeHo, Video Promises Metro Will Blow Up Beverly Hills High School
Editor's Choice: BHUSD Loses Its Mind
Just Fun Stories: Sometimes, you just want to have fun.
The nominees: Elson Goes on a Piano Run, We Want Dancing Stop Signs!, Bike Critters, Sahra Shows Her Inner Space Geek
Editor's Choice: Elson Plays His Way Through L.A. 
Best Bike Ride:
The nominees: Peace Love and Family Ride, River Ride, Clitoral Mass, Black and Brown Unity Ride, ESR/Los Ryderz Take Planners for a Ride To Watts, The Midnight Drag Race
Editor's  Choice: ESR/Los Ryderz Planners Ride. It's killing me not to pick the Midnight Drag Race, but in the long run the "Planners' Ride" might lead to huge changes in the way the city interacts with South L.A. and disadvantaged communities.
Best Streetsblog Party
The nominees: March at the Alehouse, May at the Eco-Village, July at Eastside Love, August at Flying Pigeon, September at Bikerowave, December at Orange 20, December at Eco-Village
Editor's Choice: We raised 3k for a sick friend at Flying Pigeon. Nothing can beat that.
Stay in touch
Sign up for our free newsletter