Measure J
Beyond the Spin, Breaking Down Measure J
12:52 PM PST on November 5, 2012
On Monday, October 15, Mayor Antonio Villaraigosa was feeling good. The Los Angeles Times and the Los Angeles Newspaper Group, which includes the Daily News, Daily Breeze, Long Beach Press-Telegram, SGV Tribune and Pasadena Star-News, had endorsed Measure J. In front of the hundreds of transit advocates and professionals at Railvolution, a sales tax extension that would largely accelerate transit projects was a popular topic. Villaraigosa smiled as he characterized the opponents of Measure J.
"The same familiar chorus is sniping and complaining," he laughed before launching his applause line, "Of course, the same people are the first in line to spend the money."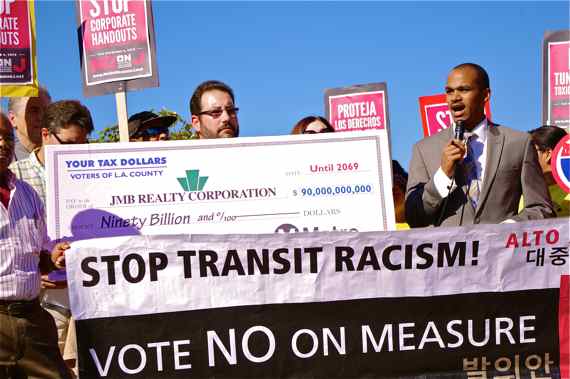 One week later, the "familiar chorus" responded with a pair of press conferences slamming Measure J, Villaraigosa and Metro. In the morning, a rally for the "No on J" Coalition gathered to a smattering of press. Attending were a who's who of Metro's harshest critics, including the Crenshaw Subway Coalition, the Bus Riders Union, The No on 710 Coalition, Union de Vecinos and the Beverly Hills Unified School District. L.A. Weekly referred to the gathering as a "Rainbow Coalition." In the afternoon, two L.A. County Supervisors, one of whom is charing the Board of Directors at Metro, held their own event.
A poll taken last month, and published by L.A. Weekly shows that Measure J, which needs the support of two-thirds of L.A. County voters next Tuesday, is in a tight race. But beyond the spin and politics, the questions remains. Should it? Streetsblog attempts to go behind the spin and politics and takes a look at the same issues surrounding Measure J.
With all the discussion of the impact of extending a sales tax until 2069 and "corporate welfare," at its heard Measure J is about expanding transit options. In 2008, Los Angeles County voters passed Measure R, a sales tax extension that goes largely towards transit expansion with some money set aside for highways, "local return," transit operations and Metrolink "modernization." Following the bills passage, Villaraigosa went on a crusade to convince the federal government to change its transportation funding formulas to benefit areas willing to tax themselves. This would benefit Los Angeles by allowing projects slated for construction decades from now to come online in the next ten years.
While his proposals, whether called "30 in 10" or America Fast Forward, were met with critical acclaim, they met with only modest success on Capitol Hill.
Instead of just relying on the federal government, Villaraigosa and his political allies decided to put Measure J on the ballot this year. Measure J would extend the sales tax from sunsetting in 2039 to 2069. This will allow for more bonding, and construction, right now. The funding allocation, by geographic area and project, is proportionately identical in Measure J to Measure R.
Proponents of Measure J argue that the tax extension is too good an opportunity to pass up, building transit projects today and in the next decade will have an important payoff for future generations. Opponents have several arguments related to transit and transportation against the tax extension.
1) My area isn't getting the same transit projects
The funding allocations for Measure R and Measure J were created so that each L.A. County Supervisor's District would receive roughly the same amount of new funds from the transit sales tax. Under Measure J, a two-thirds vote of the Metro Board of Directors can re-allocate funds from one project to another inside of the same Supervisor's District. If, hypothetically speaking, Supervisor Mike Antonovich wanted to extend the Gold Line even farther, all he would have to do is convince other Metro Board Members to defund another project, such as the I-710 Big Dig.
2) There's too many highway projects being funded
The argument that "we can't pass a transit sales tax without money for highways" is being turned on its head this election season. Much of the opposition that exists to the sales tax extension is coming from groups and communities fighting highway projects. Environmental groups who support the extension, including the Sierra Club, argue that the benefits of building transit now outweigh the risks of building bad highway projects. Thanks to the new "funding swap" mechanism in Measure J, they actually have more avenue to battle highway projects than they do under Measure R.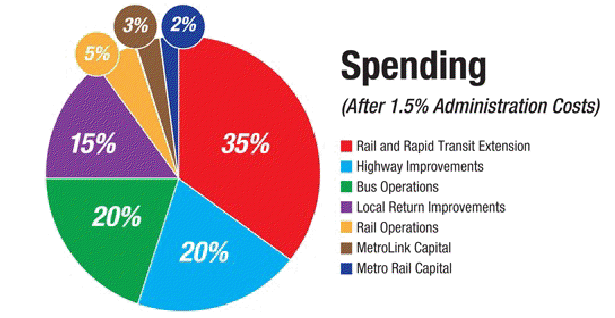 3) There's still a major issue with the amount of money being designated for operations
It's hard to argue with this.
In their op/ed last week, Sunyoung Yang and Eric Romann of the Bus Rider's Union point out that only 5% of Measure J will go towards rail operations. That formula leaves a good chance that as more rail projects come online, fares could continue to rise. Speaking in Spanish, Bus Riders Union member Rosa Mirandes also fought against the idea that Measure R is a "transit tax."
"Only four years after the passage of Measure R, MTA cut about a million hours of additional bus service, leaving many passengers and bus riders with less mobility... domestic workers, security officers, janitors, and many elders and students," she stated at the No on J rally. "During this time, despite an additional billion dollars in their budget, they have raised their fares. Measure R was not an expansion of transit."
While one in every five transit dollar will go towards bus operations, as is the case with Measure R. That hasn't stopped bus service cuts from occurring on a regular basis and fares to jump to $1.25, although none have happened within the last year. Villaraigosa himself argues that the 20% number won't stop fares from increasing and more cuts from coming.
"By the way, I wanted more money for operations but I couldn't get the votes for it," Villaraigosa told Streetsblog of the battle over Measure R in an exclusive interview. "I wanted to freeze the bus fares for everyone, but I couldn't get the votes for it."
However, because Measure J pushes the same projects that Measure R does, rejecting Measure J does not do anything to improve the current plight facing many bus riders and the transit dependent. The question that remains is whether or not the thirty years of new operations funds is worth the new projects being built faster for those bus riders that will not be switching to trains for their commute. Transit watchers and economists disagree on this point, with some claiming the Measure J oeprations funds will help keep fares low and more buses on the ground while others argue the opposite.
An early draft of Measure R had more funds going towards "Local Return" and less going towards highway expansion than the final draft of the legislation that enabled the tax to go on the 2008 ballot. If that original formula had been approved, at least municipal operators such as LADOT's Dash and Commuter Express, Long Beach Transit and the Santa Monica Big Blue Bus might have been able to at least keep their own fares lower and offer more routes.
The Los Angeles Times did their own investigation into the claim made in pro-Measure J television advertisements that the tax extension would keep fares low. In the article, Metro CEO Art Leahy, Metro Board Chair Mike Antonovich and Board Members Richard Katz and Mark Ridley-Thomas all offer different views on how Measure J will impact Metro's fares in the short- and long-term. Times editorial writer Dan Turner looked at the issue and also threw up his hands, although he did state that it's worth supporting Measure J either way.
Because the sales tax extension will inject literally billions of dollars into the county economy, a second battle broke out over who benefits most from the tax.
"We are all opposed to...the crony capitalism, we are opposed to MTA becoming an ATM for the 1%, the developers and the contractors. We stand across the street from View Park Prep School (at Slauson and Crenshaw) where a proposed light rail line will be endangering the safety of children," thundered Damien Goodmon from the Crenshaw Subway Coalition. "It's a common thread throughout the region...in Beverly Hills, in South LA, in East LA... and we see an agency that can simply not be trusted with our tax dollars."
It's been a matter of faith for opponents of the Westside Subway that the reason that the approved route for the Subway runs underneath Beverly Hills High School is because the location stop in Century City needed to support development by JMB Realty. The parade of geologic experts that Metro produced claiming the other route was dangerous was merely for show and their experts produced better results.
While it can be clearly shown that JMB Realty supports not just the Westside Subway under its current route, but also Measure J is easily demonstrated. That JMB is also a major supporter of Villaraigosa is also easily shown. However, that doesn't prove that Villaraigosa persuaded Metro and its contractors to change a subway route or create bad information about seismic safety. It also doesn't prove that Measure J is about helping real estate companies.
But there are groups and companies that will benefit in the near-term from Measure J's passage. Unions enthusiastically back the Measure, noting that it means the creation of a quarter of a million jobs in the near term. Companies such as engineering firm Parsons Brinkerhoff to community outreach firms (disclosure: some of whom sponsor Streetsblog) would also see a rush of contracts as new transit projects rush to the design, engineering and construction phases.
Many of these groups have given their names and money to the extension's efforts, and are a key reason that pro-Measure J videos are on television as commercials and anti-Measure J videos are web-only.
Of course, if you're one of the people planning to ride the Westside Subway or use the Regional Connector to cut twenty minutes off your commute; you celebrate the involvement of the developers and construction companies in the campaign. If you're worried about fare increases or bus service cuts, you use their involvement to make the case that Measure J is about crony capitalism.
On the same token, the issue of who gets the quarter of a million new jobs is a hot one. Pointing at a giant fake check at the "No on J" press conference, Janet Dodson argued that Measure J will, "Bring jobs to these people and to the contractors that work for these people" while gesturing at gigantic fake checks made out to JMB, Parsons Brinkerhoff and Westfield Malls.  Before Metro adopted a policy that required hiring from disadvantaged communities earlier this year, Goodmon once commented to me in a phone interview that he was surprised Metro didn't already have such a policy noting that local communities would be more supportive of Metro projects if they saw people they knew getting the jobs to build them.
That same policy makes it more likely that blue collar workers in disadvantaged communities will see jobs in the near-term under Measure J. Federal law prohibits projects that rely on federal funds in any form to discriminate in hiring based on geographic location, so Metro can't guarantee that the Crenshaw Line will be built by people living on the Crenshaw Corridor. It can make benchmarks for the economic levels of the community's where hiring is done to make it more likely that people of lesser means will benefit from these newly created short- and medium- term jobs.
There are several reasons Streetsblog didn't endorse Measure J despite the fact that much of our staff, Board of Directors and readership are voting for the extension. One of the big ones is that there are some drawbacks and some uncertainty in the Measure itself and the editorial board felt that exploring the uncertainties and benefits of the extension would do more to educate our readers before they vote tomorrow. We will post the results of the "reader endorsements" tomorrow, and there's still time to get your votes in to influence our election day coverage.
(All quotes were taken by Sahra Sulaiman at various Measure J events.)
Stay in touch
Sign up for our free newsletter