Transit Advocacy
Interactive Post of the Day: De-wonkifying Transit
10:52 AM PDT on October 17, 2012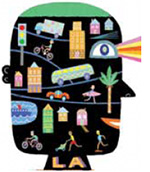 Thanks to the timely arrival of Damien's adorable package of sugar and spice and all that is nice, I was asked to take his place on a panel at the Railvolution conference.
The panel, titled "The Blogosphere: Transforming the Information Landscape," was headed up by moderator Jeff Wood of Reconnecting America. Over the course of an hour and a half, Jeff led myself, Steve Hymon of The Source, and Matthew Johnson of Greater Greater Washington through a discussion of everything ranging from the impact blogs and social media can have on policy decisions to how to deal with commenting trolls.
Not unexpectedly, the room was filled with transit-enthusiasts, most of whom not only are voracious consumers of blogs and transit news but also have a very active online presence. Very active. Some were live-tweeting our discussion. One even tweeted the panel a question, despite the fact that there were only 30 people in the room and jumping in with a question was a fairly easy proposition.
This was a totally new experience for me. I am new to getting my hands dirty with regard to the intricacies of transit policy. Truth be told, I don't always enjoy it. Although transit discussions are about finding the best way to move humans through space and, increasingly, about making the human experience better through the creation of more livable communities, people often seem to be absent from policy debates and planning.
I'm not alone in finding the transit world a little tough to wrap my arms around. The question came up for the panel about how to make discussions of regulations and technical specifications less intimidating for outsiders to the field looking to dabble in what is happening in their cities.
Hymon said he'd been struggling for years to get Metro to use plain English, citing a fight over something as simple as using "entrance staircase" in place of "entrance portal."
A member of the audience said they were interested in making transportation more fun, My Drunk Kitchen-style. They imagined "Transportini" videos in which they would get transit officials and advocates drunk, and have them explain issues or plans in entertaining ways.
As someone who covers low-income communities of color, I suggested, first, that we are too reliant on online communication and discussion forums. Many people in South L.A. are not online or, if they are online, they have different use-patterns. Limited time, education, and connectivity mean that transit blogs are probably not the first place they head once online. They may not even be aware that such blogs are out there. Most are only available in English. The result is that the very group that comprises the bulk of transit riders is largely absent from the debates about how to move the system forward.
Second, I argued there needs to be more room within the community for the incorporation of issues of race and class into reasoned discussions about policy. Such issues matter because lower-income riders have fewer choices with regard to the way they move around the city, and they often have different needs and use-patterns than riders who actively choose mass transit or use it for recreational trips. Moreover, issues of race and class can impact some people's decision not to take transit. But honest discussions about these issues are hard to have, even among well-intentioned advocates. My own experience has been that when they are brought up as observations, they can sometimes be interpreted as accusations. Or, they are brought up as outright accusations and are grounded more in perceptions than in facts. In either case, it can shift the tone of a discussion to a defensive one and move the debate away from the actual subject matter being discussed.
Finally, part of bringing lower-income transit users into discussions requires greater active engagement of them. If I want to know how well regular low-income riders are able to navigate their way through the TAP system, for example, I have to camp out at a Blue Line stop for a few hours and talk to users face-to-face. We can't expect them to come to us or call Metro with complaints.
But lower-income riders are not the only group missing from policy discussions. And, added Johnson, we don't want to "dumb down" or over-simplify information about complex subjects just to reach a wider audience, whomever they may be.
So what's the solution? How would you suggest that transit bloggers and advocates could get their message out to a wider audience? What drew you in? How do you try to reach out to others? Let us know in the comments.
Sahra is Communities Editor for Streetsblog L.A., covering the intersection of mobility with race, class, history, representation, policing, housing, health, culture, community, and access to the public space in Boyle Heights and South Central Los Angeles.
Stay in touch
Sign up for our free newsletter