bike lanes
What to Do When the LAPD Is Parked in a Bike Lane
8:26 AM PDT on September 11, 2012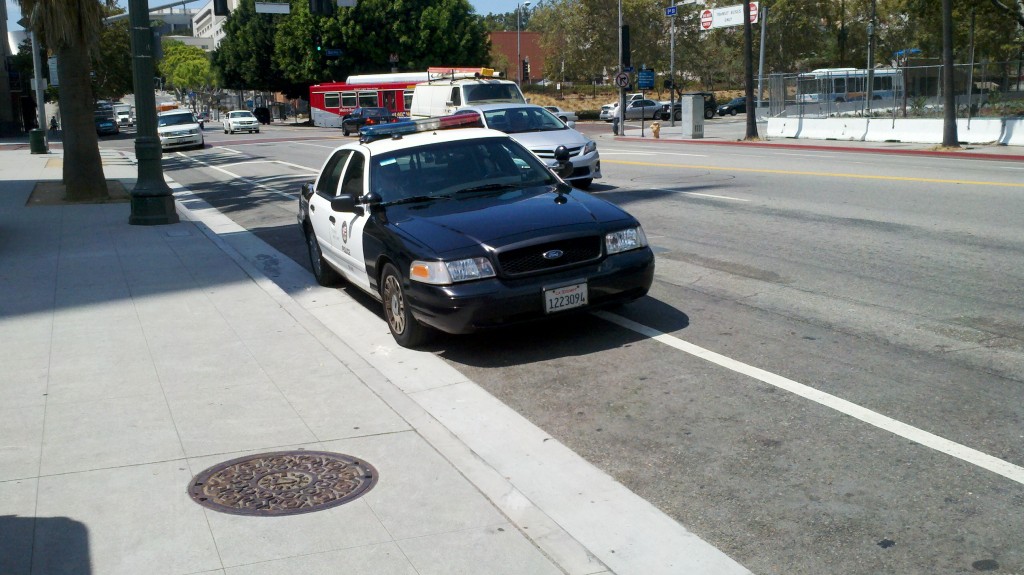 Regardless of one's feelings of the LAPD, it's hard to argue that they're not trying to become a more bike friendly law enforcement agency in recent years. From actively supporting group bike rides, to new internal policies and training regarding cyclists and cycling rights and even occasionally appearing at public hearings to testify in favor of smart transportation design the LAPD has been slowly becoming a force for bike safety.
The LAPD is a gigantic organization, with nearly 10,000 officers and 3,000 civilian staff. Reforming the entire agency won't be easy or fast. For example, cyclists and pedestrians still complain about unfair treatment during crash investigations from time to time. Streetsblog has hardly been quiet when we believe an investigation isn't being handled as it should as well.
And of course, there's the problem of police cars parking in bike lanes. We're not talking about when there's an emergency, public safety is public safety. But, if the police don't see a problem parking their cars in the bicycle lane for non-emergency situations, it's unlikely that they will be handing out tickets to other scofflaws.
The good news is, the LAPD has begun to police itself.  Traffic officers have official letters warning illegally parked cars of repercussions that will come if LAPD vehicles are parked in lanes that are left on police vehicles illegally parked. While these memorandums are internal notices and do not carry penalties by themselves. Traffic officers have also discussed the issue with officers if they see a violation occurring. Anecdotally, the traffic officers say that response has been "positive."
So what should you do if you see a police car parked in the bike lane? I asked Sgt. David Krumer, who was still acting as a liaison, what the best corse of action would be. He wrote:
Unless an officer is responding to an emergency or a call for service where officer safety requires unconventional parking, an officer is required to operate and park his/her vehicle in accordance with all laws. They can not block a lane (bike lane) or otherwise park illegally out of mere convenience.

I would recommend that if someone sees an officer parked in the bike lane to write down the number of the car (located on the upper left hand corner of the trunk and under the City seal on the doors), the date and the time of the observation. A photo would be helpful as well. Also on the trunk itself is a large number that corresponds to a division of assignment.
If you choose to approach the officer, I would ask him/her if they are aware of the aforementioned policy and depending on the response either leave it at that or in the alternative ask to speak with a supervisor.
If you choose not to speak with the officer than you can contact the watch commander of the division where the officers are assigned and provide them with the vehicle number, date, time and photo and request that they address this. They will most likely initiate a complaint and provide training.  To find the correct watch commander you can contact your local station and ask any officer the phone number to the Division that corresponds to that large number painted on the trunk. For example if there is a 01 painted on the trunk than it is Central Division, 02 is Rampart, 03 is Southwest, etc.
Finally, if this is observed in the downtown area in front of a police facility you can simply go into the facility and ask to speak to a supervisor without speaking to the officer or going through the hassle of locating a watch commander.
Basically it informs the driver not to park in the bike lane and there may be negative consequences for doing so.  Of course there is always the possibility of a parking ticket, an internal complaint, or worse, a cyclist is injured as a result of a traffic collision from having to move from the bike lane to the traffic lane.  The goal at our office is to get compliance with all police personnel without having to resort to parking tickets or internal complaints; however, we may have to take action with graver results if necessary.
As a quick note, on behalf of Streetsblog I would like to thank David Krumer for his tireless work supporting the bicycling community and acting as a go-between on bicycling issues at the LAPD. From the ground breaking work on Critical Mass to just helping a cyclist get a bicycle back that was wrongly impounded, he has worked faithfully and openly with the cyclists and his fellow officers. While there are other officers who are largely responsible for improving relations and better policing from the LAPD, Lt. Helper and Commander Blake come to mind, but Krumer has been the face most cyclists see.
Krumer is now assigned to the Devonshire Division as a personal matter required he work closer to his home. While his new position is officially a move sideways, I've been told by some friends in the LAPD that it is a defacto promotion because it is in a higher profile position.
Instead of an official repllacement to Krumer, LAPD is going to be creating bicycle liaisons at several precincts instead of a couple in a centralized office Downtown. When more information is available, we'll post it here. If cyclists and the LAPD's end up with a handful of officers as empowered, dedicated and impassioned as Krumer the relationship between cops and cyclists could continue to improve at a rapid rate.
Stay in touch
Sign up for our free newsletter