Long Beach
Major Changes at Long Beach Transit
9:06 AM PDT on September 4, 2012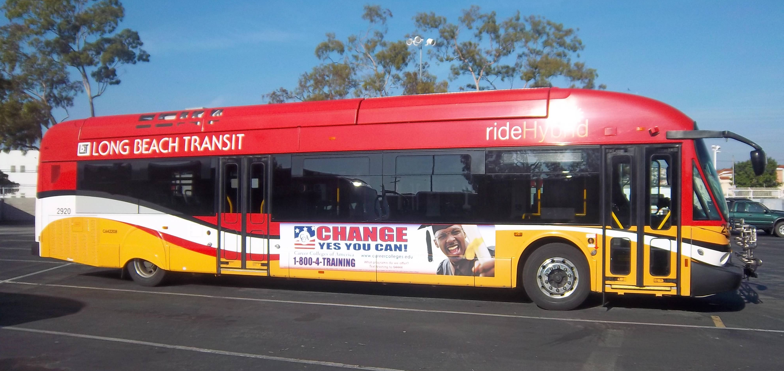 Long Beach Transit (LBT) underwent what it considered to be major changed last week, replacing much of its diesel model buses with compressed natural gas (CNG) buses, a revamp of its mobile website, and the alteration of routes which included its controversial halting of service to Seal Beach.
THE CNG SWITCH:
The switch to CNG marks LBT's move to keep with California emission standards, particularly following the model of LA Metro, who retired the last of their diesel buses in January of last year to becomes the world's first major transit authority to have its entire 2,228 vehicle fleet operate on "alternative" fuels. LBT will incrementally incorporate 64 new buses to replace the older diesel ones. This switch coincides with altered routes mainly due to the CNG's longer length--about 10 feet more than the popular Passport buses (but have the benefit of 10 more seats for passengers to enjoy).
CNG vehicles are just gaining popularity here in the States, but the global growth of the fuel alternative has seen a 30 percent growth each year (compared to the U.S.'s 3.7 percent increase each year since 2000). The long-term benefits of these vehicles include lessened fuel costs as well as significantly lower emissions of nitrogen oxide (NOx; about 94% less per mile), particulate matter (PM; about 98% less per mile) and hydrocarbon (HC; about 89% less per mile), according to Environmental Protection Agency's MOVES emissions model.
CNG buses clearly cost more money--about 10 to 15 percent more--but the argument lies in the fact that its environmental benefits outweigh the direct costs, particularly when it come to health costs of bad air quality. LA Metro estimates its switch to CNG and a handful of other alternatives--one electric bus and six gasoline-electric hybrids--has prevented some 300,000 pounds of greenhouse emissions from being released per day.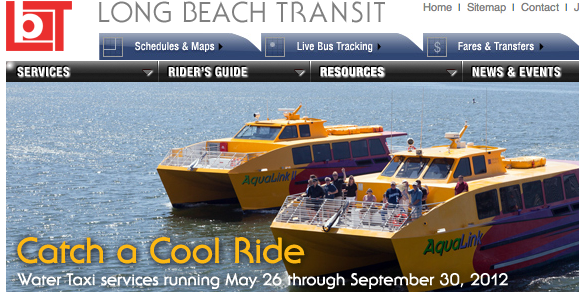 THE WEBSITE:
While LBT claimed that its revamped mobile website is built for those on the go, it is mostly lackluster (and, in my humble opinion, anyone with a smartphone would waste half the time and complications by using Google Maps).
Using your smartphone's web browser, LBT finally made the switch to a mobile interface. However, it does little more than provide you the times that already set in stone with the LBT schedule rather than, like Google Maps, providing real-time information.
Even worse, the LBT press release claimed to have real-time bus info incorporated into the new mobile site; however, the link to bus tracking simply takes you back to the original website's real-time bus tracking, which incompatible with iPhones.
In the world of Google, who is (intelligently) tracking space so efficiently via traffic, mapping, 3-D mapping of downtowns, and public transportation information, for a city to take on a mobile site is an endeavor which must pay attention to what non-municpal organizations are doing.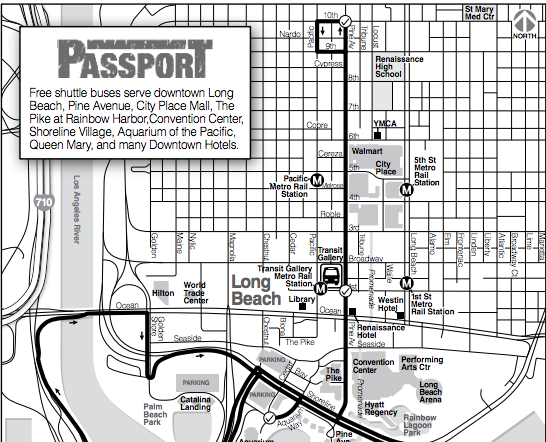 THE ROUTES (Including Changes in Seal Beach):
CNG buses are, as mentioned, 10 feet longer and, given many of the streets on common routes, such as 4th Street for example, are one-lane two-ways with a median, many routes had to be altered.
This was the centerpiece of controversy surrounding the LBT's former routes,131 and 171, which ventured into Seal Beach. While it was entirely unsure what was precisely said at a community meeting between concerned Seal Beach citizens whose neighborhoods the new buses might have ventured through and the LBT, LBT claims racist remarks were thrown around--even by a Seal Beach councilmember.
This prompted a controversial letter from LBT President and CEO Laurence Jackson telling Seal Beach City Manager Jill Ingram informing her that the best interest of all those involved would be effectively stopping all service from Long Beach to Seal Beach; that decision went into full-force last week.
The 131 route will now end at Alamitos Bay Landing. Those now wishing to travel into Seal Beach must do so via transfer to Orange County Transit Authority (OCTA). Travel hours will extend and weekday service will increase to every 40 minutes. The AquaLink dock at Alamitos Bay Landing can be accessed via a stop prior to the bridge along Marina Drive.
The 171 route will end at the Marketplace near Pacific Coast Highway and Studebaker, in the Trader Joe's plaze. Travel previously provided into Seal Beach via Westminster Blvd. must transfer with OCTA. Frequency will increase and operate every 20 minutes west of CSULB and 40 minutes east of CSULB.
Meanwhile, the popular Passport routes A, B, and D have all been officially retired, leaving Passport C--now called The Passport--as the only functioning Passport, which will continue to operate for free throughout the downtown area. The northern end of the route on Pine will extend up to 10th Street, circle around on 9th Street, then return south on Pine, with minor changes in frequency.
The retired Passports three will be streamlined into routes 121 and 151. The Passport D route will be combined with most of the Passport A route, and will be renamed route 121; it will serve the same destinations as the old Passport D. Service during the day will operate every 20 minutes seven days per week and every 30 - 60 minutes in the early mornings and evenings. The Passport B route will be renamed 151 and will serve the same destinations as the old Passport B. Service will operate every 20 minutes weekdays and 25 minutes on weekends. The route will no longer travel along Ocean Boulevard.
Both new routes will be able to access the destinations via the First Street Transit Gallery at Shelter D for westbound trips and Shelter H for eastbound trips.
Other changes to fixed routes, according to LBT, are listed below. Due to a major reduction in Long Beach Unified School District bus service, LBT warns passengers that buses may see a large increase in passengers during the morning and afternoons along routes serving schools.
Route 1: Weekday schedule adjusted by 15 minutes to improve system efficiencies with trips leaving the Transit Gallery at :10 and :40 past each hour instead of :25 and :55. No change in service frequency. Minor weekend schedule changes.
Lines 20, 51 & 61: Minor schedule changes.
Line 40: Increased local service on weekdays to every 6 minutes during peak travel times. Minor schedule changes on Saturdays and Sundays.
Line 70: Slight route and schedule changes in downtown Long Beach to serve stops on Ocean that will no longer be served by former Passport routes (Ocean at Pine S/E and Ocean at Long Beach Blvd S) – Outbound service will proceed via Ocean to Alamitos instead of Broadway to Alamitos.
Line 90 and 96 ZAP: Increased combined service will operate every 8 to 10 minutes on weekdays. The 96 Zap will be extended to Woodruff and Del Amo on selected trips during peak travel times.
Routes 101 and 103: A timepoint will be added in both directions on Route 103 at Bellflower at Centralia.
Line 110: Frequency during peak travel times will increase to every 15 minutes on Broadway and 30 minutes on Clark and Lakewood.
Line 180: This line will move from Shelter H to Shelter B at the Transit Gallery and have a minor directional reroute to accommodate the new shelter assignment. Minor route and schedule changes.
Detailed information is available by calling 
562-591-2301
, by visiting Long Beach Transit's website, or by obtaining a copy of the updated Transit Guide.
Stay in touch
Sign up for our free newsletter