highway expansion
Derision Grows for Caltrans 710 Study That Argues for Massive Road Widening for Cleaner Air
12:15 PM PDT on August 8, 2012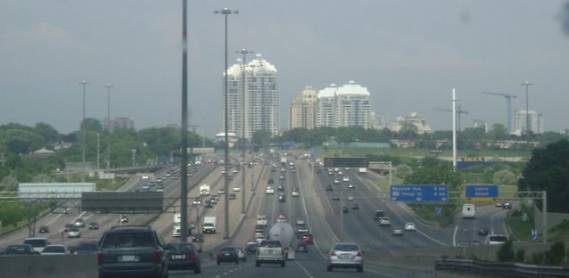 (There are two more meetings for the I-170 Expansion Project, tonight in Long Beach and tomorrow in Commerce. The Long Beach Post has the meeting details. If you can't make a meeting, you can email comments to 710eir@metro.net by August 29th.)
When Streetsblog first looked at the alternatives proposed in 2009 for reducing congestion along the I-710 Corridor in Long Beach, Compton, Commerce, South Los Angeles, Watts, and East Los Angeles, staff was already pushing for adding four lanes to the existing ten mixed use travel lanes. This would add four highway lanes along the already choking 18 mile corridor to an area already choking on exhaust fumes.
72 miles of freeway lanes...in the name of cleaner air. Only in California.
To nobody's surprise, the new Draft Environmental Impact Report for the corridor study recommends the 72 miles of paving in the form of "truck only" lanes. The report is a marvel of backwards thinking, supporting sprawl development in Riverside, wider travel lanes (thus faster speeds) to reduce crashes and induced demand to clean the air. Streetsblog's review of the documents was published in July.
Other publications and professionals are echoing Streetblog's original take as the hearings for the project move forward. Derision of the documents is popping up all over the media, both by commenters and by the writers themselves. Some of the best commentary on the I-710 Draft Environmental Impact Report, which may be known forever as the "widening for cleaner air" report, can be found after the jump.
Letter from the United States Environmental Protection agency, via California Watch and Huffington Post:
"This project will result in a high level of community-wide impacts, in an area that is already heavily burdened from poor air quality related to the goods movement sector," the letter said. "Because of the anticipated impacts from this project in this setting, it is critical that the EIS (environmental impact statement) include a robust analysis of the air quality, environmental justice, and children's health impacts that will result."
Adrian Martinez, attorney with NRDC, at LA Weekly:
Adrian Martinez, an attorney with the Natural Resources Defense Council, explains that "with these environmental reports, it's all about the assumptions that are made."

He says Caltrans assumed "an immense amount of growth -- that trade through the port is almost going to triple." In this way, transportation officials may have "inflated the need" for a 14-lane freeway.
Greg Mellen, Staff Writer for the Long Beach Press-Telegram notes community opposition:
So, when it came time to vote, most said they needed more time to consider the proposals. Coming in second place in the vote, which was nonbinding as the group lacked a quorum, was the "no build" option, which would make improvements along the edges of the roadway but wouldn't expand the number of lanes, as the other plans propose.
Isella Ramirez, with East Yard Communities for Environmental Justice, at LA Weekly:
"It doesn't make sense to me, looking at it as a community member, that a two-lane increase, even with a zero-emission corridor, would bring me significant air pollution reduction in comparison to a no-build."
The Long Beach Report notes that community advocates might not get a chance to see final design for the highway that destroys their community:
Veteran community advocate Laurie Angel (8th district) (who attended a public meeting in Paramount organized by Caltrans/Metro officials) noted that the EIR/EIS doesn't show or analyze the impacts of final designs, which the public won't be able to see until after the period for public comment has ended. Ms. Angel asked if the public would have an opportunity to comment when designs are finalized...and an official portrayed her request as seeking a "second bite" at the apple [although the public should arguably have the right to see the project's final designs when it comments in the first place], then indicated Caltrans would decide if public comment on this would be allowed.
Andrea Hricko, a professor of clinical preventive medicine at the University of Southern California's Keck School of Medicine, via California Watch and Huffington Post
"The draft EIR (environmental impact report) for the I-710 corridor has thousands of pages, and Caltrans does not always make its underlying assumptions easy to understand...The health risk analyses are confusing, with some of the alternatives for expansion showing increased PM (particulate matter pollution) levels, yet decreased health risks."

"The studies have shown that children growing up in communities with high particle pollution are more likely to have reduced lung function," Hricko wrote in an email. "Children in communities with high ozone levels are more likely to miss more school through absences. ... There are now lots of papers published on this topic, with results showing that children who live or go to school near busy roads and freeways are more likely to have asthma and reduced lung function."
City of Commerce Councilwoman Denise Robles, a defender of the project, via California Watch and Huffington Post
"If I were the ultimate authority to come up with a solution, I would say, 'Get more and better public transportation so we don't need to continue to widen our roads for private cars. Then we can deal with the truck traffic as a separate issue. If we had better public transportation it would help out quite a bit."
The special elevated corridor in the new proposal does lift some problem vehicles up into the air, placing them closer to the L.A. River than to residents. But what about plans to revitalize the river? What about nearby parks? And what about all the trucks that aren'tequipped with zero-emission technology, and choose to instead utilize the wider 10-lane freeway?

Public comment on the EIR is over at the end of August. But it's difficult to respond to science this baffling, besides with a call for complete do-over.
Stay in touch
Sign up for our free newsletter