Metro
Los Angeles and the Case for Transit-Oriented Development (Part 1 of 3)
10:47 AM PDT on May 23, 2012
This is the first in a three-part series on Transit Oriented Development and Los Angeles.  Today's piece is an introduction and a look at Metro's role.  Tomorrow looks at the history of TOD on the Red Line.  Friday examines what L.A. has to do to embrace true Transit Oriented Development.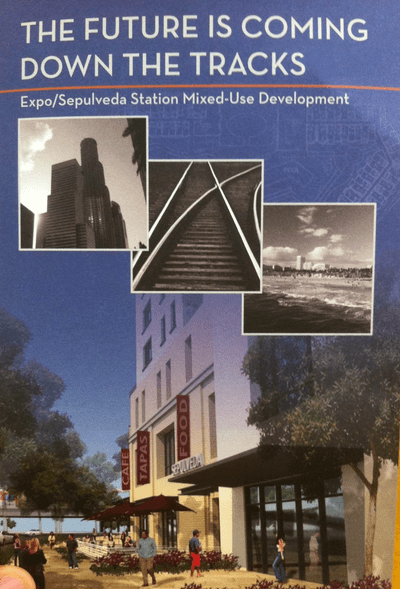 For those of us who grew up within walking distance of a commuter bus or train stop, the concept of development near rail stations seems like the natural way cities develop and expand. Where there is a train station, there are amenities around it — homes and businesses — the things that make a city, a city. It is just common sense.
As has been well documented here and elsewhere, Los Angeles once had a large streetcar network that was gradually dismantled over the decades. By 1963, the Red and Yellow Cars were gone. It wouldn't be until 1990 that transit by rail began again in L.A. County with the opening of the Metro Blue Line. During that nearly three decade gap, the area continued to sprawl relentlessly outward, hemmed in only by the efforts of sensible growth advocates and the fact that water and other infrastructure just couldn't keep pace with the developers' ambition. Real estate speculators out to make a cheap buck on the region's once-abundant open space effectively conspired against the concept of building housing near public transit.
But change the channel and one sees a different picture. Over the past 22 years, Metro has added 79 miles of rail with miles more to be added when the Expo Line is completed. There is also the Orange Line busway across the San Fernando Valley and the Silver Line, which runs on the El Monte Busway, and on the Harbor Transitway on the 110. As more transit has opened, the public has begun to see communities throughout L.A. take on a more transit-oriented hue.
Hollywood, North Hollywood, South Pasadena, Long Beach, Pasadena, Claremont, downtown Los Angeles and Santa Monica have all emphasized putting new development near transit. As a result, these areas are noticeably different — and denser — places than they were just a few years ago.
The question remains, however, why some parts of Los Angeles County have seen transit as a boon to development whereas other communities served by the rail system have experienced relatively little change. Why is this? Is transit–oriented development (TOD) something that happens organically or is there a reason some places have it and others do not?
To answer these questions, I spoke with several people involved in development, including Metro staffers, elected officials' staff and those in the real estate community. In this piece I share what those I spoke with have to say about a concept that is reshaping L.A.
At the outset, it is important to dispel a popular misconception about TOD and public transit that it is a plan to take away the public's car keys. Building TOD doesn't mean that everyone who lives there will be taking trains and buses all of the time. TOD and public transit simply increase city residents' transportation options when commuting to work, doing their shopping or otherwise going out in the community. Both TOD and transit should be viewed as a strategy aimed at reducing the public's need to get in a car to go to work or to the market. Along with transit-oriented residential development comes local businesses, which recognize the financial opportunity in provided needed goods and services to the new residents. As the new shops are nearby they tend to promote walkability, which aids the overall goal of reducing vehicle miles traveled by the public.
Metro's role in transit-oriented development
In asking the question — What is Metro's role in transit-oriented development? — it is critical to consider what Metro is and what Metro is not. By law, Metro is first and foremost a transportation agency. As important as its role is in development, Metro is not, strictly speaking, a real estate developer. Of equal importance, Metro, like developers, operates in a world where others make the rules about what and how things get built.
When I met earlier this year with Calvin Hollis, Executive Officer in Metro's Countywide Planning & Development department, he explained that Metro does not have the authority of the 88 cities in Los Angeles County, and the County in unincorporated areas, to establish zoning. Unlike the cities, Metro has limited leverage to encourage transit-oriented development by making changes to the building code. Nonetheless, today's TOD mindset at Metro means that the agency is now looking at the entire station area, not just the station. Adds Hollis, "We have to partner with the planners, particularly on projects like Union Station which will arguably be the largest TOD project in Southern California, totaling 6 million square feet."
In recent years, as Metro has built fixed rail lines and dedicated busways, the agency has accelerated its efforts to partner with developers to make the most of property it owns around transit stations and along established routes. In general, Metro's land ownership does not extend very far beyond the right of way. Metro's first modern rail line, the Blue Line, was constructed along an industrial right of way offering few development opportunities for the agency and potential partners. In the view of Calvin Hollis, the only real opportunities to build along the Blue Line were at both ends of the line near 7th Street in downtown L.A. and in downtown Long Beach. Of course redlining and the never easy politics of race and ethnicity in L.A. also played a role in what didn't get built along the transit agency's first modern rail line.
The Blue Line's construction along an industrial right of way is one experience but elsewhere, as part of the construction process, Metro has been able to secure parcels more suitable for transit-oriented development. The Metro Red Line stations at Hollywood & Highland and The W at Hollywood & Vine are examples of locations at which Metro- owned land was, and remains, attractive to developers.
By law, Metro can only buy land for transit purposes. This means that when it bought land in the past for subway construction, the agency was not necessarily thinking about the site's future use for TOD. Instead, at locations like the Westlake MacArthur Park and Del Mar stations, sites adjacent to the lines were bought with the idea that they would be suitable for parking once construction was finished. Housing and mixed- use development, were often not on Metro's radar.
Even at Hollywood & Highland, on the same block as popular-with-tourists Grauman's Chinese Theatre and the El Capitan, it wasn't until some time after real estate for construction staging was purchased that Metro recognized the development potential of the land it owned in Hollywood. Hollywood redevelopment was then still in its infancy — and it wasn't yet apparent the role that the Red Line would play in it.
Thankfully, things are different today. Perhaps we are finally looking beyond the smog at lessons learned in other U.S. and international cities.
According to Metro staff, instead of parking, Metro now has TODs foremost in its mind for prime lots once used for storing rail construction equipment. Given the considerable need for affordable housing, and the still weak real estate market, TOD today often means affordable and mixed-use projects like the ones Metro is developing at Westlake MacArthur Park and One Santa Fe in the Arts District in downtown L.A. The first buildings to go up at Metro's Taylor Yards site in Cypress Park will also be affordable housing.
Metro's Calvin Hollis acknowledges that lessons have been learned as Metro has matured as an agency. "We are being smarter about TOD and development around the stations as we're going forward with the Purple Line extension. We're more sophisticated than we were in the past, particularly about the purchase of land for the station portals and adjacent to the station for construction staging."
Joel Epstein is Chief Talent Officer for bliss lawyers, a new legal model combining the benefits of secondment and virtual law firms. Joel writes frequently on public transit and urban life.  
Stay in touch
Sign up for our free newsletter