Boyle Heights
CicLAvia Heading Deeper Through the Eastside, but When?
4:06 PM PDT on May 2, 2012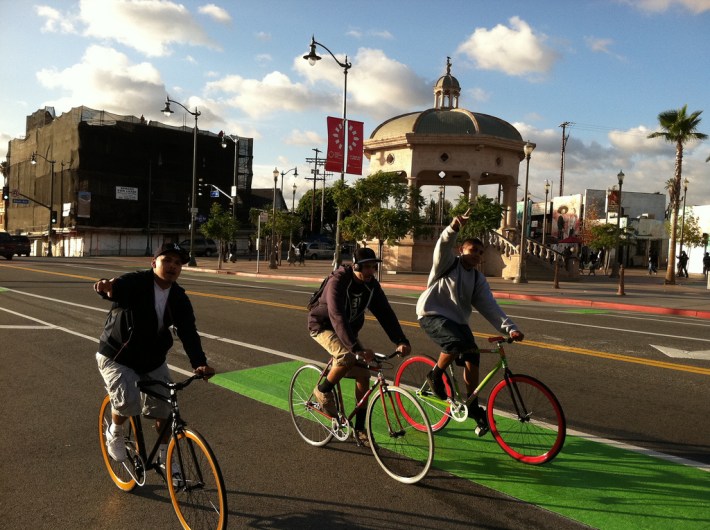 For CicLAvia, figuring out how, when and where to expand has been its biggest challenge.  While CicLAvia is free to attend, it costs a lot of money to push past the current 10-mile route, closing streets to cars, providing police support and re-routing car drivers who find entrences and exits from the freeway blocked.  Despite CicLAvia's success, money to expand has been hard to find.
Yet, CicLAvia is working with what they have. At a CicLAvia board of trustees meeting last week, trustees decided the existing route would be cut at certain parts in order to accommodate an expansion in other parts. Bobby Gadda, CicLAvia board of trustee president, said that CicLAvia expansion on First Street to Evergreen Cemetery in Boyle Heights would be in the draft route the board will send to the city next week for the next CicLAvia in October.
"(We're) pretty committed and looking to make it happen," said Gadda about the Boyle Heights expansion.
Currently, LADOT provides services for the 10-mile route but can't provide for more coverage. If miles were to be added, CicLAvia would need to hire contractors to manage the same services LADOT would do, adding an extra cost to their budget, Gadda added.
For an event that has after four CicLAvia, with media outlets saying each brought out more than 100,000 participants, it remains in a precarious financial state.
"We're back to zero in terms of funding," said Gadda going into this October's CicLAvia.
Yet, CicLAvia hasn't been deterred in planning for future routes. With no staff and relying on the efforts of contractors, CicLAvia volunteers and trustees, its outreach into communities creates expectations that the ride will come. These expectations have yet to be realized, causing frustration and doubt from community members.
"Over a year . . . (the expansion) hasn't happened," said Leon Arellano, co-founding member of Corazon del Pueblo, one of the spaces that hosted the Boyle Heights expansion meetings. "It puts the commitment into question."
Three communities vie for CicLAvia expansion, South L.A., Chinatown and Boyle Heights. Each community boasts some success and experienced some failure.The route ended up short in its attempt to enter Chinatown, currently the El Pueblo hub, and South Los Angeles.  The route from April and last October's CicLAvia ended right before entering South LA. In South Los Angeles, LADOT and Metro prevented the expansion because the proposed route would pose a danger when it passes through the Blue Line Light Rail tracks.
Joe Linton, former community-organizing coordinator for CicLAvia, said that initially after the first CicLAvia, they believed they would be able to double the route. CicLAvia organizers quickly found out the expansion for future CicLAvias would only add an extra one or two miles from one event to the next because funding was tighter than they (thought) it would be, Linton added.
One proposed route for the Boyle Heights expansion goes as far as Whittier Boulevard at the Boyle Heights/East Los Angeles border. While a Boyle Heights/East Los Angeles CicLAvia hub doesn't look like it will become a reality soon, even incremental offshoots such as expanding to Mariachi Plaza this past April were halted.

The History of the Boyle Heights Expansion

View CicLAvia BH - Final Route in a larger map
Prior to the stalled expansion, CicLAvia met with residents to discuss and ride potential routes. In December 2010, Boyle Heights residents went door to door on Boyle Avenue between Fourth and First Streets letting residents know about a possible route expansion. In August, a larger group toured the varying routes that extended deeper into the neighborhood, passing landmarks including Casa del Mexicano Evergreen Cemetery, and Salazar Park.
Yet, turnout at community meetings was inconsistent, with groups ranging from five to twenty attendees.  Only a handful of attendees represented larger community organizations.
In comparison to Boyle Heights, the South Los Angeles expansion committee created t-shirts, and hosted rides to raise funds and garner interest in a possible expansion. One South L.A. committee member now serves as a trustee on CicLAvia's board because of his active involvement on the committee.
Linton said that while money is always the first factor in an expansion, community enthusiasm comes second. "It also depends on community groups, politicians . . . that are interested and showing that interest by showing efforts to bring CicLAvia there," Linton said.
But for Boyle Heights, there is a sort of "chicken and egg" issue with CicLAvia when it comes to the community's excitement for expansion.Mark Didia, a former volunteer with CicLAvia that headed up the Boyle Heights expansion committee, said that when the route expansion stalled for the October 2011 CicLAvia the momentum also stalled with volunteers. In the months leading up to the event, there were multiple group rides, community outreach activities, and meetings. After October, there was only one committee meeting, and one outreach activity.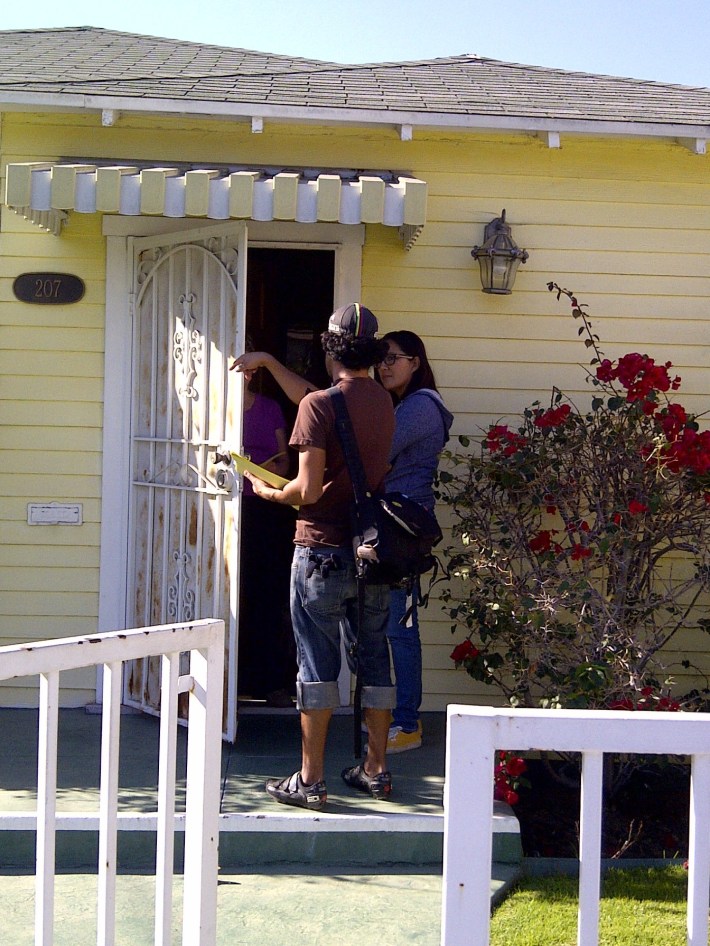 Further complicating outreach efforts is that many people don't consider advocacy for CicLAvia or any other bike activity a good use of their time while they struggle with day-to-day needs, explains Laura Torres, a bike advocate and Boyle Heights resident.
"For a lot of the members of our community, continuing our education. . . or paying their rent, becomes more of a priority than organizing for CicLAvia."
Securing more funds, and reengaging Boyle Heights
While CicLAvia's finances are an ongoing issue, they have never forced the cancellation of CicLAvia.  The CicLAvia team always manages to secure funds for each individual event, but never enough to build for future CicLAvias. Sometimes this leads to cuts.  In October, people could apply for $500 mini grants to put on activities. But there was not enough money to renew the grant program for the most recent CicLAvia.
Closing streets costs roughly $20,000-$50,000 per mile, said Linton. The cost to close a street depends a lot on crossing points, and if the street affects freeway on and off-ramps. Other cities that have open street festivals similar to CicLAvia such as New York and San Francisco don't require such substantial fundraising efforts, Linton added.
"Financially, it will be incremental instead of revolutionary," Linton said of the CicLAvia expansion.
Communication has also been an issue between community members and CicLAvia. In terms of outreach, Gadda said he understands that CicLAvia dropped the ball in keeping contact with its local volunteers. Since Mark Didia left, there hasn't been a Boyle Heights outreach lead to connect the community and organizations, Gadda said. Arellano, the person who arranged Corazon del Pueblo to host the Boyle Heights expansion committee meetings, said that he didn't find out the confirmed route for this April until he saw a flyer in March...a flyer that showed an expansion to Mariachi Plaza that didn't actually happen.
There are organizations currently involved with bike advocacy on the Eastside that are getting more involved with CicLAvia. At this past April's CicLAvia, groups including the DREAM Riders and members from Building Healthy Boyle Heights began organized rides starting from Hollenbeck Park. The Ovarian-Psycos Bicycle Brigade adopted an intersection, and even created a Boyle Heights/CicLAvia shirt design.
"Boyle Heights is ready," Arellano said.
To donate to CicLAvia, click here.  At this point, there are no meetings planned for the Boyle Heights CicLAvia Committee.  When one is scheduled, Streetsblog will announce it so check back regularly.
(Full Disclosure: Linton is a member of the L.A. Streetsblog editorial board and Building Healthy Boyle Heights is a program of The California Endowment, a major grant maker for L.A. Streetsblog.)
Stay in touch
Sign up for our free newsletter