gangs
It's a Small World: How Gang Activity Impacts the Livability of Streets
11:24 AM PDT on April 5, 2012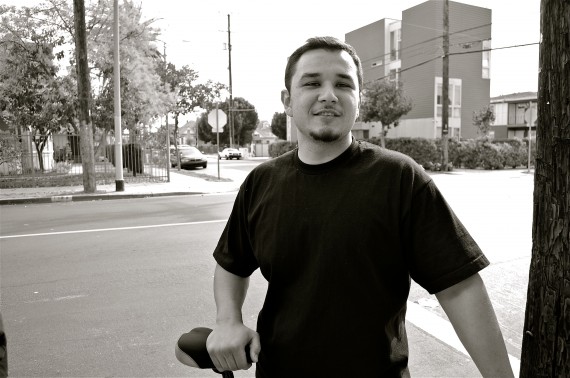 To expand the boundaries of what is considered to be livable streets issues, I present the first of a three-part story about a 19-year old named Fidel who ran with a crew for a few years on the north edge of South L.A. He hopes that by talking about how he grew up, people can begin to see the extent to which some of L.A.'s streets can be very hostile to youth. The insecurity of the streets and the negative encounters they experience there, although not the only factors, can play an important role in their decisions to join a gang or crew. Making some of these communities more hospitable for everyone, then, means considering these factors as well as the socio-economic conditions that facilitate and promote violence. Livable streets, in other words, would do well to ally itself with those working on broader questions of equity and social justice.

WHEN THEY JUMPED HIM IN to the crew in 10th grade, he tells me, the actual beating didn't last very long. There may have been 6 guys, but Fidel, a natural fighter, was swinging more fiercely than they were. After he connected hard with a couple of the guys, they decided they had had enough and declared it over.
That was it. He was in.
He would quickly become their strongest fighter. Eager to prove himself, he was always ready to make a name for the crew and to protect his friends. He would be the one to step things up a notch by punking on some of their rivals. He would gain a reputation as the one not to be messed with.
"I had a lot of anger," he admits somewhat sheepishly. "I fought a lot as a kid."
I study the shy, self-conscious, sensitive 19-year old with the sweet disposition and easy smile as he nervously fidgets with the honey sticks meant for my tea. I know he is telling me the truth, but I still have a hard time believing it.
# # # # #
I met Fidel a year ago, when he was finishing up his senior year at West Adams High School. He had been assigned the task of writing a personal story about a struggle to overcome an obstacle. He was noticeably not thrilled about having to write about his feelings. He had sat down at a safe distance from me then, burly and reticent, a bit on the defensive, and looking for all the world like a cholo with his closely shaved head, goatee, and, as he put it, "mean mug." He had stared at his hands and announced he didn't have anything to write about.
"Yeah, right," I remember thinking to myself.
He'd been through so much, but had never really talked about any of it before and wasn't sure how to start. Once he did, story after crazy story tumbled out in a chaotic rush, each one more intense than the last.
He had been in and out of crews since elementary school, but he was feeling remorse about the things he and his current crew were doing. Friends were starting to get deeper into both trouble and drugs. Fights were becoming more intense and guys were ending up in the hospital with broken hands, stab wounds, and their heads split open by metal pipes. Others were heading off to jail. One was later killed.
He could see where it was all going, he said, and knew that he didn't "want to not have kids and be in jail for life with just guys."
He was most afraid about what it would do to his parents if something happened to him – he didn't want them to be stuck with court tickets or hospital bills that he knew they couldn't pay. They didn't even know he was in a crew and trying to hide it from them was tiring.
So, he got out.
Getting out wasn't all that hard, he said. They were mainly a tagging and smoking crew, not a full-fledged gang, and he had put in more than enough "work" (i.e. done enough fighting) to earn his way out.
The tough part was staying out.
He couldn't hang with his friends like he had before. He caught flak for not being present at fights as guys from other crews questioned his strength and his willingness to fight. Those not involved in crews or gangs had only known him as a fighter and weren't interested in seeing him as anything other than a cholo.
In his heart, he knew that he had made the right decision, but he was frustrated at finding himself suddenly isolated and constrained by other people's opinions of him.
He hadn't anticipated that "getting straight" would be so lonely.
# # # # #
Now, a year later, he is majoring in Business Administration at LACC and has his first job at the Coffee Bean across from USC, where we are sitting. The students that come into the coffee shop would probably be shocked to learn that the earnest guy who gets nervous when working the cash register was the cholo that used to make them nervous when he and his homies would wander onto campus.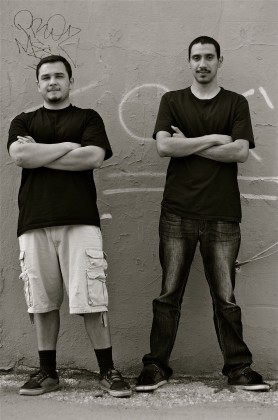 Fidel laughs and imitates the way students would survey him warily and then quickly look away if he made eye contact. He pauses for a second to glance at the students scattered around the cafe, chatting casually and working on their laptops.
Sometimes, when he sits down and contemplates how different their lives are from his, he says, "I trip out."
"I would like to know how they see the world."
"They've never really suffered," he speculates. "They don't really stress out other than school. That's the life I want to live...All they have to worry about is their books and getting fucked up on the weekend and then doing their homework and going back to school on Monday..." he shakes his head and fidgets with the honey sticks again.
"I don't know," he finally says, quietly. "It looks like fun."
The genuine wistfulness of the unguarded remark offers a hint at just how tumultuous his life has been.
Although he and the USC students move through much of the same space – his old crew runs just north of USC and just south of the 10 Freeway – they inhabit completely different worlds. He can't imagine what it is like for violence and hardship to not be part of his daily life. If he's not struggling his way through something, then at least one of his homies is.
"You still see it. You go home and it's [still there]...You hear about it so much," he says, referring to the how his friends are often going through things far more intense or traumatic than he ever experienced.
# # # # #
Fidel might have changed, but the people and the circumstances surrounding him have remained the same.
He has lived in the same place in the Pico-Union area for most of his life. Because the area is heavily dominated by the 18th Street Gang, he still doesn't know most of his neighbors – even those living in the same building he does. His parents had always warned him to keep his distance from them in the hopes of keeping him safe from trouble.
"When my dad would come home from work," he says, "the same guys that lived next to us would be out front and they would try to jack his tools from him." They even pulled a kitchen knife on him, his dad told him.
At one point, there was a lot of "needling" going on, he mimics shooting up. His mother has told him stories of passing by addicts shooting up out on the corner of their block. They did it in the hallways of the apartment building, too.
"My building had a little attic and three people died [of overdoses] in there," he says. "[The bodies] would be all stiff when they would take them away."
As a result, there wasn't much of a sense of community among the neighbors.
"I've never really talked to people from around that neighborhood," Fidel confesses. "I really don't know anybody."
"You don't know anybody even though you've been there since you were about 10 months old?" I interrupt.
"Yeah, since I was, like, little, yeah...If something would happen to me, if I were to get jacked or something, I wouldn't know who to tell or who to ask for help."
"If I would lose a bike, I would lose a bike. That's it," he shrugs.
"And you don't call the police if things happen," I say.
"Nah," he makes a face, like that was the silliest thing he'd ever heard.
He understands that silence is not the best solution, but he also is very sure that calling the police will just cause more problems.
If someone gets caught for doing something to you, he explains, "They get mad...[They] or their friends or their brothers or their cousins or somebody related will be mad because you put their cousin or somebody in jail or got them a ticket. It will just bring more hate."
So, he never said a word to anybody when he got jacked for the first time in 9th grade.
Three guys from a gang had approached him when he was on his way to summer school. Pointing a knife at him, they had told him, "Empty your pockets or else we're gonna fuck you up and we don't wanna do that."
"I got jacked for gum," he laughs. "That's all I had in my pocket and that's what they took."
The second time he got jacked, a guy from Cuatro Flats grabbed him by the backpack, flashed a .38 at him, and told him to empty his pockets.
"He made me pull my pockets all the way out so he could see they were empty," he says. Then the guy ran off with Fidel's five dollars.
"And you didn't even tell your parents about getting jacked?" I ask.
"Nah," he waves off the question. "My parents don't know anything about anything."
Telling them would just make them worry and, he says, "that would be another reason why I couldn't go out any more."
The fact that so many of these incidents are not reported means that there is no official record of just how unsafe the streets can be for young people, especially young men.
Instead, residents living in troubled areas hoping to avoid danger must cobble together a mental map of no-go zones generated by word-of-mouth crowd-sourcing and trial and error. An incident like Fidel's gum-jacking, for example, could prompt someone to alter their pedestrian route -- young as he was at the time, Fidel had realized that the gang members knew his comings and goings and it made him afraid that they were always going to be waiting for him.
"You have to live here to really know [the territories]," he explains. "You hear about your friends [getting hassled]. People around the community they tell you, like, 'Oh, these fools stay around here.' You learn from them.... And then next time you are around there you know who might be there. I don't know...you just have to hear about it from others. Or by going through there and getting banged on."
# # # # #
The conditions in the streets are powerful in shaping people's behavior. Kids are especially susceptible to its pressures because they have to move back and forth through the streets to school on a daily basis. It affects the extent to which they feel they can use the streets for recreation and the extent to which residents are able to come together like a community. Many parents try to restrict their kids' movement to keep them safe. Some youth make the decision to stay out of the streets altogether to avoid trouble. In Fidel's case, he saw his friends getting banged on and made the decision to get involved in their crew to "help them out."
Next week, I will post part II of his story, which details what it was like to be part of a crew, how the fights go down, and more about why it is so hard to leave it behind. If you would like to see Fidel's story about leaving the crew in his own words (written last year for the English class mentioned at the outset), please click here.
***I need to extend a huge "thank you" to Fidel for his openness and for the hours he spent telling me stories and showing me around his old stomping grounds.
Sahra is Communities Editor for Streetsblog L.A., covering the intersection of mobility with race, class, history, representation, policing, housing, health, culture, community, and access to the public space in Boyle Heights and South Central Los Angeles.
Stay in touch
Sign up for our free newsletter