Bicycling
First Look at Farmer's Field Traffic EIR: The Good, The Bad and the Ugly
3:52 PM PDT on April 5, 2012
Earlier today, AEG announced the completion of the first draft of environmental documents for Farmers Field, the proposed football stadium for Downtown Los Angeles.  The document, available on City Planning's website, is a mammoth 10,000 pages and the ceremonial handing over of the documents to the city at today's event involved 13 overflowing three ring binders.
Of course, the EIR was already available on City Planning's website.
With only 45 days to examine all 10,000 pages, the clock is running.  Here is our first thoughts on the transportation planning for Farmers Field.
Increasing Capacity on the 101
When the Daily News published its exclusive report on the transportation planning for the Downtown Stadium last night, it focused on a proposal to widen the 101 freeway from Downtown Los Angeles to Glendale Boulevard.  While the idea of eliminating a bottleneck probably appeals to car commuters from the Valley to Downtown and football fans alike, Caltrans and the other agencies who will spend AEG's $2.5 million to study the project need to be vigilant.
Lat month, the Metro Board authorized a funding agreement (Item 8) with Caltrans of $100,000 for development of Project Study Report (PSR) for the "Highway 101 Auxiliary Lane Project" that appears to be the same project proposed by AEG.  It should take up to six months for Metro, Caltrans and other participating agreements to be ready for the study.
Increasing capacity on one highway in an area where it connects with so many other highways in such a short area is fraught with peril, even if one only measures a highway project's success by traffic flow.  True, traffic may flow through the couple of miles that are bottlenecked now, but opening the flow in that area could encourage more people to drive to more destinations and increase congestion elsewhere.
Of course, the new traffic patterns will impact congestion, air quality, and life in general on a daily basis, not just on game day.  If the traffic study shows an increased amount of cars on the 101 and connected highways, and it probably will, officials will have to decide whether or not increasing the amount of cars on L.A.'s freeways is a cost the region is willing to pay to increase access to a special event's center.
Blue Line Station
To its credit, AEG proposes doubling the size of the Pico Boulevard platform at the Blue/Expo Line station directly across from Farmers Field.  A similar proposal was first floated by the Los Angeles Chapter of the Sierra Club's Transportation Committee in their "scoping comments" submitted in April of 2011.  To see the Sierra Club's full transportation proposal, click here.
Looking at AEG's proposal for the station, Sierra Club Transportation Committee Chair Jerard Wright thinks that AEG is off to a good start.
"This is a very promising start, however at 12th/Flower crossing there will still need to handle pedestrian queueing and demand after the larger Farmers Field events so a pedestrian bridge and the closing off of traffic at 12th Street will be needed," writes Wright.  "This infrastructure over the tracks at 12th/Flower can double as an elevated ticketing area for passengers to pay their fares before boarding the platforms.  Funding and cost sharing between AEG/Metro/others for this piece of vital infrastructure is a detail that needs to be hashed out."
AEG dismisses a pedestrian bridge in its environmental report, arguing, "The implementation of a pedestrian bridge(s) across Flower Street and the rail tracks was investigated and found to be infeasible as there is very limited room in the public right-of-way for the placement of a pedestrian bridge as well as the up/down stairs without severely reducing the sidewalk width and significantly impacting sidewalk pedestrian flows."
The environmental documents go on to show that at-grade light rail and pedestrian intersections near stadiums have worked well in other areas with the specific example of the stadiums in Downtown San Francisco.
Transit
A major part of AEG's pitch for the stadium focuses on creating the "greenest stadium" in the country.  A major part of that initiative is convincing fans and event goers to "take the train to the game" (or bus).  The environmental documents estimate that one in five Farmers Field attendees will arrive to the area via transit or via chartered bus.
To achieve this goal, AEG is going to need help.  No matter the time of day or day of the week, existing transit service won't be enough to get everyone to and from the area, so AEG will be asking for Metro, Metrolink, LADOT and other local carriers to increase service on event day.  In an era when transit agencies are cutting service for commuters, this could be a non-starter unless AEG or event planners help foot the bill.
"We believe that this should be a mutually exclusive affair where AEG will need to cover at least 55% of the costs for this additional operation that can come from event ticket fees or parking surcharges at their parking facilities because this added service may not be needed for the entire length of the transit lines so that we're moving as many people on transit as quickly as possible," explains Wright.
Wright goes on to explain that the cost of running effective transit service is higher than just the cost of additional buses and trains.
"This would require not just more trains but more staff to act as a wayfinding liason to aid patrons after events at the station.  If an operations funding agreement can't be reached in lieu of this we believe that an area for tracks to store trains just south of Pico station-underneath the 10 freeway- can be a practical piece of infrastructure that can improve the game-day operations to the AEG campus."
We should also note that the transit planning does not assume the Regional Connector or Downtown Streetcar will be built as neither will be ready by the projected opening of the stadium in 2017.  The Connector will make it even easier to get to the Stadium from just about anywhere.
Ticket Bundle and Smart Phone Application
One of the more creative ideas proposed in the documents, and one pushed for by Streetsblog since the stadium idea was first floated, is bundling ticket sales with transit pass sales.  In other words, when purchasing tickets off the Internet or by phone, purchasers will be given the option to also purchase transit passes for game day.
This option was first introduced to American sports fans by NASCAR (really).  As the car racing organization was building stadiums throughout the east coast, it introduced this technology to assure the small towns near some of the tracks that they wouldn't be flooded by vehicles on race day.  AEG is also seeking to partner with parking lot owners to allow people to purchase a space in a parking lot.
The most obvious benefit of this is that it makes it easy for people to buy transit for the event.  The other benefit of selling transit and parking in this way is that it allows the event goers to know ahead of time whether or not they will be able to find parking near the stadium.  If not, they will know to make other arrangements ahead of time, vastly reducing the number of people living a Shoupian nightmare trying to find car parking where there is none.
The message is simple.  No parking, buy a transit pass.  With Expo scheduled to be online all the way to Santa Monica before the first kickoff at Farmer's Field, people should be able to figure out a workable tranist plan from anywhere.
For any of this to work, transit agencies and parking lot owners have to agree to play ball.  It's hard to see transit agencies not seeing the benefit, but parking lot owners have been reluctant to embrace this kind of technology in other areas of the country.
Once people arrive near the stadium, AEG will have a smart phone application that will already know where they parked/arrived via transit and will direct them from that starting point all the way to the stadium.
Active Transportation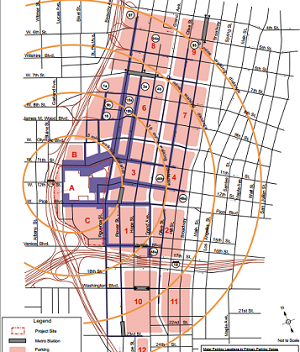 For any of this to work, people need to be able to walk to the stadium from transit centers, from parking lots, from hotels, from their offices, or wherever else they might be starting.  AEG estimates that seven percent of all Field attendees will start and complete their trip entirely on foot on weekdays, and half that number on weekends.
Recognizing this, the environmental documents devote a lot of time discussing pedestrian access, including a 36 page section devoted exclusively to bicycle and pedestrian planning.  The document mostly discusses pedestrian planning in the form of street closures, sidewalk widenings, access to and from transit stations and intersection crossings.
Honestly, there's a lot of information in the report, and Streetsblog will have a full analysis next week, but for now our general opinion is that AEG appears serious about creating an attractive and safe pedestrian plan for the stadium.
As for bikes, there isn't a lot planned.  The environmental documents make no assumptions on whether the City Bike Plan will be completed and currently there aren't connecting bike lanes from Downtown Los Angeles to the stadium area.  Nevertheless, the stadium will feature 250 spaces on bike racks, more than double what exists for Staples Center/LA Live at the moment.
Oddly, they are assuming a bike parking center for the region similar to Long Beach's Bike Station will be built in the coming years which is a former project of the CRA but not the CRA's other transportation project for the area, the South Figueroa Corridor Project which has dedicated funding.
Parking
As part of the retrofit being done to the convention center as part of the proposal, AEG will demolish some parking lots even as it builds new parking elsewhere.  There will be a net increase of 1,102 parking spaces within 20 minutes of Farmer's Field joining the existing 50,000 parking spaces.  AEG will not own any of the parking.  Unlike the Dodgers, there will be no reason for the team or stadium to promote driving to the stadium.
Stay in touch
Sign up for our free newsletter