Complete Streets
Streetsblog Profile: Public Health Advocate and UCLA Professor Richard Jackson
2:09 PM PST on February 29, 2012
Episode 4: Searching for Shangri La - (preview) from MPC on Vimeo.
(Jackson will be speaking as part of the UCLA's Luskin Center for Innovation's "Complete Streets Conference" this Friday.  Tickets are sold out, and despite an earlier report they won't be accepting walk-ins .   If you check back here Monday for Streetsblog's coverage. You can also read his thoughts on the importance of a federal transportation bill that caters to healthy communities in a 2011 op/ed published on Streetsblog.- DN)
Dr. Richard Jackson is the head of UCLA's Department of Environmental Health Sciences.  While he's been on television as part of the Designing Healthy Communities series on PBS and is known as an advocate for public health in American planning, he still remembers his roots.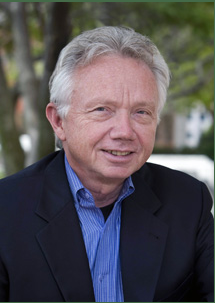 Specifically, he remembers how he was able to ride a bus in his hometown of Newark, New Jersey anywhere he needed to go.  That experience helped shape how he views transportation and its impact on the health of our communities and the health of our children.
"Because of our car dependent sprawl, Angelenos can only do one, maybe two big things in a day," Jackson remarks.  "In other cities, you can do three or more."
But a well built transportation network, the kind that gives people safe and attractive options to get from place to place, provides more than just a times savings.  It allows for a healthy lifestyle not possible in all communities.
Robert Ross, president of the California Endowment, tells audiences that he can determine how long someone will live based on their zip code.  Jackson agrees.  "In Oakland California, the average difference in life span of people living in the higher income zip codes and the people living in the lower income zip codes is about fifteen years. It doesn't need to be that way."
While transportation isn't the only thing holding these areas back, access to health care, clean air and healthy food all play a major part, a car-centered transportation system is a major challenge.  Naturally, the areas that have freeways criss-crossing the community tend to be the same ones lacking in hospitals, supermarkets and farmers markets, and attractive open space.
"It's such a huge disadvantage to be poor in America, because there is such a difficulty gaining access to physical activity, to parkland, to decent and healthy food," Jackson remarks.
"We've built America in a way that is fundamentally unhealthy."

The culprit is a country that has placed a premium on providing easy access to unhealthy food that his high in salt, sugar and calories at the same time that it has dramatically decreased the amount of physical activity that Americans undertake on a daily basis. In other words,  Americans have simultaneously increased their calorie production while decreasing the amount of calories they burn.
"The generations before ours, many of which were farmers, used to burn 7000 calories a day," Jackson calculates.  "We can't continue to eat that way if we're at keyboard burning, if we're lucky, 2,000 calories a day."
To address the two-fold problem, Jackson promotes the concept of building streets that are safe and attractive places for people to be outside.  Places where people can walk or ride a bike to get where they need to go.  Is Car Culture a problem?  Absolutely.  But so is a built environment that encourages an unhealthy lifestyle by encouraging people to stay in their dwellings, places of work and houses of worship unless they are moving to or from their car.
"We all know we are what we eat, but we're also what we build."
So what should America do next?
Focus on the Children.  Think of the Children
"As a pediatrician, I'm going to assert that most of the public health interventions that have been successful have started with a focus on children," Jackson asserts.
Jackson isn't advocating writing off the current generations to focus on the next ones, but points out that efforts to curb smoking, drinking and drug use all focused on kids and all focused on making those activities "uncool."  A similar effort could be made to make bicycling and eating healthy foods be "cooler" activities.
Efforts such as PBS's "Don't Supersize Me" campaign and the public campaign to introduce healthier food into schools by First Lady Michelle Obama are a start, but when Mazda has cartoon characters going into schools to encourage kids to pressure their parents to buy SUV's, we have a long way to go.
In short, America faces a great challenge.  How do you change the charecter of the country's built environment and educate our kids about healthy lifestyles at a time when popular culture and billions in marketing is pushing America in the other direction?  It won't be easy, but as Jackson explains, the stakes couldn't be higher.
"Our children deserve a world that is as healthful, and beautiful and biodiverse as the one we've been given. I see what we've been building in America as, in essence, generational child abuse. We are not providing that to our next generation."
Stay in touch
Sign up for our free newsletter