environmental justice
Transportation and Food Access Idea 1: Transit and Good Food
8:31 AM PDT on October 25, 2011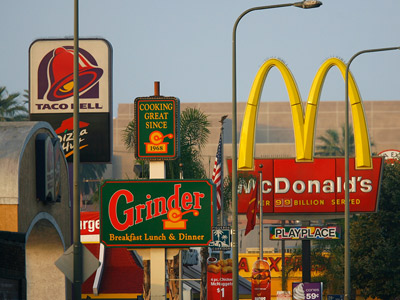 (Mark Vallianatos is Policy Director of UEPI and an Adjunct Professor at Occidental College, where he currently teaches the Environmental Stewards class. Mark is co-author of The Next Los Angeles: the Struggle for a Livable City and a number of publications on food access, transportation, and goods movement.)
Several years ago, our institute collaborated with community groups on a food assessment of three neighborhoods in South and Central Los Angeles. Residents, many of them students and parents at local schools, mapped over a thousand locations where food could be bought  and conducted surveys of food selection inside a random sampling of these stores. Project CAFE (Community Action on Food Environment) captured valuable data on the distribution of food retail establishments and the availability, price and quality of healthy foods in different types of food stores. These findings, which you can check out in a short report  and a peer reviewed article, are consistent with other research on food access in low income areas of Los Angeles (and other places). Fast food is pervasive. Supermarkets and farmers markets are scarce. Corner stores and liquor stores – the most common place to buy ingredients for cooking – have a worse selection, higher prices, and lower quality than full service grocery stores.
When we talked with residents about the challenges of accessing a healthy meal and ideas to improve the food environment in their neighborhoods, one of the themes that they came back to again and again was transportation. Mothers described the difficulty of using transit to reach stores with better selection when they had to transfer lines and carry bags and manage children on crowded buses.  We heard that some drivers wouldn't let riders bring hand carts onto buses. The difficulties of getting around to shop for food meant that many people who don't own a car end up walking to the closest store- which, as we have seen, probably doesn't have a great selection of fruits, vegetables, lean meats, etc.
Struck by this input, we looked for opportunities to do more work on the ways that transportation impacts food and health. With funding from a Caltrans environmental justice grant, we partnered with the Community Redevelopment Agency / LA and Esperanza Community Housing Corporation on a follow-up study on transportation and food access in South Los Angeles. This recently completed project looked at a variety of ways to get good food to people and take people to good food.
Since the impetus for the work started with stories about buses and shopping, that's where I want to start.  I also hope to write about healthy mobile food, local food distribution, and land use and store and street design that can promote a healthier food environment.
The geography for the project mainly corresponded with the City of Los Angeles' Southeast plan area. Partners mapped transit lines and food stores to see if there were any obvious gaps in the transit system that would make it difficult for shoppers to buy food.  Zoomable maps of the project area are available in the project report   We also surveyed stores for food availability and transportation infrastructure. We found that:
Only one store offered a shuttle service for customers who buy a minimum amount of groceries
Only 6 percent of stores had bike parking
52 percent of the surveyed stores had dedicated, off-street car parking. (100% of gas stations with convenience stores, 78.6% of grocery stores, 33.3 % of convenience stores)
82 percent of stores were located within two blocks of a transit stop
Bus routes along Main, Avalon, and Central, the blue line at the north and north east edge, green line at the south, and (hopefully soon-to-open) expo line to the north west provide transit service on main commercial corridors in the project area. How could transit better enable people to reach good food?
 Carts on buses.
Folding shopping carts are commonly used, especially by seniors and parents with children who cannot carry multiple grocery bags. These metal wire carts are often viewed as being flimsily made. And when buses or trains are crowded, it can be difficult to maneuver them on and off and make for space for them in seats or aisles. We have heard many stories of shoppers with carts not being allowed to board buses. Some ideas for better baskets and better buses:
Perhaps a design competition could develop an inexpensive, dependable, easy to roll, easy to lock wheels so it doesn't roll/ spill, easy to stow folding cart.
Encourage stores, metro, and other agencies to give away or sell low cost, well-designed folding carts
Should buses used on certain commercial streets have a dedicated space for shopping carts and bags in the middle of the bus like some airport shuttles do?
 Stops at stores.
Although there are bus stops near most stores in our project area, we heard some anecdotes that some merchants and real estate developers don't want bus stops in front of their stores. Apparently they don't want to deal with extra trash and bus benches are viewed as attracting homeless people. Since bus stops closer to stores can help people lugging groceries, Metro should work with property owners and store managers to encourage the siting of stops near major stores (and farmers markets.)
 Lower fares for food program participants
Currently people 62 or older, disabled individuals, and K-12 and college students can receive reduced fares on Metro. If we as a society were serious about promoting food justice and easing health disparities, it could make sense to offer Metro discounts to recipients of CalFresh (individuals and households with gross income up to 130 percent of the federal poverty rate) and WIC (pregnant women and parents or guardians of children under 5 with incomes up to 185 percent of the federal poverty rate). I haven't tried to run the numbers on what share of Metro riders would qualify for a 'healthy food shopping' discount (it's complicated by the fact that less than half of LA county residents eligible for CalFresh apply for the program). Reduced fares could increase low income shoppers' incentives to travel further to stores with better selections of fresh and healthy food. It could also increase the amount of money they have to buy food.
 Healthy food at transit stations
Metro can improve access to good food by working with cities and developers to include food stores in transit oriented developments- a subject I hope to write more about in a follow-up piece on transportation, land use and store design. Metro has a more direct program that allows third party vendors to sell food at train and bus stations. In 2010, Metro staff analyzed the program at the request of the Board, which was interested in potential expansion of vending to increase revenue.  The report identified challenges such maintenance costs from passengers taking food onto trains and buses and infrastructure costs that be required to allow vendors to sell inside mezzanine levels of stations, and recommended that vending not be expanded. However, bringing a health perspective to the analysis might change the calculus. A majority of the permitted vendors as of May 2010 sold hot dogs as their primary item. Might Metro give preference to vendors of healthy meals and fruits and vegetables? Imagine a county-wide network of healthy carts and farm stands easily accessible to riders in all communities.
Stay in touch
Sign up for our free newsletter