Bicycling
Attorney Howard Krepack Answers Your Bike Law Questions
8:04 AM PDT on September 26, 2011
I'd like to take a second to thank Howard Krepack, a principle of the firm of Gordon, Edlestein, Krepack, Grant, Felton & Goldstein (known as GEK-Law, after their website) for taking the time to answer our questions about bike safety, the law, and your legal rights.  After the jump are what will probably be the highlight for a lot of you, a series of questions and answers about the Bicycling Anti-Harassment Ordinance.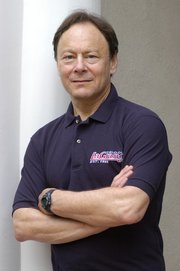 To the best of my knowledge, this is the first time a certified lawyer has answered a series of questions about the ordinance on the Internet, which given the amount of misinformation out there, should help clarify many things.
Question #1:
CVC 21202 states that bikes may take the lane when riding in lanes that have a "substandard" width or when approaching a right turn or when conditions (debris, potholes, etc) demand it. I would argue that most city streets in Los Angeles qualify on all 3 counts and therefore I can take the lane almost everywhere I ride in L.A. TRUE or FALSE?
You are correct when you outline the exceptions to "riding as close as practicable to the right-hand curb or edge of the roadway," but…. Substandard lane width is subject to a great deal of interpretation. When it comes to approaching a right turn or conditions that demand taking a lane, that's much clearer.
In terms of most city streets qualifying on all three counts, that, too, depends on timing. Certainly, many, if not most, city streets qualify on any two counts at any point in time.
Ultimately, the answer comes down to common sense, reasonableness and safety. Just because you can take a lane doesn't necessarily mean you should. It's all about being seen by automobiles and safely moving into the lane. And, when it's no longer necessary to take the lane, it is best to get back to the right as far as possible.
Question #2:
Since harassment without injury or property damage is essentially one person's word against another's, then how does one prove harassment? further, if some kind of loss is necessary to prove harassment how does this new ordinance benefit anyone if existing laws and civil proceedings give the complainant cause for filing anyway? 
It is great that we now have The Bicyclist Anti-Harassment Ordinance. But, as you point out, often it will be one person's word against another's. This is where gathering of evidence and documentation are paramount.
According to the LAPD, the following behavior is covered by the ordinance:
Non-specific threats of harm
Intentionally distracting or attempting to distract a cyclist
Intentionally forcing or attempting to force a cyclist off the road
Intentional violations of the vehicle code
You don't need a loss in terms of personal injury or property damage to prove harassment.
According to the ordinance, violators of this law "shall be liable for treble the actual damages with regard to each and every such violation, or $1,000, whichever is greater, and shall be liable for reasonable attorneys' fees and costs of litigation. In addition, a jury or court may award punitive damages where warranted."
So, the ordinance does provide "more bite" than cyclists had prior to its passing, as a judge or a jury can now order a harasser to pay a plaintiff (bicyclist). If this occurs, it would be a "lesson" that teaches harassers that their actions were wrong, violated the law and jeopardized safety, and, therefore, are going to sting financially.
Question #3:
Would persistent honking be sufficient, if it made the cyclist afraid he was going to be assaulted? Or persistent honking followed by an unsafe pass? Would a cyclist's word be enough, or would camera footage of the event and license plate be required, or would one actually need to get the harasser's face on film? 
I have outlined above what the LAPD considers harassment. This includes persistent honking as it could distract the bicyclist. If someone comes dangerously close to you after honking and you can surmise there's an intent to scare you, that would be a stronger case.
A cyclist's word may be enough but it wouldn't be as strong as witness statements, etc. Camera footage wouldn't be required, but it would go a long way toward potentially supporting the claim. The same goes for getting the harasser's face on film.
Is there any specific preparation that cyclists should do in order to increase the chance of holding a harasser responsible for their actions? 
I suggest the following:
Gathering all of the pertinent information possible while it is clear in your head. Write down exactly what happened—words, actions, etc. Memories fade with time and it's important to have a contemporaneous statement. Document everything possible, including license plate number, description of the person and the vehicle, the time of day, and the location of the incident. If possible, take a photo of the person and/or vehicle as well as the location and any physical evidence at the scene.
Obtain witness contact information. Witnesses could include fellow cyclists as well as "lay" persons (pedestrians, nearby homeowners or workers, etc.).
Keep your cool. If verbally abused, do not respond in kind (these things may be used against the cyclist).
If you are injured, seek immediate medical attention. Document and photograph any visible injuries.
If you are injured or property is damaged, preserve the evidence. Keep any damaged clothing and don't wash it. Keep damaged bike parts and don't have them repaired. If it is absolutely necessary to have the bike repaired, take photos first and get a written document of the photos.
Contact the police.
Wait for the police to arrive.
Make sure the police take a report.
Today I was cycling down PCH and came to a red light. I come to a complete stop in the center of the farthest right lane. As I wait for the light to turn green, a driver behind me begins to honk continuously, shouting, "MOVE AWAY SO I CAN MAKE A RIGHT TURN!" I ignore the request, noting to myself that it is not a RIGHT-TURN ONLY LANE. "A**HOLE! IDIOT!," the driver continues on, honking over and over. So who is right? Should I have been courteous and move as close to the curb to let the driver pass my left? Or, was I correct in standing in the center of the right lane, so that cars can't turn right passing my left? Also, during the yelling, I managed to get a picture of the driver's license plate and face. Is there anything I can do with it? Or should I ignore the harassment as nothing can be done?
Ignoring the request was a bad move; a right-turn-only lane has nothing to do with it. You should have moved to the left side of the right lane or, alternatively, moved to the right-hand side of the right lane.
We want to help bicyclists understand their rights and how to enforce those rights. We also want to communicate how important it is to behave in a certain fashion while on the road and in relating to motorists. We should all obey the laws and use common sense and courtesy. If anything, bicyclists should go out of our way to be friendly, nice and helpful to motorists. Sometimes turning the other cheek is more beneficial in the long run for everyone.
I don't think there's anything to do with the photos you took. And, I don't think this motorist's actions qualify as harassment under the new ordinance. Profanity has to be combined with scaring you—such as throwing something at you or trying to force you off the road—so you think you're in danger of being injured.
Yes, under the circumstances you describe, you should ignore the incident. Sharing the road is a two-way street. 

Stay in touch
Sign up for our free newsletter