Damien Goodmon
Ridley-Thomas, South L.A., Gearing Up for Fight Over…Light Rail Yards?
11:21 AM PDT on July 22, 2011
At first, it looked like a pretty innocuous motion on a Metro Board Planning and Programming Committee Agenda.  Item #19, passed quickly and unanimously by the committee, shuffles $170 million in funds dedicated towards Red Line expansion, partially from Measure R, to cover the "unmet costs" to complete the rail yards for Expo Phase II light rail cars.  (Note: As was pointed out in the comments section, the staff report says that the Southwest yard is for Green/Crenshaw Line cars, not Expo cars.)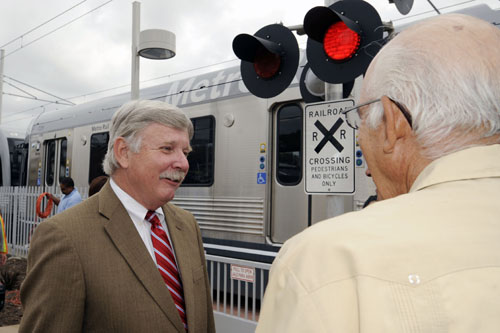 At first glance, it's a yawner of an agenda item.  Placed into a larger context, it's a call to transit war.  And Supervisor Mark-Ridley Thomas and South L.A. community activists, activists who are apparently "lawyering-up," are readying for battle.
Back at the May Metro Board Meeting, appointees of L.A. Mayor Antonio Villaraigosa modified a resolution by Supervisor Mark Ridley-Thomas to move some funds that were dedicated towards other projects, including the Red Line expansion, to fund a station at Leimert Park and to complete the grade-separation of the Crenshaw Line.  The grade-separation was controversial, but the Leimert Park Station appeared headed towards passage until a replacement motion was put forward by former Assemblyman and Mayoral Appointee to the Metro Board Richard Katz.  The Katz motion called for the construction of the station, but only if it could be done within the confines of the existing $1.7 billion budget for the light rail line, a $1.7 billion that did not assume construction of the station.
The argument against the Ridley-Thomas motion was that it would create a bad precedence to move funds from one Measure R project to another.  South L.A. politicians and advocates were livid at what they felt was second-class treatment by the Board.   That resentment has simmered for almost two months, and this motion has only inflamed their ire.
Ridley-Thomas has written a strongly worded letter to Metro CEO Art Leahy (read it yourself, exclusively here at Streetsblog) asking this very question and Damien Goodmon, Chair of the Crenshaw Subway Coalition and star of an article in today's L.A. Times, is basically threatening the 30/10 aka America Fast Forward program if this proposal moves forward.
Ridley-Thomas writes:
In less than a three month period, you and your staff abandoned the principles you invoked to oppose my Crenshaw/LAX motion by proposing further delay of Red Line enhancements. Now, by proposing further delay of Red Line enhancements, you contradict the arguments you, your staff, and those invited to the Board Meeting by your staff so forcefully advanced in May.
Even before the May Board Meeting, Metro staff were throwing cold water on the Ridley-Thomas motion, arguing in the press that it was too expensive to move funds from one project to another.  In an article about the unity of South L.A. politicians in the Los Angeles Times, the same politicians that seem to be at each other's throats everytime there's an election, over the "Park Mesa Tunnel" and "Leimert Park Station" Metro senior staffer David Yale is quoted:
The "cost increases create friction because it could cut into what others have available for their projects around the county," added David Yale, Metro's deputy executive officer for countywide regional planning and development. "We're stretched in two different directions, both on costs and on revenues.... This is a hard decision for the board to make."
That David Yale is the same person who wrote the report recommending the loan from the Red Line for the Expo Phase II rail yards has not escaped Ridley-Thomas or Goodmon's attention,  Nor has the fact that the estimated cost of building the Leimert Park Station is $146 million, much less than the $170 million needed for the two light rail yards.
Looking at the other side of the coin, the difference between the Ridley-Thomas proposal for Crenshaw and the loan for these two light rail yards is that it is possible to build a light rail line without all of the stations that would make sense to build but it is not possible to build one without rail yards making the Expo Phase II loan of greater importance.  However, back in May nobody was willing to tell Ridley-Thomas or the hundreds of supporters in the room that their dreams weren't important so they went with a different argument...the argument that it was unfair to Red Line supporters and riders who voted for Measure R to increase capacity for their line to move those funds somewhere else.
That argument may now come back to haunt them.
Stay in touch
Sign up for our free newsletter